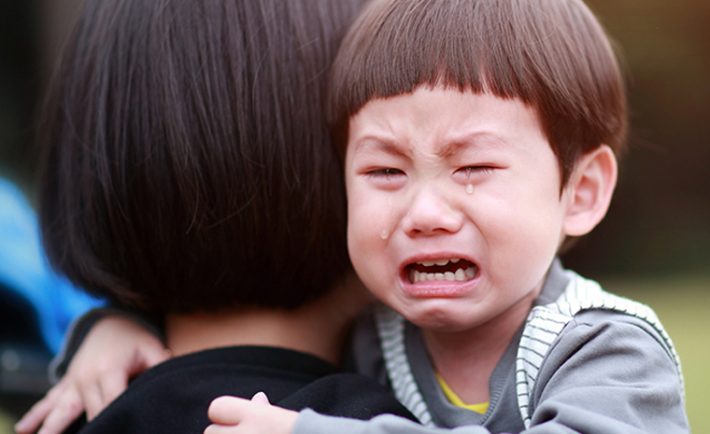 Image Credits: babyology.com.au
Many infants experience attachment issues at eight months, which make them cry and scream anytime their caregiver is absent. The ability to remember specific individuals when they aren't around is a mental ability that goes hand in hand with this fear.
In a sense, your infant starts picturing you in their head when you aren't around, and they miss your warmth and affection. Additionally, young kids lack a sense of time duration, so they cannot tell if you will be gone for a minute or a couple of days.
Saying goodbye when it's time to leave the kids off at school should be swift, tender, and followed up with a promise to return. Keep reading if you want to know what to do if your child cries before going to school.
Use a scent
Spray some scent on your wrist and then brush some on the wrist of your toddler if it isn't too overbearing. When they wish to stay close to you, encourage them to sniff this distinct fragrance. Although it may sound strange, scents do carry powerful emotional associations.
Have a farewell routine
A goodbye ritual gives your child comfort and security so they know what to expect. This might be any particular cuddle or fist bump that you and your kid decide on. And after you're done, it's essential to leave right after so your child won't become distracted by your lingering presence.
Cultivate good sleeping habits
Children who are exhausted are frequently sensitive and irritable; in other words, they are prepared for a pre-school separation emotional breakdown. So, begin cultivating some timely sleeping practices; for instance, sleeping at 9 pm and waking up at 6 am. You may also couple this practice by preparing an energizing breakfast to help your child overcome sleepiness.
Bring along a sentimental object
Many of us indeed find it challenging to venture into the unknown, but children find it especially challenging. Giving your toddler a special object that he or she can keep at school will help them adjust to the change. Maybe it's their favorite plush toy that has been stashed away in their bag? A special item around will help them ease into unfamiliar circumstances.
Drop-offs might leave you feeling bad, notably if the last moment you witness was your kid crying. But that, too, can be deceiving. In actuality, they may either have stopped sobbing shortly after you left or probably didn't cry all day. Ask the teacher about how your child handled it when you pick your child up. If you're worried, phone the office after two hours to find out how long it took for your kid to settle down and if he or she is coping well in your absence. Remember that this too shall pass.