Image Credits: Hello Circus
While borders are slowly reopening for business travellers and official travel, restrictions for leisure travel probably won't be lifted so soon. If you're an avid traveller, we feel you.
For those who are dying to travel, these wallpapers and decals are a great visual reminder that the pandemic will be over one day. When that time arrives, we will be able to explore the world again!
#1: Above The Clouds
Price: S$95 / sqm
Are you a window-, middle-, or aisle-seat kind of person? One of the greatest things about getting a window seat is the view above the clouds. Oh boy, how we miss those cotton candy clouds up from above.
Whether you choose to have this backdrop in the bedroom, study room, or home office space, it will definitely bring you back to the happy times you were up in the skies.
To proceed, please measure your wall size and enter the dimensions on this page. The team at Hello Circus has also kindly provided a guide on how to measure your wall to help you get started.
#2: Tres Tintas Paris
Price: S$95 / sqm
A few months back in June, we read with excitement how the Eiffel Tower reopened after a three-month break due to COVID-19. Though… it will be some time before we can travel to Paris to view the iconic tower.
Travellers who have treaded the grounds of Champ de Mars and seen the 300-m tall wrought-iron lattice tower can now travel back in time with this wallpaper.
Sold by Hello Circus, they are made-to-measure and numbered accordingly with the DIY installation in mind. You may also request for an installation hire at an additional cost. Get your quote from the team by clicking this link.
#3: London Houses
Price: S$95 / sqm
This wallpaper of London houses reflects Hello Circus's view of the townhouses at Notting Hill. Notting Hill is a lively neighbourhood in London and home to one of London's best markets – Portobello Road Market.
This unique piece is created with 2D drawings, arranged, and photographed in 3D. It will be printed on high-quality non-woven paper in factories with the highest standards from Europe. Reinforced with nylon fibres, your wallpaper will also be resistant to colour fading.
Send your measurements to the team via this link.
#4: Watercolour World Map
Price: S$85 / sqm with installation from S$240
The world's under your watch with this world map wallpaper. Ignite your passion for adventure with this eco-friendly, child-safe, and highly durable piece from Urban Li'l. This wallpaper is produced locally in Singapore and will require about two weeks to be ready.
To order, simply click through the link to input the measurements here. Then, cart out at S$0 and the team will get back to you with a quotation of the actual price. Payment can be made offline. Oh yes, the site measurement fee at an additional S$50 is refundable upon a confirmed order.
For other colours or designs, the team at Urban Li'l can create it for you at no extra costs! Drop them a request on [email protected] or WhatsApp them using the bottom right-hand icon on their website.
#5: Wall Decals
Price: To be quoted
If you're not ready to commit to a full-scale wallpaper for your living spaces, wall decals are great to begin with. Here are some designs that caught our eye.
Where will your next adventure take you?
Yeah, just think of all the places you will go when the virus is under control!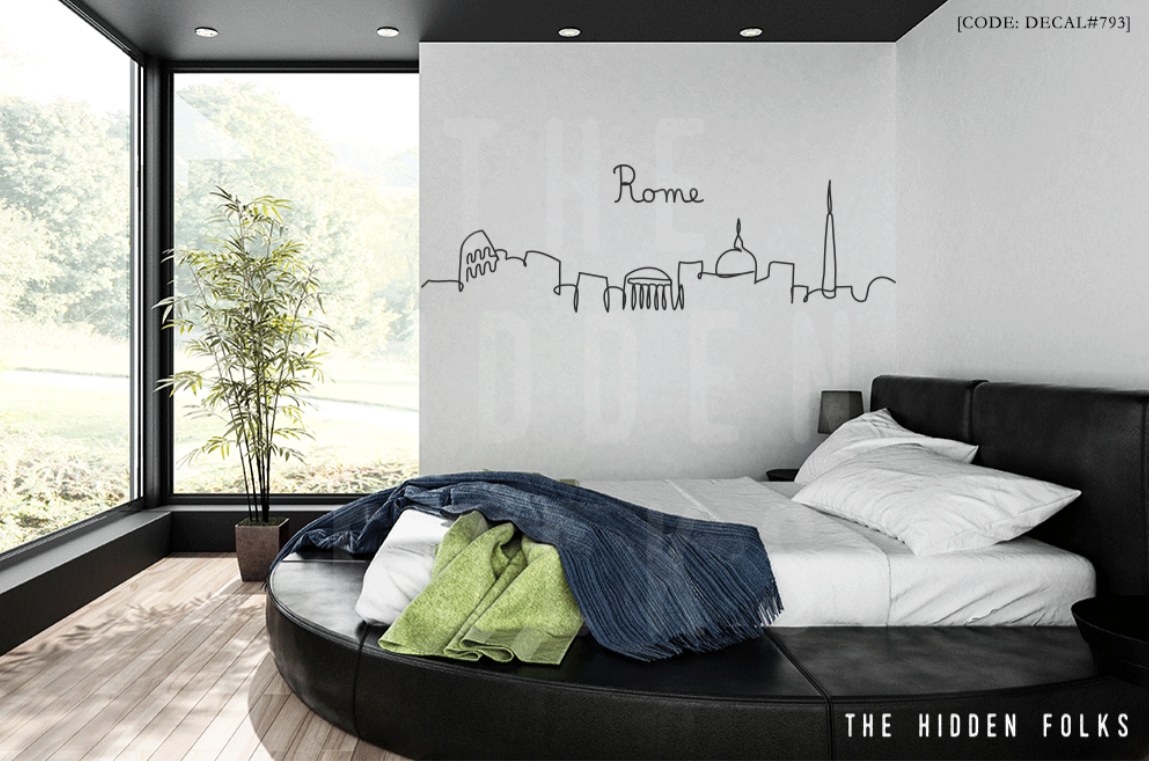 Was Rome on your travel list before the virus situation? Put it up on the wall because travelling will be made possible again. This too shall pass.
The thrill of booking an impromptu flight may not be possible now. But promise yourself to stay wild… in heart, mind, and spirit.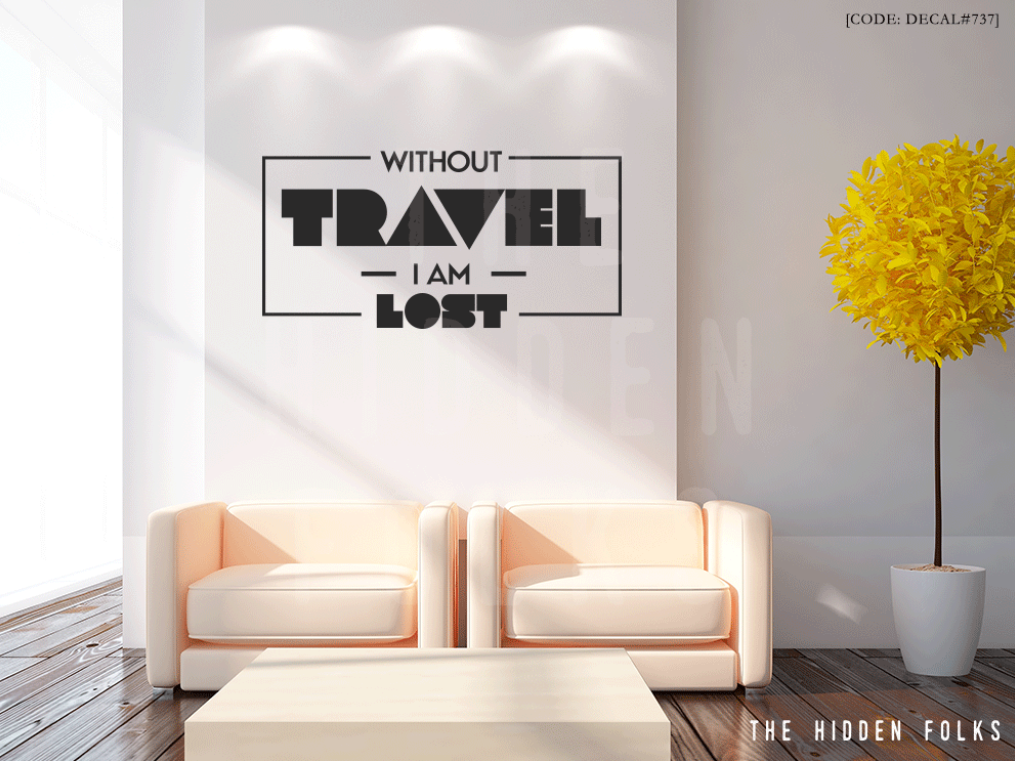 This quote speaks volume of the hearts of travel lovers. As we await the pandemic to pass, may our hearts grow fonder with the thought of seeing the world again soon.
For more travel-related wall art decals from The Hidden Folks, click here.
#6: Wall Decor
To complement your wallpapers and wall decals, you can also consider wall decors. We found a few eye-catching designs from Etsy.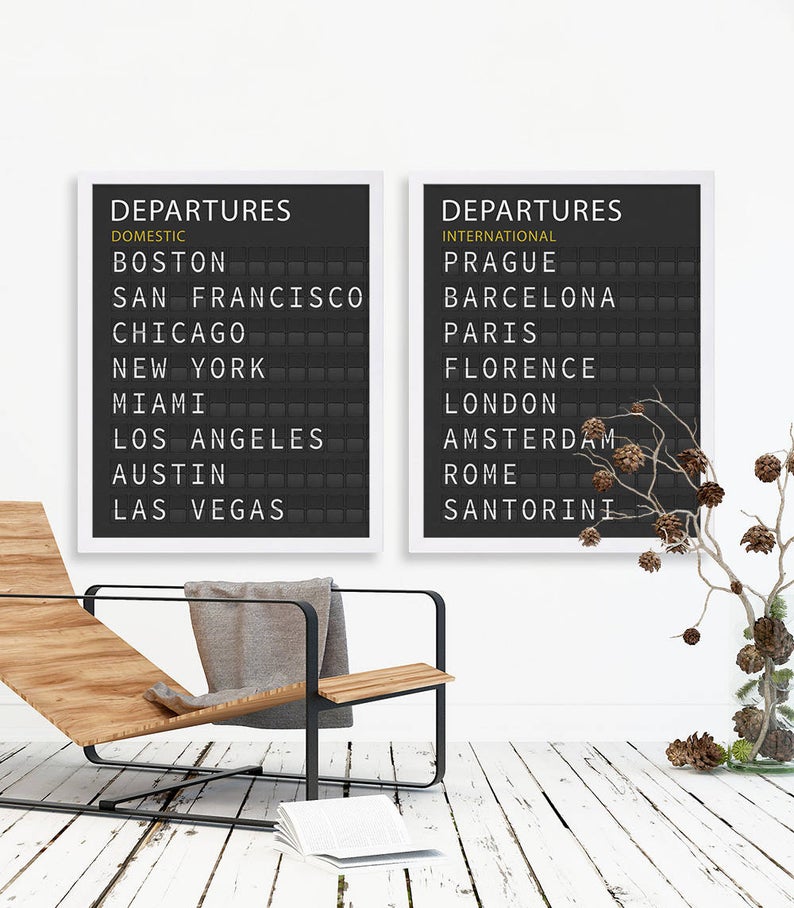 Price: S$16.98+
You can customize your own list of cities free of charge! Just include the relevant details under the 'Notes to Seller' section before carting out.
Price: S$33.12+
Glove trotters will appreciate this scratch-off world map to remind them of the adventures they have gone through while abroad. You can choose to have yours done in gold or silver foil.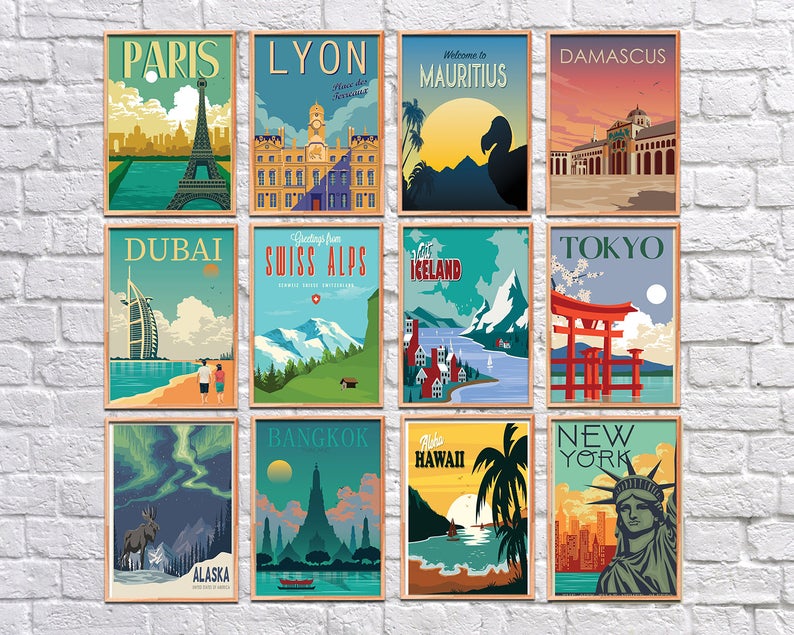 Price: S$31.73
For all things retro, get this printable set of 12 travel posters. You can instantly download and print once payment is confirmed. The seller recommends that you print this on matte finish paper to reduce glare and bring out the rich colour.
Check out more travel-related wall decor from Etsy by clicking through the link.