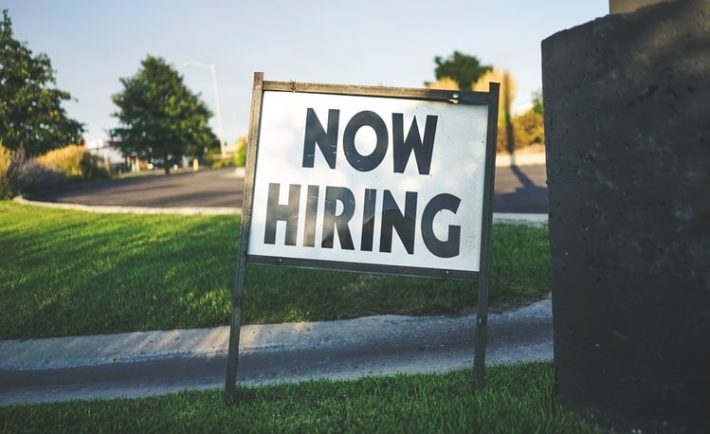 Image Credits: Unsplash
We came across a few job openings at Apple, Singapore Polytechnic, and the Ministry of Social and Family Development today. If you're looking for a job, do beef up your resume before submitting your application.
Here are the details.
#1: Apple – Order Fulfilment Specialist (12 months contract)
Founded in 1976, Apple probably needs no further introduction. It is an American multinational technology company headquartered in California. It is also one of the most well-known technology companies, alongside Google and Facebook.
The mission of Pacific Reseller Operations is to be the voice of the Reseller Channel within operations to ensure Apple products are in the right places at the right time. You will be supporting sales and Apple's partners to achieve their financial goals. The team is focused on managing its supply chain as efficiently as possible, in order to maximize sales while driving for a frictionless order fulfilment experience.
Within the Reseller Operations team, this role is responsible for end-to-end channel order management from order induction to delivery. You will also need to ensure transactions in between are SOX and operationally compliant.
Job Qualifications
Bachelor's degree preferred

A real passion for Operations with relevant experience in Order Management / Customer Service / Logistics Services roles.

Self-driven, but a collaborator with the ability to build and strengthen relationships.

Working knowledge of transactional systems and processes. SAP background preferred.

Demonstrate strong attention to detail and ability to shine under compressed timelines.

Adaptable, flexible, and open-minded to work in a dynamic, fast-paced environment that undergoes constant change.

Deep understanding of customs and/or regulations within Asian countries.

Familiarity with Project Management methodologies and frameworks

Expertise on productivity tools such as Excel is an added advantage.

Filled with positive energy and takes initiative with a thirst for personal growth
Key Responsibilities
Independently process orders/RMA and handle order exceptions (block management, NPI conversions, cancellation, credit/debit notes) according to SOP within set SLAs and SOX requirements.

Manage inbound inquiries and provide active close loop communication.

Understand and ensure Key Performance Indicators and order fulfilment goals are met on a consistent basis.

Participate in order fulfilment initiatives/UAT aimed at improving processes and tools and/or systems.

Root cause and work with DRIs on order fulfilment exceptions.

Support New Product Introduction (NPI) execution activities as/when required.
How to apply?
Apply and view the job post in full here.
#2: Singapore Polytechnic – Senior / Lead Executive (Business Development), Professional and Adult Continuing Education (PACE) Academy #SGUnitedJobs
Singapore Polytechnic has been training and developing talent since 1957, fuelling the economic growth of our nation over many decades. Continuing Education and Training (CET) was given prominence in 1979 in Singapore Polytechnic when Singapore needed well-trained and skilled manpower to boost its push to value-added manufacturing and services.
The Professional & Adult Continuing Education Academy or PACE, launched at Singapore Polytechnic in 2010, provides the focal point for CET – as Singapore Polytechnic continues to build on their success in providing new and effective pathways for learners of all ages to develop their skills and knowledge so as to be employable in an ever-changing workplace.
Job Qualifications
At least 2 years' experience in business development or sales, preferably in the context of adult training education.

A self-directed learner who is confident, exhibits initiative, and display good salesmanship

Possess marketing skills and ability to interact effectively

A self-driven individual who is both independent and a team player

Resourceful, with good interpersonal, organizational, and coordination skills

Good project management skills and time management

Some experience of sales & marketing would be an advantage
Key Responsibilities
Identify prospective customers/ trainees to identify new leads and potential new markets

Reach out to existing and prospective customers/ trainees through system applications, emails, telephone calls, events, webinars, meetings, and even face-to-face interactions

Implement corporate sales plans for client prospecting and acquisitions

Understand the learning needs of prospective individuals/ corporates and recommend training solutions

Follow-up with prospective individuals/ corporates to ensure successful lead conversions

Track business opportunities from GeBiz channels

Price courses reasonably by taking into consideration operating costs and market competitiveness  

Work closely with course proposers from schools and training partners to scope training programmes in response to existing and new market demands

Maintain fruitful relationships with internal and external stakeholders

Collaborate with the Marketing & Events team for new course launches

Provide administrative support to the Business Development Team
How to apply?
Apply and view the job post in full here. Applications close on 30 September.
#3: Ministry of Social and Family Development – Operations Officer, Sector Management (Singapore Boys' Home) #SGUnitedJobs
The mission of the Ministry of Social and Family Development is to nurture resilient individuals, strong families, and a caring society. At MSF, the team are professionals with a passion for people. They develop the "heartware" for Singapore through policies, community infrastructure, programmes, and services.
The Juvenile Homes comprising the Singapore Boys' Home and the Singapore Girls' Home, are Residential Centres for Holistic Youth Rehabilitation. The mission of the Juvenile Homes in working with youths is to "Restore Lives, Empower Transformation, and Recreate Future", which will allow them to achieve life success and be a valuable member in the community.
Job Qualifications
Tertiary education with relevant experience in operations and staffing work in the social service setting

Proficient in IT, have strong analytical ability, and possess good writing & presentation skills.
Key Responsibilities
Assist in staffing, planning, and coordination work within the respective sectors.
How to apply?
Apply and view the job post in full here. Applications close on 28 September.