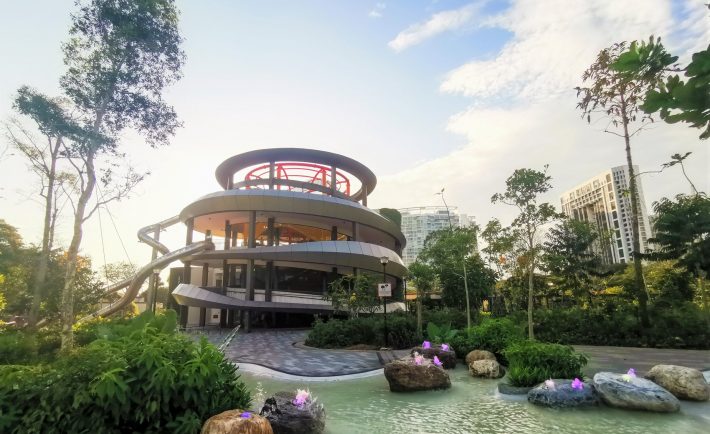 Looking for a recreational space where you can spend a day of endless fun? Search no further than the newest addition at East Coast Park! National Parks Board recently opened the family friendly Coastal PlayGrove. It is located at the Area B of the East Coast Park.
This recreational space may induce nostalgic memories as it was the former Big Splash site. The iconic Big Splash was redeveloped into the Coastal PlayGrove after it ceased its operations in 2016. Nowadays, we will be able to enjoy a 4.5-hectare recreation space with a Play Tower, a water play area, an outdoor classroom, as well as retail and dining offerings.
Let us breakdown Coastal PlayGrove's interesting features. One of its main attractions is the 16m-high Play Tower. This impressive structure is hard to miss due to its massive size and its vibrant design. At its center is the Vertical Challenge. The Vertical Challenge is made up of climbing nets, which ascend from the base to the top of the building. Its dynamic design is a tribute to the coastal heritage of East Coast Park. Moreover, its vibrant colors are the same as the previous water slides. The Vertical Challenge is open from Tuesday to Sunday between 8am to 8pm. The slides are open daily, from 8am to 12pm and 4pm to 8pm.
Next to the tower is a water play area. If your kids are looking for ways to cool down on a hot day, try playing at the water play area. This area consists of wading pools, which are connected by a stream with numerous water jets. What is more? These water jets vividly light up at night!
Here are some friendly reminders when playing in this area. It is suitable for children aged 5 to 12 years old. A toilet is located nearby to allow visitors to dry up and change out. Lastly, it follows the same schedule as the Vertical Challenge.
As you stroll further in the Coastal PlayGrove, you will be delighted with the Nature Playgarden. This playgarden allows guests to be immersed with the beauty of nature. It is divided into several themed sections to introduce kids to the different habitats. In all these sections, natural materials such as wood and sand were used. For instance, the first section lets the children explore the bamboo tunnel trail. The last section consists of a trail leading to a sand pit with planted native shrubs. You will be able to spot various fruits and flowers as well as animals such as butterflies and birds. Its biodiversity aims to ignite the curiosity of its guests.
Next to the Nature Playgarden is an Outdoor Classroom made for the preschoolers. It is equipped with chalkboard and log stools. Indulge in the coastal views as you learn with your child.
Aside from these interactive features, the Coastal PlayGrove has its own Event Lawn. Large events may not be permitted now, but this spacious Event Lawn can accommodate a whopping 5,000 people once the pandemic is over. Nonetheless, you can use this space by having a seaside picnic, a relaxing kite-flying session, or an exhilarating round of frisbee with your loved ones.
When visiting the Coastal PlayGrove, it is important to follow the COVID-19 guidelines and other safety protocols. With this newest addition to the East Coast Park, guests will be able to bask in the sun, immerse in nature's beauty, and have a quality time with the whole family.
Address: East Coast Park, 902 E Coast Park Service Rd, Area B, Singapore 449874
Contact: www.nparks.gov.sg
Arrive by riding the bus (31, 36, 43, 47, 48, 134, 135, 196, 197, 401, 853M) or by driving your vehicle. There is a spacious car park with current charges of $0.60 per half hour. Bicycle bays are also available.