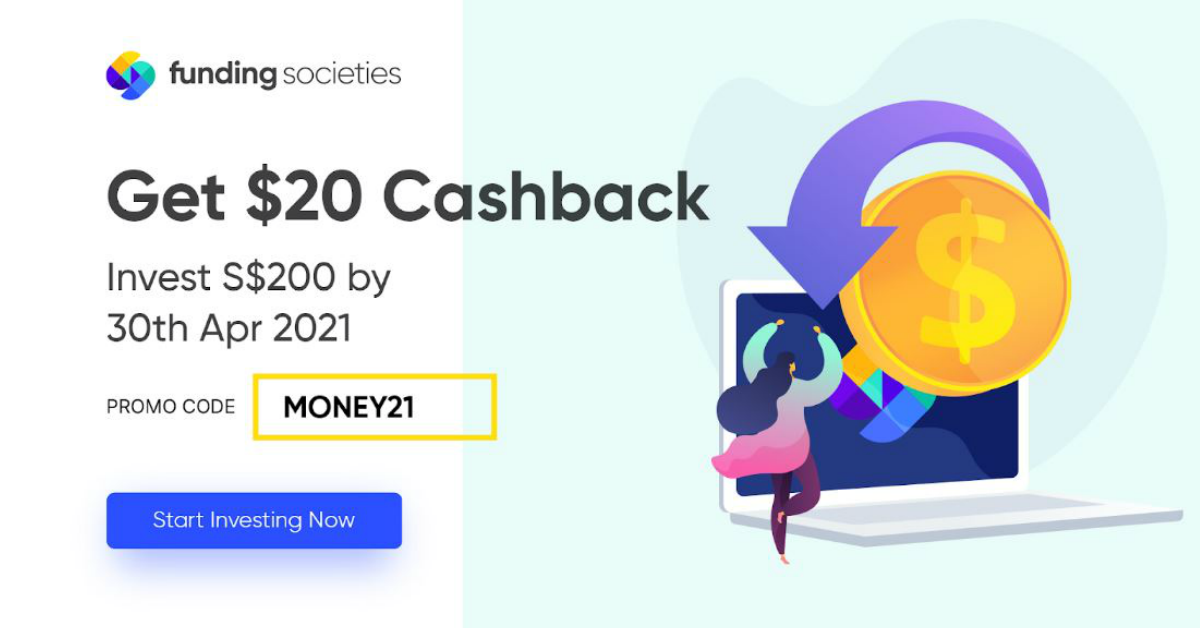 Peer-to-Peer or more commonly known as P2P lending started in the US and UK in 2005, and has since taken the world by storm. Back home in Singapore, P2P lending contributed to approximately USD 207 million in financing offered to businesses here in 2020. Investors on P2P lending platforms can participate in these financing and earn returns in the form of interests. 
Take for example Funding Societies, a popular P2P investment platform amongst Singaporean investors. It is currently licensed in Singapore and has operations in 3 other SEA countries. Backed by Sequoia India, Softbank Ventures Asia, SGInnovate amongst many others, the platform has grown at a rapid pace since launching in Singapore 6 years ago. Here are some things to note when investing with Funding Societies:
Low barrier to entry

: Investors can invest as low as $20 per loan

Short tenor

: Investment tenors are quite short ranging from 1 to 12 months

Returns on Investment for each Product Type:

Interest rates usually range between 

3% – 5% per annum for a Guaranteed Investment product;

6% – 8% per annum for a Property-backed investment product;

8% – 18% per annum for Invoice financing and Working capital related investments products
Risks and Returns of P2P lending in Singapore
Investors are able to invest by crowdfunding the business financing available on the platforms and potentially earn returns in the form of interests typically ranging in the mid to high single digits. The investment amount starts as low as $20 at Funding Societies, which investors can leverage on for their portfolio diversification. Depending on the loan product, payouts can be done monthly so investors get their investments and returns in a shorter time frame. Compounding returns, as well as a rather short learning curve, are also attractive incentives as well.
That said, repayments can be delayed or go completely unpaid. This is why it is imperative for the P2P lending platform to first do a preliminary round of due diligence and present the facts comprehensively to investors, before allowing investors to decide whether or not to proceed. There is also a risk of the P2P lending platform shutting down if it is not financially stable on its own. To mitigate this risk, P2P platforms regulated by MAS can engage an independent escrow agent to handle all investor funds separate from its business account, such that the escrow agent will hold the  funds even if the platform goes under. Funding Societies does just that to provide peace of mind to investors. As such, there is a need to do your due diligence and ensure such investments match your risk appetite.
Get a S$20 cashback when you sign up on Funding Societies with the exclusive promo code "MONEY21" and make a total investment of S$200 by 30th April 2021. 
How can Diversification help to minimise risks in P2P lending?
One of the largest risks in investing in a P2P lending platform like Funding Societies is the risk of a SME defaulting. Portfolio diversification by means of investing into a good mix of notes and industries on the platform is one way to mitigate concentration and default risks and optimize your portfolio returns in the long run.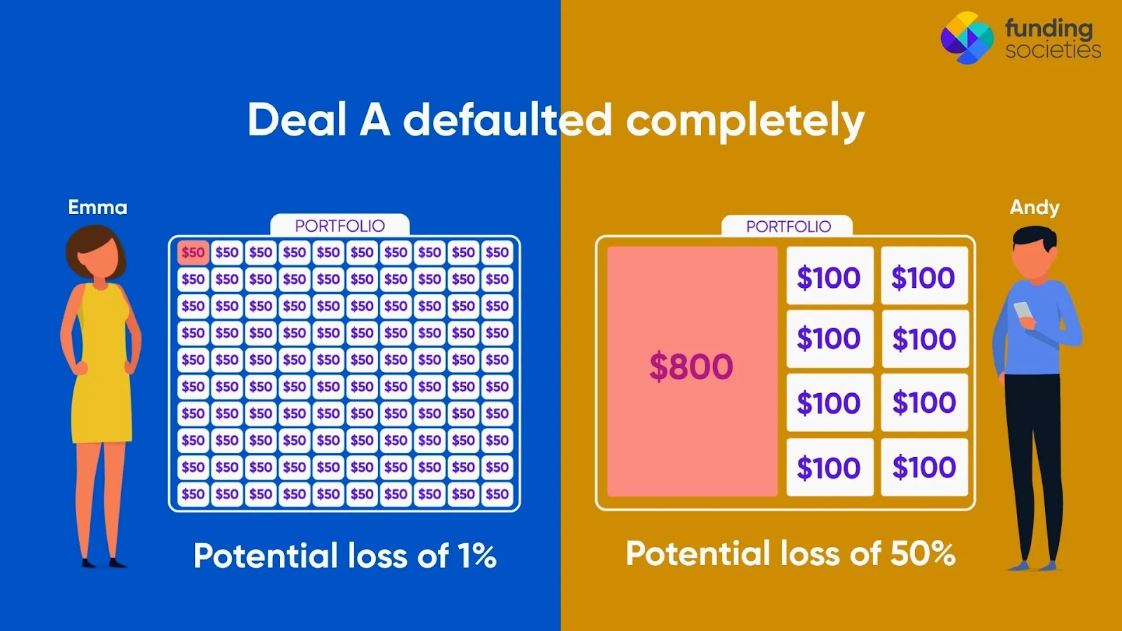 Taking the above scenario as an example, we see that Andy invested S$800 into a single deal and this single investment makes up 50% of his overall portfolio. Whereas in the other scenario, Emma invested S$50 uniformly across 100 deals, making a single investment just 1% of her overall portfolio. In the event that Deal A defaults, Emma's potential loss will only be 1% of her overall portfolio whereas Andy might face a potential loss of half of his overall portfolio.
Conclusion
Although P2P lending is still a fairly young industry within Singapore, the demand is ever increasing. Given that 99% of businesses in Singapore are SMEs and that the returns on investments typically range in the mid to high single digits interest rate per annum, P2P lending in Singapore serves both the needs of SMEs and investors. With all that said, it is important for investors to do their own due diligence and measure the risks involved against their own risk appetite. 
Get a S$20 cashback when you sign up on Funding Societies with the exclusive promo code "MONEY21" and make a total investment of S$200 by 30th April 2021. 
Terms and Conditions apply
Investors must sign up with the aforementioned promo code and make a total investment of at least S$200 by 30th Apr 2021 to be eligible for the $20 cashback. Cashback will be credited into the eligible investors' accounts by the end of May 2021. Funding Societies' investor T&Cs apply.
Funding Societies is the largest SME digital financing platform in Southeast Asia. It is available  in Singapore, Indonesia, Malaysia and Thailand, and backed by Sequoia India, Softbank Ventures Asia Corp and SGInnovate amongst many others. It provides business financing to small and medium-sized enterprises (SMEs), which is crowdfunded by individual and institutional investors. Investors can invest from as low as S$20 with a tenor of no more than 12 months. 
---
Disclaimers:
This article is contributed by Funding Societies.
It should not be construed that Moneydigest is endorsing this article or any of the products and services provided by Funding Societies.
The content and materials made available are for informational purposes only and should not be relied on without obtaining the necessary independent financial or other advice in connection therewith before making an investment or other decision as may be appropriate.
Actual returns may be lower than the expected rates of return, and historical rates of returns may not reflect future returns. The Product type interest rates indicated in the article are derived from historical rates of returns and are exclusive of service fees.
All information in this article is accurate as of 29th March 2021