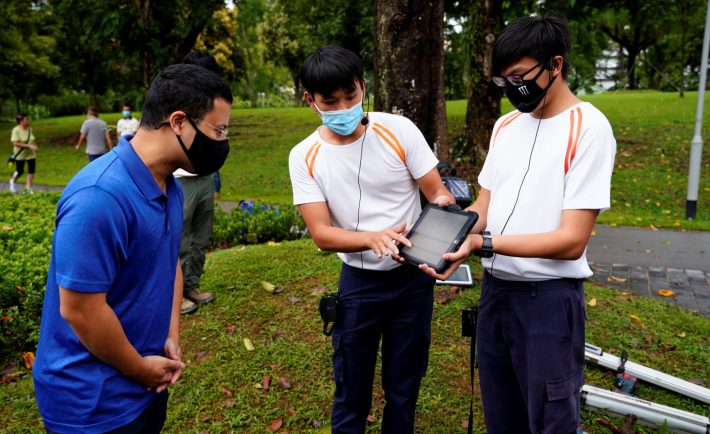 Image Credits: National Parks Board
In the next five years, around 1,000 new and revamped jobs will be created for the landscape industry, as officials carry out a new digitalisation strategy.
Mr Goh Eng Lam, Chairman of the Landscape Industry Association (Singapore), shared that this step forward into technological implementation will help draw Singapore's younger and better-skilled workers to a field that is typically seen as resource- and labour-intensive.
"This is a big milestone," Mr Goh said on Monday (Jan 11) at the launch of the digitalisation plans. The event took place at Bishan-Ang Mo Kio Park, part of a broader region where NParks launched a one year pilot to demonstrate its array of innovative emerging technology and resources. 
A glance at the suite of new digital tools and technologies
There will be room for video analytics through the facility's security cameras. This helps the authority not only to track visitor numbers to the park and make necessary preparations but also to carry out compliance measures against persons violating COVID-19 guidelines.
For example, the technology enables NParks to identify unpermitted meetings spontaneously and send alarms via its speakers. It can also capture screenshots of guests who fail to wear a mask. This data is then used to assist NParks officials in their disciplinary activities.
Other innovations include the potential to check the condition of the park's foliage radically. Detectors can also assess if it is necessary to clear a dustbin or thoroughly clean a washroom.
Other zones within the Bishan-Ang Mo Kio district will also be targeted by the pilot. NParks noted that these areas are symbolic of the diverse terrains it maintains.
NParks said that it would eventually carry out the new technologies to other places under its control when the trial concludes in January 2022. Opportunities to share and offer training support for relevant organisations will also be considered.
Exciting job opportunities for Singaporeans in this arena
Mr Desmond Lee, Minister for National Development, said that as the sector continues to grow within the next five years, he estimates 1,000 new jobs to be available for locals. This includes opportunities in arboriculture, horticulture, landscape design, as well as digital technology.
NParks did not provide specifics of how many positions will be generated in each sector. Still, redesigned responsibilities for current workers and openings for recruits will be included in these 1,000 jobs.
A new Resident Gardeners Programme will be launched in February at NParks-managed green areas in Ang Mo Kio, Punggol, and Yishun. Mr Lee said that this project would see new hires by landscape firms to take care of public gardens and parks.
"In this manner, the programme provides an opportunity for residents who are gardening enthusiasts to supplement their income, while engaging in their interests. It is an exciting time to join the landscape sector," he added.
Reducing reliance on foreign workforce
Mr Goh agreed that the drive for digital transformation is a step ahead for the segment very dependent on foreign labour. An increased technological implementation may help to minimise this dependency. At the same time, grow workers' competencies and raise their wages.
Consequentially, with more young adults being drawn to it, this might lead to a revitalisation of the sector.
"This will give them (young Singaporeans) a new profile of the industry; that it is not the typical gardening, digging of weeds, but a career that they can build for themselves (by) exploring the technological aspects of it," Mr Goh commented.
A teenager thrilled by the prospects
Muhammad Raqibb B Mohamad R, a second-year Higher Nitec student in landscape management and design at the Institute of Technical Education (ITE) in College East is glad to see the developments.
The 19-year-old is now in Fort Canning Park on an agricultural internship with NParks. He said the use of robotics like flying a drone has made it easier for manual labour of examining trees. Besides, the ability to track them remotely will also improve efficiency. Despite rainfall, workers can continue operating inside the office.
Technological tools NParks is using at Bishan-Ang Mo Kio Park
Remote measurement system for trees:
A device used to dynamically map individual trees' positions and derive measurements using light detection, range scans, and machine learning.

The information is immediately transmitted to the Tree Registry System of NParks, enabling the organisation to oversee trees in the region. 

The framework significantly reduces the need for landscape workers to do intensive fieldwork of inspecting trees and maintaining records manually.
Surveillance cameras, video analytics, and park visitor assessment system:
A variation of these methods was used by NParks during the pandemic to track visitor numbers in parks and gardens.

Security cameras with embedded video analytics have also been used to manage visitor compliance and safe-distancing regulation.

These techniques enable NParks to decide how best to deploy their staff.
Maven II:
This is an updated version of an electronic platform to merge both the technical and research efforts of NParks.

It holds information such as park planning and facility data, tree information, biodiversity data, and several others. This will facilitate NParks officers to obtain data on the go.

The enhanced interface provides a self-billing feature that will decrease the contractors' payment processing period upon job completion.