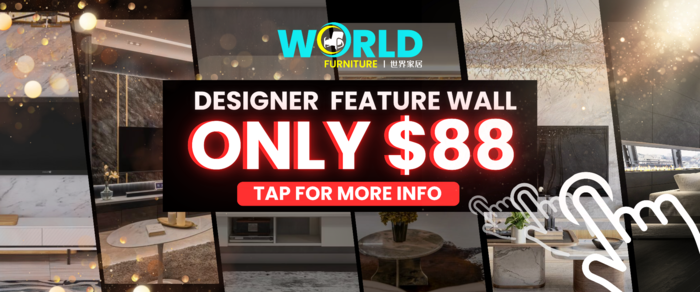 Your home is your sanctuary, your haven of comfort and style. It's the place where memories are made, and your unique personality shines through. If you're looking to infuse new life into your living space, look no further than World Furniture, nestled in the heart of Singapore at 31 Kaki Bukit Rd 3, #01-01, Singapore 417818. With a sprawling 30,000 square ft showroom and a diverse array of furniture options, World Furniture is your ultimate destination for all your home furnishing needs.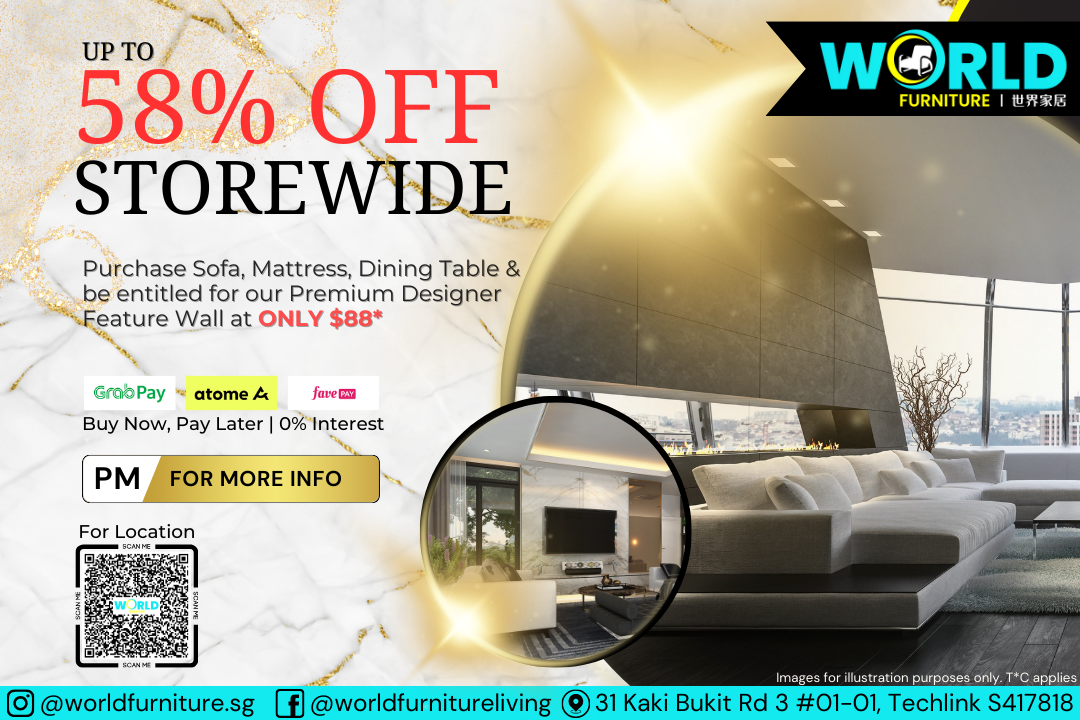 A World of Furniture Awaits
As you step into their expansive showroom, you'll be transported into a world of possibilities.World Furniture has curated an extensive collection of furniture that caters to every style, from contemporary chic to timeless elegance. Whether you're on the hunt for a plush sofa, a stunning dining table, a restful mattress, or any other piece of furniture to complete your home, we have it all.
Their commitment to quality is unwavering. Each piece in our collection is carefully crafted with precision and durability in mind. You can trust that the furniture you choose from World Furniture will not only enhance the aesthetics of your home but also stand the test of time.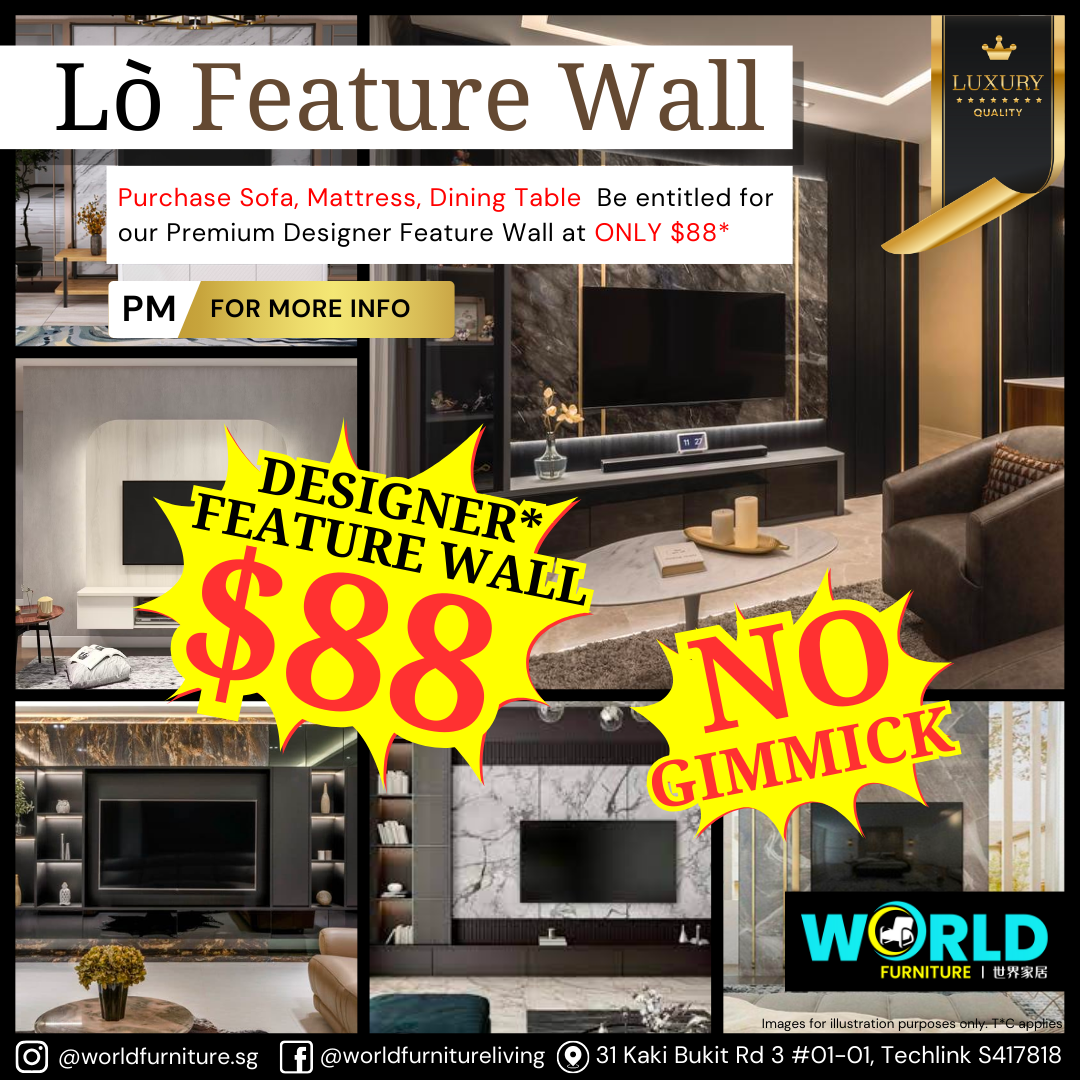 The $88 Designer Feature Wall Deal: A Game Changer

At World Furniture, they understand that it's the little details that truly elevate a home. That's why they're excited to introduce their exclusive $88 Designer Feature Wall Deal. When you purchase any sofa, dining table, or mattress, you have the opportunity to acquire a stunning designer feature wall for just $88. This unbeatable offer allows you to add an extra layer of elegance and sophistication to your living space without breaking the bank.
Imagine a feature wall that becomes the focal point of your room, a conversation starter, and a reflection of your unique style. With this limited-time offer, your dream of a personalized, magazine-worthy home can become a reality.
Here are the benefits you can expect to enjoy:
GST Waive Guarantee: They offer GST waiver on special items, ensuring that you get the best value for your money.
Free Parking: Enjoy the convenience of free parking when you visit their showroom*.
Warranty up to 20 Years: Rest easy knowing that your furniture is backed by a warranty of up to 20 years*.
Free Delivery and Installation: For special items, They provide complimentary delivery and installation* to make your experience seamless.
0% Interest Instalment Plan: Take advantage of their 0% interest instalment plan, which allows you to spread your payments over up to 12 months*.
FREE Taxi Claim upon Checkout: They go the extra mile by offering a free taxi claim service upon checkout.
Buy Now, Pay Later: They offer flexible payment options through GRAB and ATOME, so you can buy now and pay later.
Explore Our Spacious Showroom

At World Furniture, they believe that choosing furniture should be an enjoyable and immersive experience. Their spacious showroom is designed to inspire your creativity. Wander through thoughtfully arranged displays that showcase how different pieces can come together to create your dream living space. Whether you're seeking a minimalist look or a more eclectic vibe, their showroom provides the inspiration you need.
Conveniently Located

Finding World Furniture is a breeze, thanks to their convenient location at Kaki Bukit Rd 3. Their showroom is easily accessible, ensuring that your furniture shopping experience is hassle-free. For precise directions, you can find them on Google Maps here.
Join their BTO Group Buy Community Telegram Group for amazing BTO Package Deals here.
Appointment Options:
Facebook Appointment: Reach out to them on Facebook for a personalized appointment. Visit their Facebook profile here.
Whatsapp Appointments: Connect with their friendly staff to schedule your visit:
Brian Lim: +65 8585 6215
Louis Tan: +65 9159 1966
Phone: Contact them directly at (+65 6547 8266) for any inquiries or to book an appointment.
Your home is a reflection of who you are, and at World Furniture, they're here to help you make it truly yours. With their unbeatable discounts and the opportunity to add a designer feature wall for just $88, there's never been a better time to visit their showroom.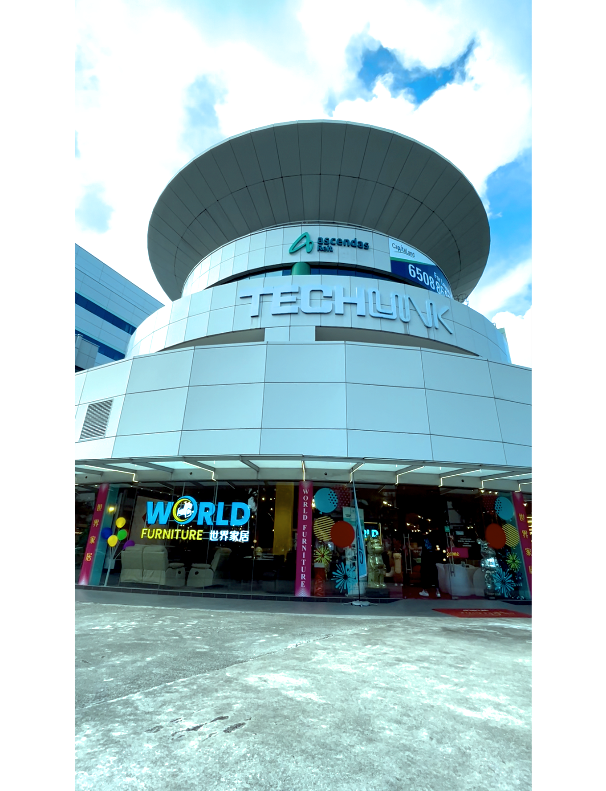 Don't miss out on this incredible opportunity to transform your home with high-quality furniture and a stunning designer feature wall at unbeatable prices.
Visit World Furniture at Kaki Bukit Rd 3, #01-01, Singapore 417818, today and take advantage of their storewide discounts of up to 58% OFF. Your dream home awaits, and World Furniture is here to make it a reality!