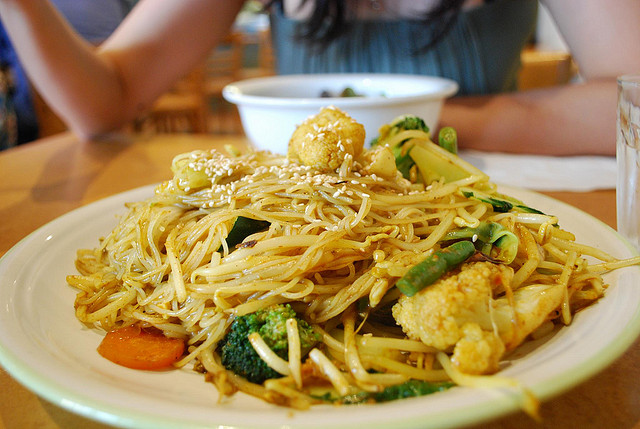 Image Credits: Alpha via Flickr
With the influx and the variety of the restaurants, cafes, and other eateries island-wide, it is always a good time to dine out at the Red Dot. But…this does not mean that you can freely eat unhealthily or splurge a lot.
Here are 5 ways to work around it:
1. MAKE IT A HABIT TO SEARCH IN ADVANCE
Before dining in the restaurant, make it a habit to check their menu online. Websites such as sg.openrice.com, yelp.com.sg, or hungrygowhere.com can help you locate a restaurant, identify its menu, and give you an estimate of the average spending. This will help you make tastier, healthier, and cheaper decisions.
2. CONSIDER ORDERING A MEAL
Imagine being in an affordable buffet with all the calorie-rich food available at your arm's length. It sounds tempting doesn't it? Yet your health may be at cost. Instead of always opting for a buffet, consider ordering a single meal that is packed with nutrients!
3. DISTANCE YOURSELF FROM THE APPETIZERS
Even if the restaurant appetizers are free, do your best to skip it as some of it are packed with calories. Appetizers are also made to fool your brain unto consuming more food that you intend.
4. CHEW SLOWLY
Indulge and savour the taste of your food. Eating slowly will help you realize that you are actually satiated. Thus, you will eat and purchase just enough or even less.
5. CHOOSE YOUR DESSERTS AND SALADS WISELY
I know I am not the only one who shares a deep fondness for desserts. A delectably sweet cake drizzled with tasty toppings can make you hungry for more. Although it is tempting, it is important to watch your sugar intake. Opt for lighter dessert choices such as sorbets or fruits. As for the salads, be mindful of the creamy toppings and the dressings.
With these simple ways, your tummy and your wallet will definitely be happy!