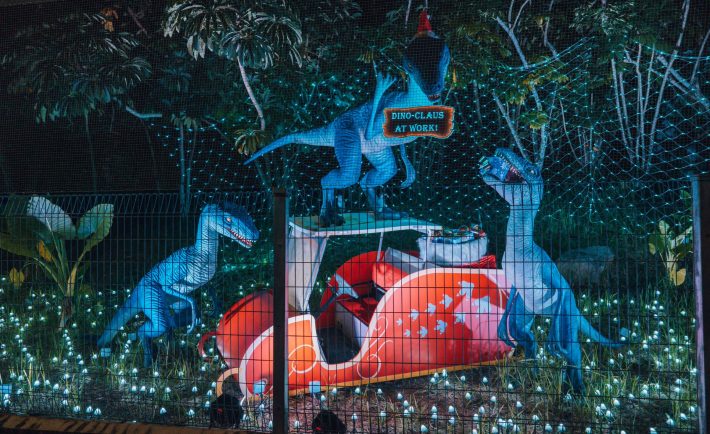 Image Credits: Changi Airport Group
Grab your favorite cup of hot chocolate or peppermint mocha and treat yourself with a trip to these spectacular, new places in Singapore! Let the good times roll with your friends and family members 'tis Yuletide season.
#1: STROLL DOWN ORCHARD ROAD
From now until January 2, 2023, Orchard Road glistens with streetlights and big Christmas trees. Take beautiful pictures with your loved ones as the entire stretch is dazzled with fairy lights, towering Christmas trees, and plenty of festive props. You can start from Plaza Singapura and end at Tanglin Mall.
Head down to Tanglin Mall for some winter wonderland glamour. This mall is a popular attraction for kids and young at heart. Near here is the Forum The Shopping Mall, which has pink neon lights decor that glows magically at night. While strolling some more, you will see Wheelock Place. Wheelock Place will draw you to its star-shaped illuminations suspended within its structure. Lastly, you will experience luxury with ION Orchard's enormous star-shaped tree topper from Dior. This is your perfect backdrop for an IG snap!
#2: WITNESS THE CHANGI AIRPORT CONNECTOR
Witness the Changi Airport Connector light up in bioluminescence until Jan. 31, 2023. The 3-kilometer-long festive installation is called the Dino Glow. The Dino Glow greets its guests with a trail of 1,100 levitating jellyfish beneath the T2 Skytrain tracks. Along the park connector are 4,000 dandelions and 3,600 mushrooms, which leads to a 40-meter tunnel of lighted arches. The dinosaurs at Jurassic Mile are also decked out in festive gear. The light-up runs daily from 7pm to 1am.
Apart from these, there will also be local food, burgers, and desserts. Some are blue too! There will be blueberry bubble tea and blue donburis. The food trucks are open every Friday, Saturday, and Sunday from now until Jan. 1, 2023 at 5pm to 10pm.
#3: APPRECIATE HYPERREALISTIC ART AT ARTSCIENCE MUSEUM
Patricia Piccinini: We Are Connected exhibition reimagines reality at ArtScience Museum until Jan. 29, 2023. It features more than forty artworks and installations by contemporary artist Patricia Piccinini. Guests will be amazed by the strange reality where human-animal hybrids exist. Through her life-like sculptures, Patricia explores the advancements in biotechnology such as genetic engineering. Ticket prices range from S$16 to S$21.
Other activities at ArtScience Museum include the guided tours of the exhibition, which are available in Mandarin and English. Additional fees apply.
#4: PLAY AT THE GREAT BAY FIESTA
The Great Bay Fiesta displays attractions at Marina Bay, which runs from now until Jan. 1, 2023. The 20,000-square meter space includes four main event segments: The Great Cirque des Cascades, The Great World Carnival, The Great Food Fiesta, and Ice Magic: The Great Fantasy on Ice.
As someone who has never watched circus acts before, you will be impressed by the various performing acts that the Great Cirque des Cascades offers throughout its 80-minute runtime.
At -10 degrees, Ice Magic: The Great Fantasy on Ice is the closest winter experience you can have in Singapore. The indoor ice playground will delight your children and their peers. Admission to the Great Bay Fiesta is priced from S$10. Additional payment applies for the activities.