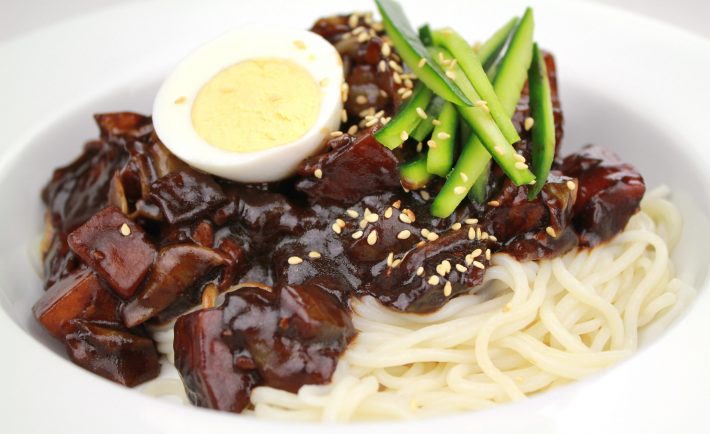 Image Credits: flickr.com/photos/kfoodaddict (Chloe Lim)
One of the most common take-away dishes in Korean dramas is Jajangmyeon (자장면) or Jjajangmyeon (짜장면). Jjajangmyeon is a Korean noodle dish coated with a thick sauce made of chunjang, vegetables, and diced pork. Different versions of this dish use seafood or other meats.
It was inspired by the Chinese dish Zha Jiang Mian, which was introduced by a Chinese immigrant living in Incheon. Nowadays, Jjajangmyeon brings delight to people all over the world. Luckily for us, we can satisfy our appetite without having to travel to Korea.
#1: MUKJJA
Mukjja's catchy name came from 먹자 (Mukja) meaning "Let's eat!" and 짜 (Jja) from "Jjajangmyeon". Located opposite Novena Church, MukJja offers a fusion of dishes from the Korean and Chinese cuisines. It opened last March 2020, before the implementation of the Circuit Breaker.
People who have missed the dishes from Tae Woo Ban Jum (i.e., a Korean restaurant that used to be at Clarke Quay) will be happy to know that its founder is the person behind MukJja.
Now, let us focus on MukJja's Jjajangmyeon (about S$11). What makes their Jjajangmyeon memorable is its in-house noodles, its black bean paste, and its inclusion of shredded meat. Food blogger and presenter Daniel Ang expressed that its taste is as legit as the one he had before in Seoul. He is not alone! Many online reviews considered it as one of the best Jjajangmyeons in Singapore.
Address: 275 Thomson Road #01-07, Singapore 307645
#2: DONG FANG HONG
This list will not be complete without the Dong Fang Hong Korean Chinese Restaurant. Dong Fang Hong serves a mouthwatering collection of dishes, which are suitable for casual dining and family gatherings. Serving people since 2005, Dong Fang Hong is one of the most experienced Korean Chinese restaurants in Singapore.
Try the DFH Jjajangmyeon (about S$12) or the Uni Jjajangmyeon (about S$13) when you are there. The DFH Jjajangmyeon is made with chewy handmade noodles and savory black bean sauce. While the Uni Jjajangmyeon is the spicy equivalent its Jjajangmyeon. The spiciness seeps through the thick savory sauce, making the dish more addicting with every bite.
Address: 92 Telok Ayer Street #01-01 Singapore, Singapore 048472
#3: O.BBa Jjajang
O.BBa Jjajang is the sister restaurant of O.BBa BBQ. One of its well-known dishes is the Jjajangmyeon (from S$13). The restaurant's Jjajangmyeon is served with fermented black soybean paste, homemade noodles, diced pork, onions, and shredded cucumber. Its size can feed about two people, but you are more than welcome to upsize your bowl for an additional fee.
Its noodles are smooth and chewy. As for the sauce, it has a generous sauce-to-noodle ratio. People who love saucy dishes will consider it a treat. Please mix the noodles and the sauce before consuming it to prevent the noodles from sticking together.
Address: 77 Tanjong Pagar Road, Singapore 088498
#4: ANNYEONG CHICKEN
The most inexpensive Jjajangmyeon (about S$7) on this list packs a punch! You see, it added vibrancy to our local hawker scene with its offerings of popular Korean cuisines such as the Jjajangmyeon. At Annyeong Chicken, the black bean sauce coats every yellow noodle strand. It boasts with a heavy onion flavor too.
You can complete your course with delicious dishes such as the Soy Garlic Chicken (about S$8/3 pieces) and the Haemul Pajeon (from S$10). Haemul Pajeon is otherwise known as the Korean seafood pancake.
Address: Blk 710 Clementi West Street 2, #01-247, Rong Fa Coffee Shop, Singapore 120709