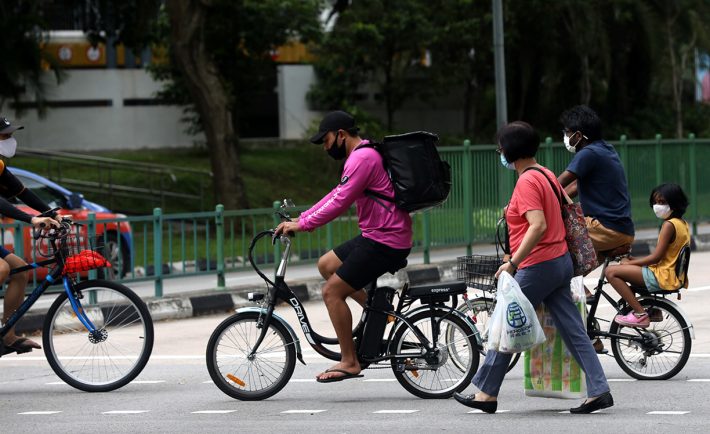 Image Credits: TODAYonline
Last week, Senior Minister of State for Transport Chee Hong Tat announced that the Active Mobility Advisory Panel would reassess rules on safety for cyclists and motorists.
The advisory panel will also be looking into the feasibility of the registration of bicycles or licensing of cyclists. This also means that cyclists may be required to take a theory test in the future.
However, observers noted that such measures could disrupt Singapore's cycling vision. Experts also say that it would be wiser to pump more resources into educating the public on safety aspects instead.
Singapore's history with bicycle registrations
Do you know that our little red dot required bicycle registrations from the colonial era until 1982? Over 30 odd years, there have been many requests on the licensing of two-wheelers and their riders.
In fact, in 2013, ex-Nee Soon GRC Member of Parliament Lee Bee Wah recommended that cyclists go through safety lessons before licence issuance. Following various letters to the news forum in a bid for registration to discourage reckless riders, the suggestion was revisited in 2016.
At that time, the Land Transport Authority (LTA) raised several practical difficulties implementing the scheme. They explained that it would be overly resource-intensive and could result in fewer cyclists since owning a bicycle would be too burdensome.
Experts and observers share their take on the issue
Dr Cecilia Rojas, who focuses on active mobility research, shared that the registration of bicycles would help reduce bike theft and abandoned or illegal parking.
However, the Singapore University of Social Sciences (SUSS) lecturer added that the authorities should clarify who needs to be registered. The licensing process should also be seamless and adopted over time so people can adapt to the new rules.
"Bicycles are bought, sold, exchanged very regularly. Also, in cases of road bicycles, sometimes just the frame or the handle or the wheels are changed, making the bicycle lighter or faster. Would these types of changes be required to be informed (to the authorities), or a new licence be required?" Dr Rojas questioned.
Tham Chen Munn, a business development director for traffic solutions firm PTV Asia-Pacific, also raised an excellent point. He asked if the registration of these devices would aid the authorities in catching hasty riders.
To that, the co-founder of cycling group Love Cycling SG, Francis Chu, noted that despite e-scooter registrations, those were ultimately banned from walkways.
"On the roads, vehicles move faster and the distance between them is further apart compared to those on the pavement. If on the footpath it didn't help address the errant riders, it will be more difficult to capture the number plate on the road," remarked Mr Chu.
Various suggestions to be considered
Mr Chu mentioned that setting a mandatory online test on road-cycling safety could be considered. Similarly, drivers could also go through a similar test on the proper response to road cyclists. He added that the LTA could examine protected bike lanes and junctions if there's enough space to work with.
On the flip side, Mr Tham requests speed limits to be reduced in specific areas. He's referring to places with a high traffic flow of people walking and cycling.
"We're not talking about expressways, we're not talking about major arterials, leave those as they are. There are opportunities to (introduce a speed limit of) 30kmh in places that can be safe for people to come out and play and be more active," he commented.
So, with all that said, what's your take on the issue? Would you be keen to register for a compulsory theory test to be "certified" safe to cycle? Or would you give up cycling altogether since registration and licensing is too much of a hassle?