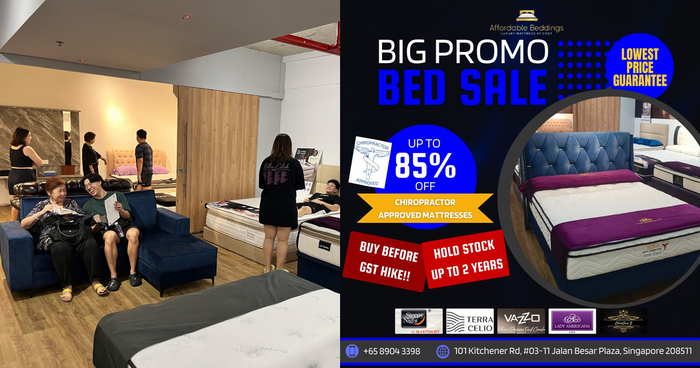 Redefine the way you sleep with Affordable Beddings' sensational Mega Sale Event!
From now till 26 November, they are rolling out the red carpet to offer you up to an incredible 85% off on mattresses approved by chiropractors. Say goodbye to ordinary sleep and hello to a dreamy haven that won't break the bank!
We're not just talking comfort; we're talking the kind of cozy that makes you hit snooze again and again!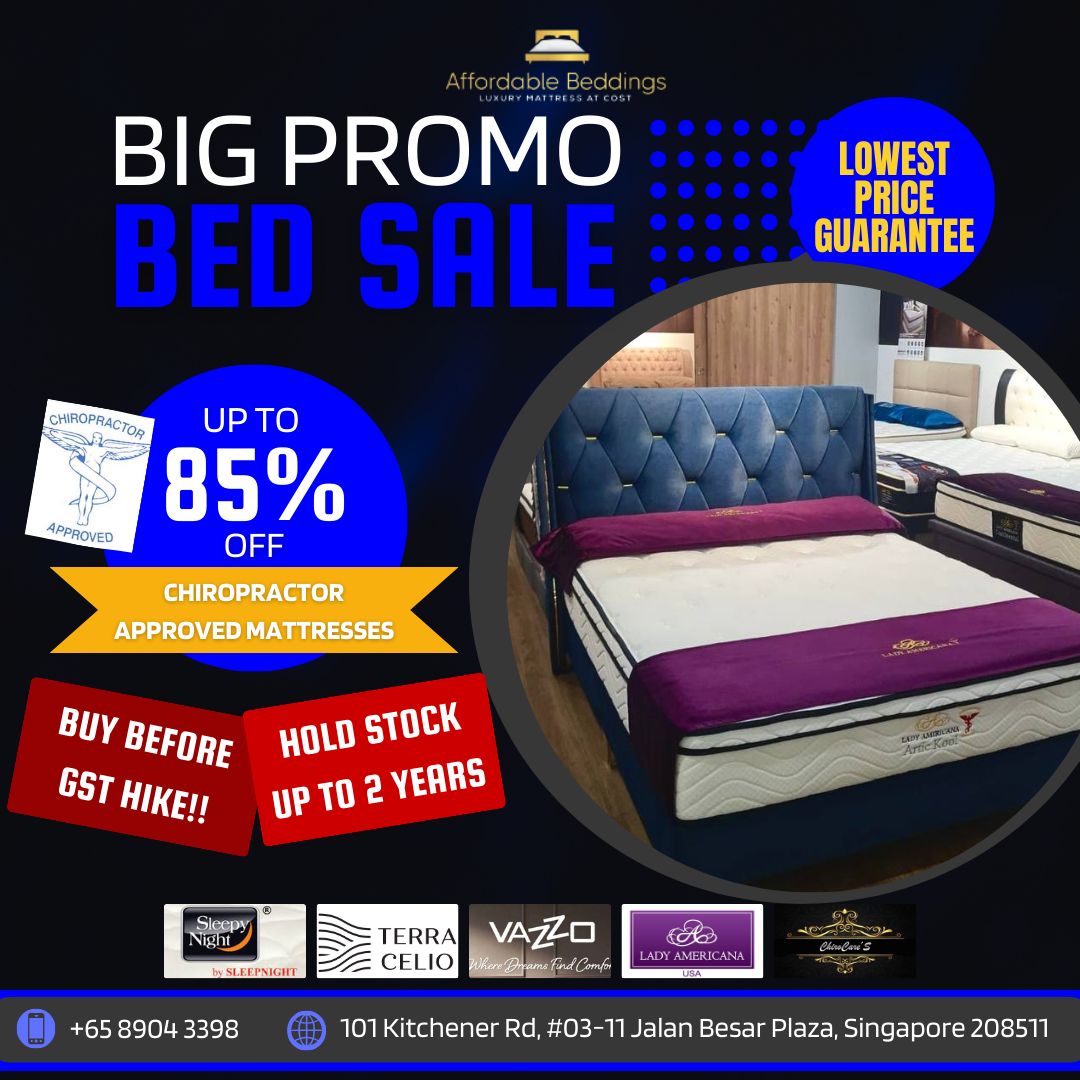 Chiropractor's Seal of Approval
Their mattresses aren't just fluff; they're your backstage pass to the sleep world approved by chiropractors. Imagine waking up feeling like you just got a bear hug from your bed – snug, supported, and ready to rock your day!
Let's Talk Discounts – 85% Off, Anyone?
Hold onto your sleep masks because the prices are dropping like confetti! Starting at a jaw-dropping S$199, you can snag the kind of mattress that usually comes with a celebrity price tag. Your wallet will thank you.
Exclusive Offers That Will Make You Jump for Joy:
Prices starting from S$199: Because beauty sleep shouldn't cost an arm and a leg.
Stock Holding for 2 Years: Secure your sleep fortress now and get the mattress delivered later (lock in the price before GST hike)
Beat the GST Hike: Get in on the action before the GST hike hits, and you'll be patting yourself on the back.
Offers a range of quality mattress brands
Affordable Beddings offers an array of renowned brands, including Lady Americana, Sleepynight, Vazzo, Terra Celio, and Chirocare's, all wrapped up with their commitment to the lowest price guaranteed policy. You're not only getting a ticket to dreamland but also a promise: the absolute best price in town or a refund in price differences!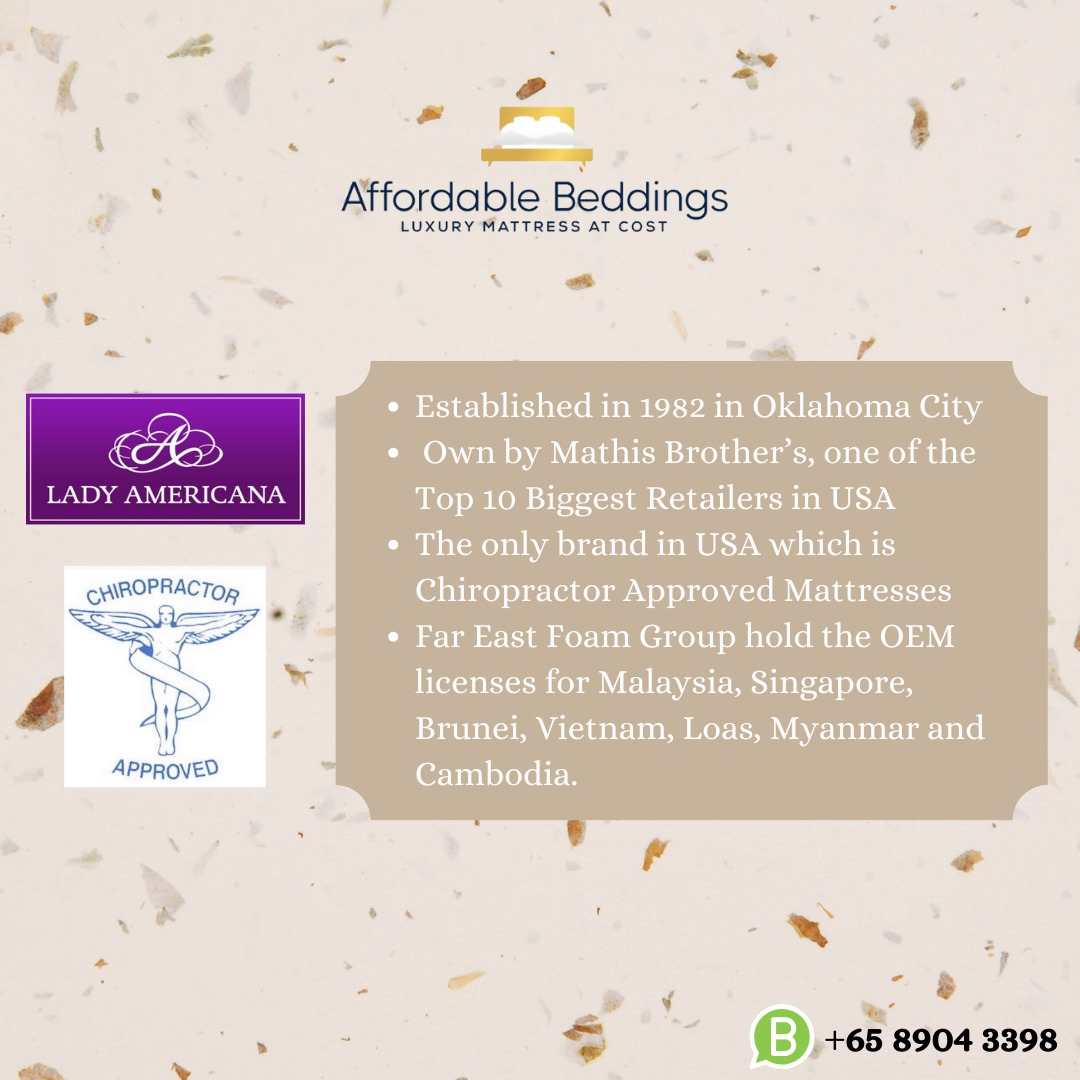 Enter the world of Lady Americana – the only mattress brand in the USA that's got the chiropractor's nod! Born in 1982 in Oklahoma City and backed by the Mathis Brothers, top dogs in the retail game. It's not just a mattress; it's a slice of the American dream delivered to your bedroom!
Save the Date:
When: Now until November 26, 2023
Time: 11:00 AM – 8:00 PM
Where: 101 Kitchener Road, #03-11 Jalan Besar Plaza, Singapore 208511