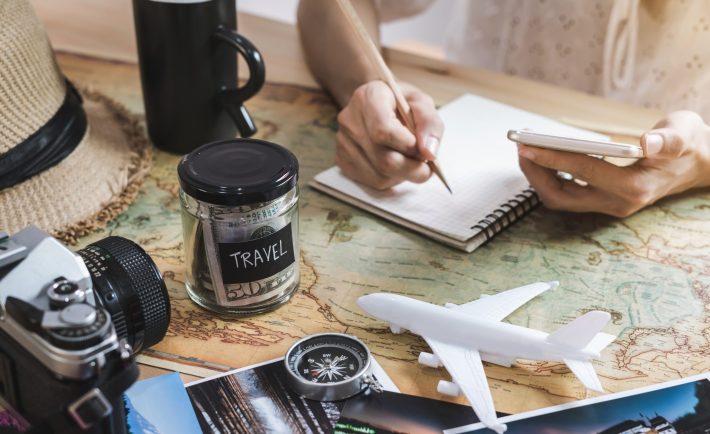 Image Credits: ourescapeclause.com
How many times do you just book your air tickets, pack your bags, and then fly off for the holidays without thinking how much the whole trip will cost?
And that made you end up overspending, blowing your budget, and then coming back feeling regretful and guilty?
Well, this time around, let's be nicer to our paychecks with better planning. Setting up a good budget in advance is important to not deal with the money stress after.
So listen up… Or rather, read up.
Understanding travel budgeting
If you always end up overspending on holidays, it's time to get serious about budgeting. A good travel budget can help you save up and avoid nasty financial shocks when you get back.
One of the biggest costs for trips. For budget airlines, book at least 4 to 6 weeks in advance or whenever promotion knocks on your door. For train or bus, book 2 to 4 weeks ahead. If driving or renting a car, factor in petrol, tolls, and parking fees.
Aim for mid-range hotels or Airbnbs, booking 4 to 6 weeks ahead. If you want to save more and don't mind sharing spaces, consider hostels, couchsurfing, or homestays. Camping is also a cheap option if you like the outdoors.
Eating out thrice a day can destroy any budget. If you have access to a kitchen, buy some groceries and DIY meals yourself. Or opt for street food, local kopitiam, or casual eateries over fancy restaurants. If dining out is a top choice, go for set meals, buffets, or happy hour promotions if any.
Save on sightseeing by walking around, and visiting free museums and attractions. Limit paid activities to 2 to 3 per trip. Buy bundled or discounted passes online in advance can help save you money rather than buying over the counter.
View this post on Instagram
Steps to set up a travel budget in advance
To enjoy your holiday without worrying about $$$, you need to plan your budget. The earlier you start, the more you can save. Here are some steps to set up a solid travel budget before your trip:
Research the cost of your destination
Check websites like TripAdvisor to see how much things cost at your destination. Find out average prices for meals, transport, hotels, activities, etc. The more you know, the more accurate your budget will be.
Estimate your travel expenses
Break down your total trip cost into categories—transportation, accommodation, meals, etc. Budget a realistic amount for each category based on your research. Don't forget to include extras like souvenirs you would like to bring back to your favorite people!
Account for unexpected costs
Anything that can go wrong will go wrong. So be prepared for surprises like flight delays, medical emergencies, or if you suay, even theft. Add about 10 to 15% of your total budget as a contingency fund. Better to be safe than sorry.
Once you have your total budget, divide it by the number of days in your trip. This gives you a daily budget to work with. Try not to overspend on any given day so you have enough for your whole holiday. Track your daily expenses on an app or Excel sheet to make sure you stay within budget.
View this post on Instagram
Strategies to save up for your travel budget
To set up your travel budget and actually save enough for it, you gotta put in some effort. If not, when the time comes to book everything, sure panic. Here are some strategies to make saving up possible:
Once you know how much your trip will cost based on where you want to go and for how long, break it down into a monthly savings target. For instance, if going to Korea for a week will be $1,500, aim to save $125 a month (across 12 months). Put this goal somewhere you will see it often, like on your desk or your phone as a wallpaper. This will motivate you to stay on track.
Treat your travel fund like any other expense in your budget. If you usually save $200 a month, add your $125 travel fund contribution to that. So you will transfer $325 in total to your savings account each month. Make it automatic if possible, so it won't slip your mind.
Spend less on other stuff
Look for expenses you can reduce or eliminate so you can allocate more to your travel fund. Things like eating at home more, hopping onto fewer Grab/taxi rides or canceling unused streaming services. Even saving $50 to $100 more each month will help you reach your goal faster.
If it makes sense for your soul and schedule, consider a side gig to make extra cash for your trip—sell unwanted items, pick up weekend event jobs, teach tuition, etc. Put all this "additional income" directly into your travel fund. Every little bit helps, right?
So now you know how to set up a travel budget and save up for your holiday, do it. Trust us, you will thank yourself when you come back from your trip without going broke. Setting a budget in advance helps you focus on the essentials during your holiday instead of worrying about how much you're spending each day. And saving up extra for your trip means you have more spare cash to do fun stuff when you're there! If you start planning and saving up early, who knows, you might even be able to afford some added luxury while vacationing.