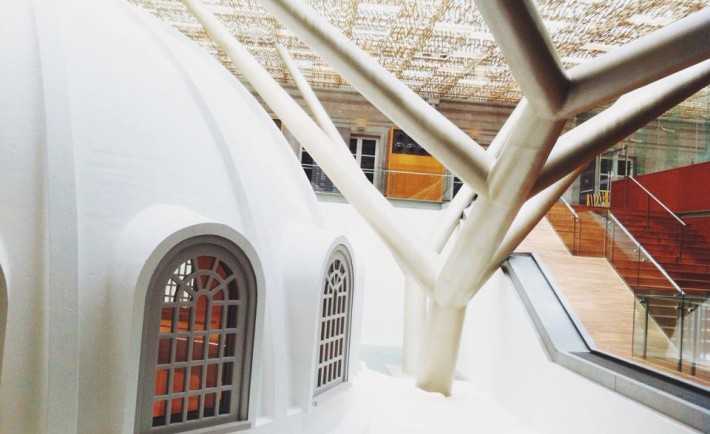 Image Credits: instagram.com/agoncilloanna
Are you an aspiring model or photographer looking for the perfect photo-shoot location? If you do not have the access to a professional studio, fret not because there are a lot of picturesque outdoor spots that are worth visiting. These spots are not only limited to models or photographers; if you want to savor the scene, you can too! You can always take great photos for fun! Just have your selfie stick ready as you go to the Most Picturesque (Yet No-Cost) Places In Singapore…
1. FOR THE HERITAGE NOSTALGIA
About 15 minutes away from the Eunos MRT is your first potential photo-shoot location – the Koon Seng Road. It is filled with traditional Peranakan shophouses that are pastel colored and intricately embellished. Be in awe with the rich architecture background as you take a beautiful selfie.
2. FOR THE ARTISTIC TOUCH
I was one of the lucky few people who witnessed the halls of National Gallery Singapore before its grand unveiling later this year. All I can say about it is that, every corner and every room is undeniably Instagram worthy. This is because the place used to be the halls of the Supreme Court and the City Hall. Starting it off with the elegantly white entrance that used to be a car park. Instead of going inside the traditional doors, we went inside the windows.
Simply, they took something old and added a creative modern twist. An aesthetically pleasing background is perfect for snaps!
3. FOR THE CHILD IN YOU
Travel to Toa Payoh to see the Dragon Sand Playground…this might be the last of its kind. As its name says, the playground is dragon shaped and sand based. These were the popular playgrounds in the 70s-80s. After 1993, they were phased out due to safety concerns. Take a trip down to memory lane and reminisce your childhood memories as you take photos of your #OOTD (Outfit Of The Day).
4. FOR THE NATURE JUNKIE
Punggol Waterway Park as is one of the favorite locations of wedding photographers. It is located at the heart of the Punggol Eco-town – the first eco-friendly town in Singapore. That said, you could take unforgettable pictures along the Punggol Waterway Bridge and the Punggol Waterway Park Tree.
5. FOR THE TOTALLY HIPSTER
Two of the hippest spots in Singapore can house the most pleasing photo-shoots. These are namely: the Haji Lane and the Orchard Gateway Bridge. Haji Lane has a myriad of vintage shophouses that sell contemporary and quirky items such as accessories and clothing. The road is also filled with textile shops that have been in business since the 50s! And, my favorite corner is that of the Piedra Negra Restaurant's because of its vibrant graffiti.
On the other hand, Orchard Gateway Bridge gives a modern vibe as its futuristic glass bridge joins the [email protected] and Orchard Gateway. Always have your camera with you so you can stop and snap some selfies while you are walking along. 🙂