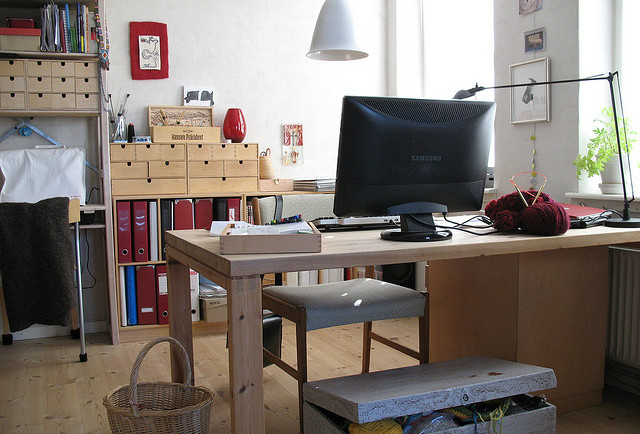 Image Credits: Lisa Risager via Flickr
If you are waving goodbye to the office life and venturing to the exciting world of freelance or self-employment, you will find yourself in need of a home office. Luckily, due to modern technology, building a home office is easier than ever before. Here are some budget-friendly ways you can start with…
1. DO IT YOURSELF
Instead of hiring an interior designer or other professionals, decorate your office by yourself. You have the freedom to choose your working space. Be creative, as your imagination knows no bounds. For example, you may hang inspiring posters or family photos to motivate you everyday.
2. USE WHAT YOU ALREADY HAVE
Recycle and repurpose your old furniture or decorative materials. Buried in your attic or closets are useful yet forgotten things such as lamps, chairs, or notebooks. Seek for these things. Then, reinvent these forgotten treasures by fixing and painting on them. Not only did you save more money but you also saved Mother Earth. 🙂
If purchasing for other items is necessary, consider to…
3. PURCHASE FURNITURE ONLINE
Looking for stylish yet inexpensive furniture? Then, GROUPON.sg is the website for you! They currently offer a wide selection of discounted furniture but, here are some of my top picks:
a. The classically beautiful Funika 3-Tier 2-Tone Reversible Bookcase priced at S$25.90 (38% off). Available here.
b. The assorted colors of Bolton Swivel Chair with Armrest priced at S$79 (47% off). Available here.
c. The space-saving Set of 2 Folding Chairs priced at $29.90 (30% off). Available here.
d. The maple colored 2-Tier Desk priced at S$59 (54% off). Available here.
4. BARGAIN AT THE FLEA MARKETS
It is possible to buy unique yet affordable pieces of electronics, rags, stationery, paintings, and furniture at Singapore's flea markets and thrift shops. Some of the known fleas include MAAD (Market of Artists and Designers), Zouk Flea & Easy, and China Square Central Sunday Flea Market.
Related Article: Score Great Deals At Flea Markets In Just 5 Steps
5. LASTLY, SHOP DURING SALES
To save more money, list down everything that you need for your home office. Then, buy these items one by one once the sale comes up. It is okay to take your time in building up your ideal haven since you are the master of your own time. One of the large-scale brand that offer quality products at low prices is IKEA Singapore. And, they occasionally have special product offers. For example, you may add a tampered glass VITTSJÖ laptop support to your home office for only S$19.90 (U.P. S$39.90).
Building your own home office may take time, money, and effort but, once you found something you truly love (whether it be blogging or web designing), all of these will be well worth it. 🙂