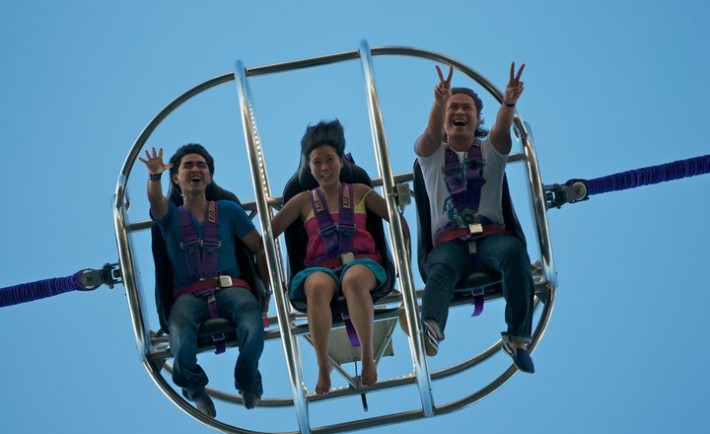 Image Credits: www.facebook.com/G-Max-Reverse-Bungy-Singapore-132114666835966/?fref=photo
Valentine's Day is a special occasion wherein you get to show your affection and to reconnect with the people you care most for. Whether you are celebrating with your spouse, your girlfriend/boyfriend, your group of friends, your family, or yourself – go on an adventure this Valentine's Day with this fun activities that cost under S$55…
1. FOR THE EXTREME COUPLES
Aside from riding roller coasters, taking your date on exciting and seemingly dangerous situations can boost the levels of hormones that are mainly responsible for making people fall in love or feel euphoria.
This is why, couples may consider the extreme surge of G-MAX REVERSE BUNGY or GX-5 EXTREME SWING at Clarke Quay. These two rides designed in New Zealand, the home of Bungee, to ensure it is 100% safe. The G-MAX Reverse Bungy catapults you up to 200 km/h in a steel capsule while the GX-5 Xtreme Swing acts like a giant swing that speeds up to 120km/h. What a thrilling experience indeed!
One ride costs about S$45 (different student rate applies)
2. FOR ALL THE "SINGLE" SQUADS
For all the single people who decide to celebrate together as a powerful group, take on an enjoyable challenge by playing Bubble Soccer. Bubble Bump Singapore offers bubble games where players wear inflatable balls in an attempt to win in a Soccer match. Each suit are harnessed and equipped to make sure your fall will be relatively painless.
One date with your friends can surely bring loads of laughter as you start the full-on bouncing action just to score a goal. A casual fun game including 10 bubble suits, 2 facilitator, equipments, and photography starts with S$15/pax (i.e., 20 people). For more information, visit: www.bubblebump.sg.
3. FOR A FAMILY DATE
If you cannot leave your kiddos this February 14, try to bring them along on a fun date at a water amusement park. One of Singapore's largest water theme parks called "Wild Wild Wet" offers exhilarating rides at inexpensive prices. As Valentine's Day fall on a Sunday, it follows the peak price of S$24 for adults and S$17 for children and senior citizens. While, toddlers are free to swim all year round! Cheaper prices are in store for NTUC members and Plus! cardholders.
Once you are there, brave the rapids with Ular-Lah, make your way to wacky the crazy turns of The Waterworks, and so much more. Also, you may take part in their online contest (until February 8) to win exclusive Wild Wild Wet prizes!
4. FOR SELF LOVE
Being #ForeverAlone on the day of hearts does not give you the free pass to sob on the corner. Instead, try something new and exciting by taking the leap of faith. If you happen to be in Sentosa, do the "ParaJump" attraction including the Jungle Ride for S$19. ParaJump replicates a free-fall parachute jump through its safety harness and experienced staff.
I have to admit…I am fearful of heights but after trying this, I felt a surge of fulfillment and happiness. Beyond the fear, the experience was unforgettable.