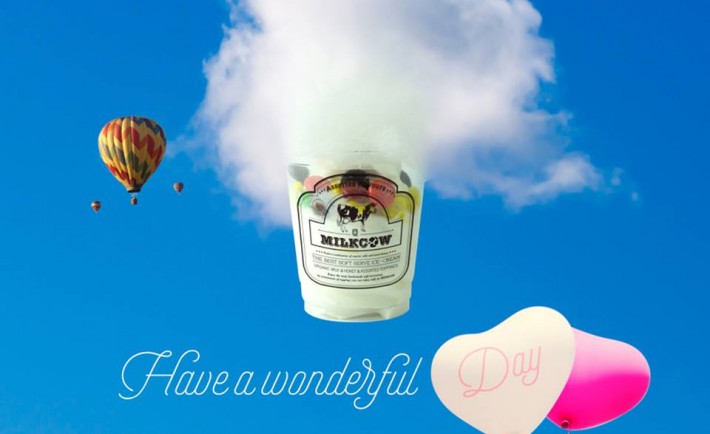 Image Credits: www.facebook.com/MilkCow.Sg/timeline
The unwavering popularity of K-Pop and Korean dramas brought forth the satisfying dessert called soft serve.
Soft serve, a type of ice cream, is perfect for the sunny Singapore climate and its increasing health conscious inhabitants. It is generally lighter, smoother, and creamier than the regular ice cream because of the air introduced during freezing. Due to its formulation, soft serve ice cream melts rather quickly so you must eat lick its goodness rather quickly. Worry not if you consume more than expected as it has generally less milk-fat than regular ice cream.
Inexpensive does not always come with bad taste if you know the right places to look. That being said, here are 3 delicious yet affordable places to satisfy your hunger for Korean soft serves…
1. THE POPULAR ONE
Boasting with lengthy queues daily, Honey Crème's soft serves are silky and rich. Showing a balance between flavors, all the ingredients are mixed well together by the hand to give a smooth consistency. Customers can avail occasional flavors aside from its classic flavors such as Caramel Popcorn, Comb Honey, Affogato, and Organic Mixed Grains.
If you are a fan or cotton candy or fairy floss, their nice spins are made with organic sugar and natural flavoring. Furthermore, it is stuffed with Italian rock salt to give a twist and even out the sweetness of both the ice cream and the cotton candy.
Price Range: S$5.50 – S$6.50
Locations: 313 Orchard Road, #01-37, Singapore 238895 ; 50 Jurong Gateway Road #B1-06, Singapore 608549
2. THE ORGANIC TEMPTATION
Hailing from South Korea, Milkcow offers ice cream made with 100% organic milk from Italian farms. Much like Honey Crème, Milkcow has a loyal following that proves how addicting their products are.
With 14 special flavors, Milkcow's wide selection of sort serves can be topped with organic honeycomb, cotton candy, fruits, jelly beans, chocolate syrup, and so much more. And if you are confused on which flavors to purchase, consider trying Snow Drop, Milky Peace, and Milky Cube.
Price Range: S$4.90 – S$6.50 (Soft Serves) and S$1.00 – S$2.00 (Toppings)
Locations: 8 locations nationwide, visit milkcow.sg for more information.
3. THE RISING STAR
Sweet Monster is the new Korean soft serve on the block. With its adorable characters, unique flavors, quality ingredients, and American festival vibes – you are sure to have a wonderfully satisfying experience!
Feast your eyes on their visually pleasing Popcorn Ice Cream (S$6.80) that is in complete dichotomy in taste, texture, and temperature. Is it sweet or salty? Is it crunchy or smooth? Is it hot or cold? Find the answers to these questions yourself by heading to one of their outlets.

Price Range: S$4.80 – $6.80 (Soft Serves) and S$8-8.30 (Cake Ice Cream)
Locations: Plaza Singapura, 68 Orchard Road, #B2-49, Singapore 238839 ; Bugis Junction, 200 Victoria Street, #M01-K1, Singapore 188021
Sources: 1 & 2