Image Credits: pixabay.com
Let us be honest! In this day and age, it is hard to live without mobile data. Most of our daily lives center around the convenience of the Internet. Moreover, we find pleasure in sharing our adventures and experiences thru social media. This is why most jet-setters secure their pocket Wi-Fi before or after landing to their destination.
Having your own prepaid sim card with data allows you to navigate the area and to interact with the locals no matter where you are. If your foreign friends want to visit you in Singapore, here are some of the prepaid sim card options that you can suggest.
Firstly, it is important to note that there are only three main telecommunication companies in Singapore. These three include Singtel, Starhub, and M1. Lastly, these telecos offer tourist sim cards that can last you for a week or so.
The good news is that tourists can enjoy about 100 GB worth of local data and 100 local texts from all the three telecos. You read that right!
M1's Tourist SIM, valid for 7 days, is priced at S$12. You can indulge on 500 minutes of local calls and 20 minutes of international calls. However, this sim does not include the roaming data.
Next up is Starhub! Starhub Travel Prepaid SIM will also take you back by S$12. It is the cheapest option with the most value. Why is this so? For one, it includes 500 minutes of local calls and 30 minutes of international calls. Additionally, it includes 1 GB worth of roaming data.
Lastly, you must highly consider the Singtel hi!Tourist EZ-Link SIM Card. This merges the need for transportation and communication. You see, this prepaid card has a stored EZ-link value of S$3. Buying a separate EZ-link card would cost you an additional of about S$15. What's more? You can get multiple benefits tied to this prepaid card such as 25% off the Sentosa attractions.
The price of this prepaid card is S$18 including 500 minutes worth of local calls and 30 minutes of international calls. Moreover, it has 1 GB worth of roaming data. Imagine how much savings you can acquire by fusing all these services!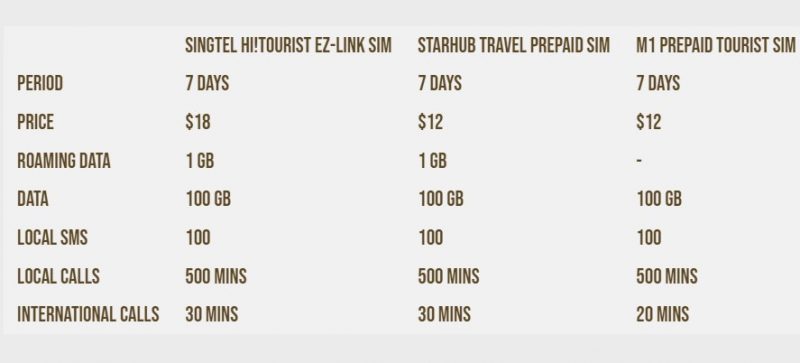 The bottom line is that different people can have different mobile usage when they travel. Examine your priorities and preferences when choosing the best prepaid sim card for your foreign friend.