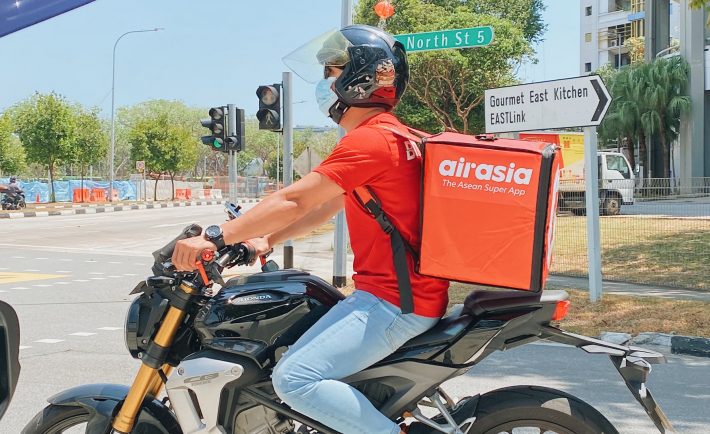 Image Credits: facebook.com/airasiaSingapore
Move aside GrabFood and foodpanda Singapore, there is a new player in town! It is none other than the AirAsia Food. AirAsia just launched its food delivery service in Singapore and offered free deliveries for orders within 8 kilometers (until March 16). It is free for download on the Apple App Store and Google Play Store.
Last year, the aviation industry took a strong hit due to the global pandemic. Airline staff and entrepreneurs have thought of ways to modify their skills and diversify their businesses in order to survive. Budget carrier AirAsia, sought for ways to boost their revenues through their "super app". This app offers services from travel to shopping as well as logistics to financial services. The food industry is another landscape that they wanted to tap.
Earlier this month, AirAsia said this in a statement: "The rapidly growing food delivery platform of AirAsia super app – AirAsia Food – is set to revolutionize the food delivery service sector in ASEAN with its official entry into Singapore today." AirAsia Food aims to provide a "no-frills" food delivery service within Singapore.
Let us take a look at its features or lack there of. Firstly, it does not have a real-time tracking feature. You will not be able to track whether your driver has just left the establishment or whether they are 1km away. Mr. Anthony Fernandes, founder of AirAsia Group, saw the "maps" feature of existing delivery apps as unnecessary frill that can help them to cut cost. Moreover, the operating hours of the app is said to span from 11am to 8pm daily.
As of the current situation, Mr. Lim Ben-Jie of AirAsia app has said that there are no plans to extend the operating hours in the future. They only follow the operating hours of its its delivery partner, AirAsia's logistics arm Teleport. Its limited operating hours may be an issue for people who frequently order due to their late-night cravings.
Thirdly, users will not be given upfront updates regarding the delivery time. The average time from order creation to delivery would be between 35 to 40 minutes for orders within 10 kilometers. You will not be informed if there are "external factors" that can affect the timeliness in preparing your order. Users must be flexible when it comes to that. As with every new app, there are some things and glitches that they may fix or modify over time. I hope this is one of them.
Lastly, AirAsia Food went back to its roots by providing low-cost options for food delivery. The platform charges establishments with a 15% commission per delivery. This is lower than the three major food delivery giants such as GrabFood, foodpanda, and Deliveroo. Furthermore, delivery rates are about 5% lower than its rivals. AirAsia believes that lowering the commission rates will lead to lower charges for customers.
What's more? They provided unlimited free food delivery until March 16, 2021. This only applies for deliveries within 8 kilometers. Beyond Singapore, AirAsia Food plans to expand to Thailand, Philippines, and Indonesia. They are eyeing on this expansion in the second half of 2021.
Ultimately, AirAsia Food seems to be the cheapest food delivery option for the time being. It is up to you to decide whether the features on this app are sufficient to your needs. Nonetheless, I am hoping that the reported glitches will be addressed soon. Share us your app experiences on the comment section below!