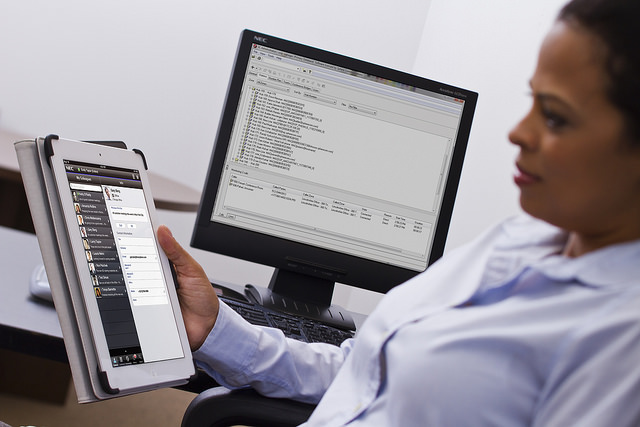 Image Credits: NEC Corporation of America with Creative Commons license
Living in the 21st century where technology is a quintessential part of our lives, it is hard to find someone without a mobile phone. There is no doubt in my mind that technology improved our lives, making it easier and faster to communicate, shop, develop, search, and so much more.
Even though it is dependable, technology can cost a lot! Your wallet can empty as quickly as your battery empties. Luckily for you, there are ways to avoid excessive spending on technology…
1. NEEDS BEFORE WANTS
Do you really need an expensive action camera just to take great selfies? Or how about a state-of-the-art computer set-up just to browse the Internet? There is no point on spending on the most expensive gadgets and accessories if you will not maximize its use. So, the first step you must take is to evaluate your needs and understand how the device works. During this process, you have to be honest with yourself.
2. SELL YOUR OLD DEVICES OR EQUIPMENTS
If there is a growing desire to upgrade to the latest technology then, try selling your devices or equipments. This will give you little to enough money to help purchase the new device you have been eyeing on. eBay, Gumtree, and Carousell are just some platforms where you can find some interested buyers.
3. PURCHASE ONLINE
Aside from getting rid of your old devices or equipments online, you may also get a great deal there (i.e., whether it is through a wholesaler or an online coupon). You can compare the prices of the online shops to what is available on the physical shops, only to find that most of the times, online shops offer the cheaper prices. Furthermore, you just saved on the costs of transportation you would have paid if you went to the stores.
4. GET CREATIVE
Although the variety of the homemade accessories you can make are thin, it does not hurt to give it a chance. You are still saving money anyway. For instance, you may use a white top sheet as a diffuser, a white wall to bounce light from a flash, and a Styrofoam board as a reflector. All it takes is your imagination and creativity.
5. LOOK FOR ALTERNATIVES
Just because a renowned company announced a huge product launch does not mean that you have to buy it. If your technology basket is already sufficient then, there is no need to buy a new one. Also, if the new product does not satisfy your budget then, you do not have to buy it now. Pretty soon, the prices of this thing will drop, just be patient.
But, if you are really in need of a specific gadget immediately, say an action camera like GoPro (US$340/S$455), consider getting a cheaper alternative such as the HTC Re (US$159/S$213), the Polaroid XS100i HD (US$129/S$173), or the Sony HDR-AS20/B (US$149/S$199).