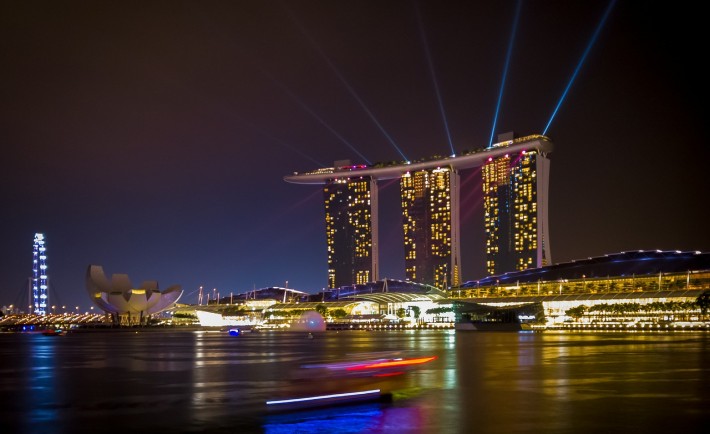 Image Credits: pixabay.com (License: CC0 Public Domain)
If you believe that following your travel budget on one of the most expensive countries in the world is impossible…think again! There are many ways to save a sizable amount of money as you explore Singapore.
Here are just some of them:
1. SAVE ON FOOD AND BEVERAGES
Food and beverages is one of the few categories you will be spending more on as you travel. Singaporean cuisine is unique because of its cultural diversity that is influenced by the neighboring Asian countries. So if you are tempted to try all the mouthwatering local dishes, eat at cost-effective food courts called "hawker centres" or traditional coffee shops called "kopitiam".
Also, save money on water by drinking safely from the tap. Simply purchase a small bottled water for S$2 and refill it again via tap, for free.
2. SHOP AT THE RIGHT PLACES
Singapore is a haven for food lovers, for digital enthusiasts, and for fashionistas of all ages! It has an abundance of shopping centers. As a first time tourist, shopping for bargain keepsakes for you and your loved ones can be challenging and overwhelming. Ease your search by checking out these posts:
a. Excellent Places To Find Low-Cost Uniquely Singaporean Souvenirs
b. Perfect Places To Buy The Cheapest Perfume And Other Fragrances In Singapore
c. Perfect Places To Buy Cheap Camera And Accessories In Singapore
3. GET THE BEST EXCHANGE RATES IN TOWN
It is quintessential to find the best place to change the currency of your money especially if you are travelling for a long period of time. Luckily for you, Singapore boasts with an array of licensed and reliable money changers that offer the best rates for most foreign currencies. Save more money by comparing the rates of each shop or by reading this concise post.
4. SAVE ON TRANSPORTATION
Singapore is one of the few countries where walking is recommended and enjoyable. Indulge in the picturesque sights and neighborhoods by walking to and from the tourist attractions. Otherwise, take advantage of the efficient transportation services by purchasing an EZ-Link card instead of paying for each ride.
By using an EZ-Link card, you only pay for the distance traveled, rather than paying for the flat fare. For short trips, save even more by purchasing the Singapore Tourist Pass, which allows you to have unlimited rides for 3 days. Thus costing you as little as S$6.70 a day (T&C apply).
5. STRICTLY FOLLOW THE RULES
It is no secret that our country has been dubbed as the "Fine City". The common penalties range from S$200 to S$1,000. For example, you have to pay S$500 per pack once you are caught bringing it inside the country. Some laws are even popular for its outrageous nature such as banning of chewing gums.
Avoid breaking the bank by being aware of and complying with the regulations. Be reminded by the warning signs that are plastered islandwide.