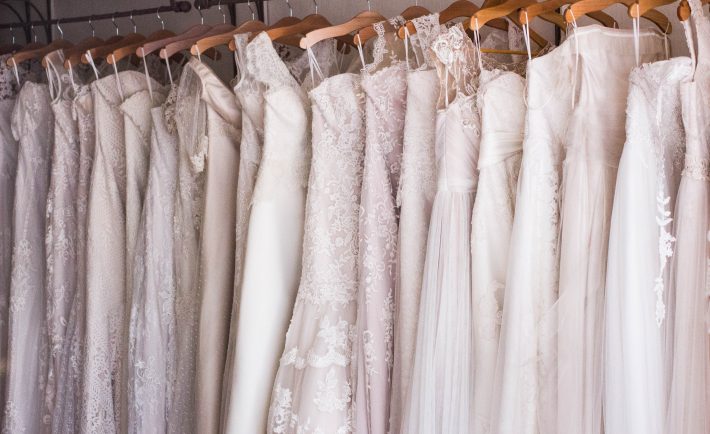 Image Credits: unsplash.com
You're engaged! Congratulations!
Now it's time to start shopping for your wedding dress.
It's an exciting (and sometimes daunting) process, but with a little planning, you can find the perfect dress for you and your big day. Here are a few things to keep in mind as you get started.
Your budget
You're probably excited about the prospect of finding your dream wedding dress. But before you start shopping, set a budget and be realistic about what you can afford.
There are many dresses out there, and it can be easy to get carried away. But remember, you will need money for other things like the reception, flowers, wedding bands, and photography. So be mindful of how much you're spending on your dress.
There are plenty of beautiful dresses out there that won't break the bank, so don't feel like you have to go over budget just to have the perfect wedding dress. Start by setting a budget and then start shopping with that in mind. You will be glad you did.
The formality of your wedding
When you're choosing a wedding dress, think about the formality of your wedding.
What does that mean? Well, it means thinking about things like the venue, the guests, and the overall tone of the day.
If you're getting married in a grand ballroom, for example, you will probably want to choose a more formal dress than if you're getting married on the beach. And if you're having a color-coded affair, your dress should reflect that.
Your body type and what flatters you
A dress that looks great on your best friend might not look so great on you.
Be honest with yourself and think about what styles and cuts look good on your body. Are you curvier or an hourglass? A straight-up-and-down kind of lady? The key is to find styles that flatter your body type and make you feel confident and beautiful.
So before you start trying on dresses, take some time to think about what looks good on you. Once you know that, the process will be a lot easier.
The neckline, sleeves, and waistline of the dress
You might be wondering what the neckline, sleeves, and waistline of your dress should be. Well, we're here to help!
Boatneck and off-shoulder necklines are both great options, as they elongate the neck and make you look taller and slimmer. If you want something a little more dramatic to show off your assets, go for a sweetheart neckline or a V-neck.
Sleeves can also make a big statement. They can add elegance or drama, and they can also be a great way to cover up your arms if you're self-conscious about them. You have a few different options when it comes to sleeves: strapless, capped, short, 3/4 length, and long.
And finally, the waistline. This is another essential feature to consider because it can help create the overall silhouette of your dress. A natural waistline is always a good choice, as it creates an hourglass figure. If you're looking to hide your tummy, then a high-waisted dress makes sense.
You've probably started to think about wedding dresses by now. It's an exciting process, but it can also be a little overwhelming. There are so many different styles and fabrics to choose from, not to mention prices! How do you know which dress is right for you? As mentioned, think about the style of your wedding, your body type, and your budget. Keep these things in mind as you start shopping for your wedding dress, and you're sure to find the ideal one for your big day! Good luck.