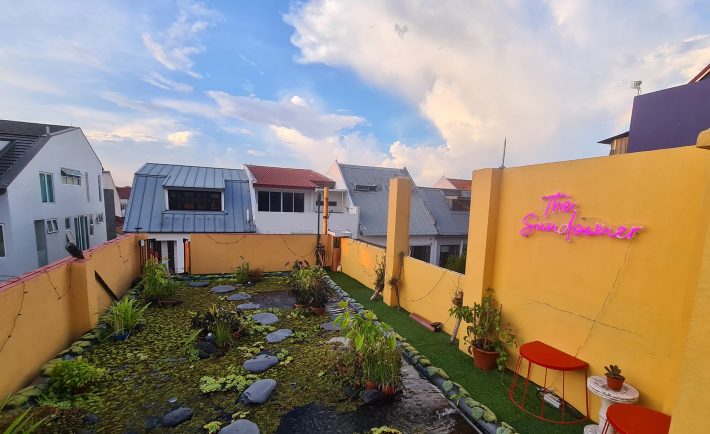 Image Credits: The Sundowner via facebook.com
"Just being surrounded by bountiful nature, rejuvenates and inspires us."
– E.O. Wilson
Nature heals. Research showed that environments can increase or reduce our stress. What you are seeing, hearing, and feeling at any moment changes your physical and emotional well-being.
If you feel suffocated within the walls of your home, try visiting farms in Singapore. From vegetable farms to animal farms, we have you covered!
#1: HAY DIARIES
Since its inception in 1988, Hay Diaries has been the only goat farm in the country. Located within Lim Chu Kang, guests are free to explore the premises and to witness the goat milking session between 9:00 to 10:30 am.
Get close with the goats as you purchase the Alfalfa Hay (S$5 per packet) and feed the goats. End your goat farm experience by skimming through the souvenirs such as fresh goat's milk and handmade soap.
Location: 3 Lim Chu Kang Lane 4, Singapore 718859
Website: haydairies.sg
#2: BOLLYWOOD VEGGIES
Home to the Poison Ivy Bistro, the Bollywood Veggies lets you travel back to simpler times. Their Bistro is a farm-to-table eatery where guests go for a quick lunch after visiting the nearby farm. Try their unique Blue Nasi Lemak, which is infused with blue pea flower.
After a hearty lunch, you can walk around the premises to enjoy the wide variety of plants. What's more? They have a food museum with about twenty-four oil paintings that illustrate the relationship between food and human civilization.
Location: 100 Neo Tiew Road, Singapore 719026
Website: bollywoodveggies.com.sg
#3: THE LIVE TURTLE AND TORTOISE MUSEUM
Did you know that this place is a Guinness World Records holder? Witness the undeniable charm of various species of turtles and tortoises such as the Six-Legged Tortoise and the Pig Nose Flying Turtle. See and feel the spirit of the Sulcata Tortoise for luck, and the Thailand's Golden Temple Turtle for wealth.
You will be given the chance to interact with these creatures by petting and feeding them. However, please do not lift them up as it can cause them stress. Tickets cost S$10 for children aged 3-6 and S$14 for those above 7 years old.
Note: Due to the Phase 2 Heightened alert, group entries will be limited to 5 people per group. Only fully vaccinated visitors will be allowed entry. Children under 12 years old need not be vaccinated.
Location: ORTO, 81 Lor Chencharu #01-16, Singapore 769198
Website: turtle-tortoise.com
#4: THE SUNDOWNER
Nestled within a once empty concrete rooftop, the Sundowner is an urban farm and lounge space which offers guests the opportunity to learn about the fundamentals of organic farming and to indulge in farm-to-table goodies.
It is an oasis of green floating above the bustling cafes and bars of the Siglap restaurant belt. You can opt for the Rooftop Farm Experience to learn about organic farming as taught by a master gardener, to don a bee suit, and to get a sample of unifloral honey. This experience is priced at S$115 for adults and at S$85 for children.
You can also make your own pizza with their 3-hour class. This activity is perfect for friends, families, and co-workers. Private Pizza-Making experience costs S$350, for two pax.
Location: 705A E Coast Rd, Singapore 459062
Website: thesundownersg.com