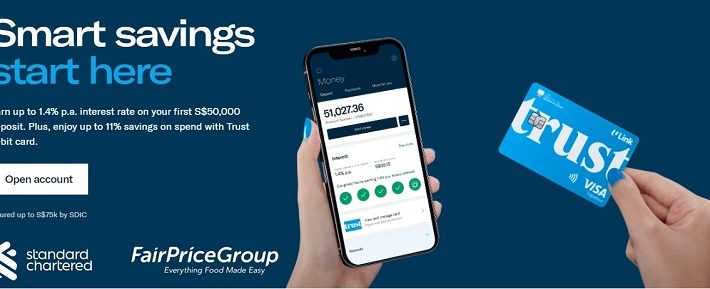 Have you heard of Trust, the latest digital bank to take the digital banking scene by storm? Trust Bank offers up to 1.4% interest rate for its savings account, 21% rebate on its credit card, $35 NTUC e-Vouchers as well as free rice and Kopitiam breakfast set. Here is how to save and score these freebies!
What is Trust Bank?

Trust Bank (known as Trust) is a new digital bank set up by Standard Chartered Bank and NTUC. This means that customers of Trust conduct all their banking activities online since Trust Bank does not have any physical bank branch. Here are the products available under Trust.
1. Trust Bank Savings Account
Trust offers a base interest rate of 1% for the 1st $50,000 deposits. If the customer makes 5 eligible card transactions, this can be increased to 1.2% and 1.4% for non-union and union members respectively. No minimum amount is required to start earning the base interest rate. Best of all, there is no fees or lock-in period required.
2. Trust Bank Credit Card
Trust credit card provides up to a mind-boggling 21% savings rate on card spend. This is issued in the form of Linkpoints which can be offset against purchases at NTUC, Unity stores etc. If a NTUC union member spends at least S$350 per month on expenditure outside of FairPrice Group every month, he or she will be entitled to 21% savings rate on spending made at FairPrice Group. Simply put, if you are already spending within the NTUC ecosystem- i.e. shop at NTUC and Unity, dine at Kopitiam, now is the perfect time to save on your spending with Trust card.
Other amazing perks are the absence of annual fee, foreign transaction fee, cash advance fee as well as card replacement fee. Finally, those who sign up for the Trust credit card will enjoy complimentary coverage of the Family Personal Accident Insurance for the first 2 months
Amazing Promotion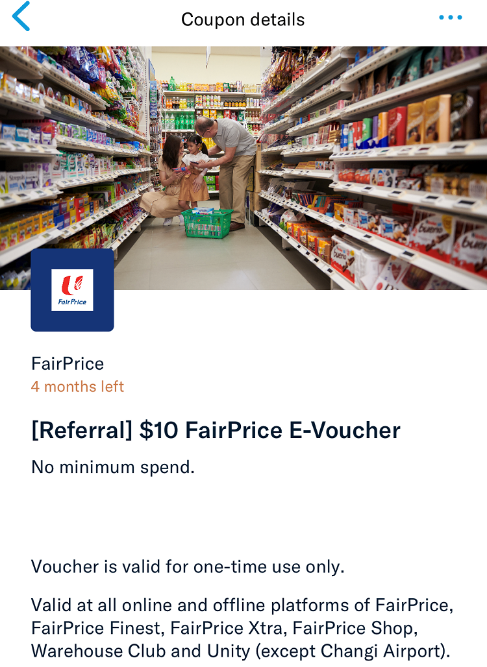 Another eye-catching aspect is the generous freebies thrown in to mark its launch. These freebies add up to a total of $42:
$10 FairPrice e-Voucher upon signing up with a referral code (DFFZV6CZ)
Free Signature Breakfast Set to be redeemed at Kopitiam (worth $3.10)
Free 1KG Superior Fragrant Rice (worth $3.55)
S$25 FairPrice e-Voucher on your first card spend (no minimum amount required)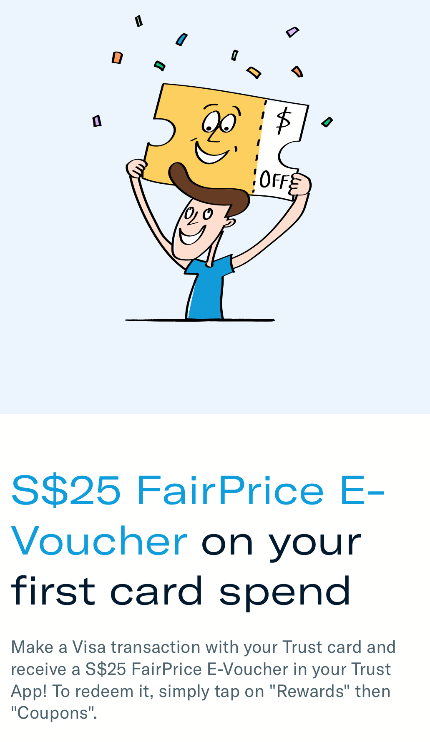 Besides these one-off freebies, Trust also pushes out regular discounts from popular merchants such as KFC, Burger King, Starbucks, Gong Cha etc. Remember to browse the app regularly and grab these vouchers!
Sign Up For Trust
From downloading of the app to approval of application takes less than 20 minutes if you sign up via MyInfo. With such a smooth onboarding process and the amazing freebies, what are you waiting for?
Download Trust app to collect your freebies- remember that the $10 FairPrice voucher is only valid if you sign up with a referral code. (DFFZV6CZ)