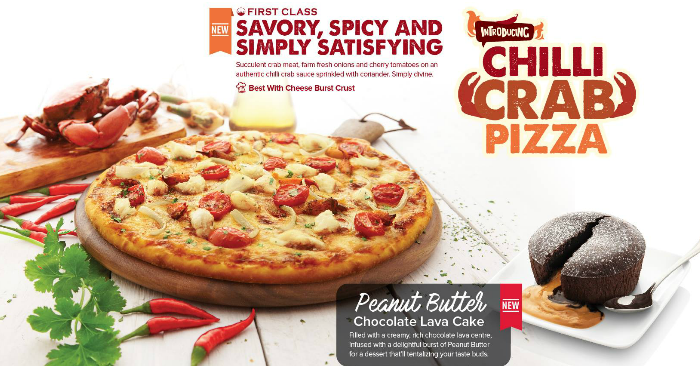 There's no better way to enjoy Singapore's favourite Chilli Crab.
Domino's Pizza has announced the launch of the new Chilli Crab Pizza (Regular at $26.80) in their latest menu.
Topped with slabs of succulent chilli crab meat on a pizza base, it promises to leave you a satisfying experience that will linger in you for some time.
You ought to try it if you haven't.
The fun does not stop here as Domino's Pizza introduces a decadent sweet treat to curb your addiction.

Finish off your meal with their brand new ooey, gooey chocolate dessert – the Peanut Butter Chocolate Lava Cake! ($6.80) Imagine having warm velvety peanut butter flowing out from the moist chocolate cake as you place you fork in it.
Wait, we have more good news for you.
From now till 31 December, you can enjoy the best of both world and get free Peanut Butter Choc Lava Cake with every order of the Chilli Crab Pizza. Simply enter the promo order when you order online at dominos.com.sg
Special Chilli Crab Pizza Deal
Quote "TIN230A" for 1 Regular Chilli Crab Pizza + 1 Free Peanut Butter Choc Lava Cake at $26.80 (Save $6.80)
Quote "TIN230B" for 1 Large Chilli Crab Pizza + 2 Free Peanut Butter Choc Lava Cake at $35.80 (Save $13.60)
Terms & Conditions
Promotion period:

29 Nov – 31 Dec 2016

. Offer is valid through Online Order, Call Centre (62226333) and Over the Counter. Delivery is FREE.
Note: Surcharge applies for Cheesy Crust, Cheese Burst, Classics, First class pizza and Cheese sauce upgrade, Half and Half, Extra Toppings, Extra Cheese and Extra Condiments.