Singapore dollar on top of Malaysian Ringgit currency on pattern background, symbol RM currency code MYR
A new high against the Malaysian ringgit
The Singapore dollar has reached a new record high against the ringgit today, 11 November. According to data from Forbes, the Singapore dollar has reached a new high of 1 SGD = RM3.400738. 
Last week an article by Straits Times shows that analysts project the ringgit to drop to RM3.35 to RM3.45 range against Singdollar due to the ringgit volatility. With strong economic fundamentals, the Singapore dollar has remained resilient and has been one of the better-performing global currencies as compared to its Southeast Asian peers. Given the outlook for inflation, the Singapore central bank uses the exchange rate rather than interest rates to stabilise prices.
MAS reacts to high inflation by allowing the Singapore dollar to appreciate against peer currencies, thereby driving down the cost of imported goods in local currency terms.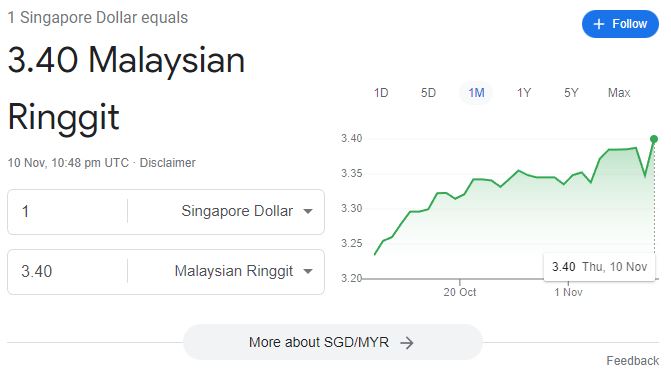 We could see long queues at money changers soon. 
---
Top image via Depositphotos.