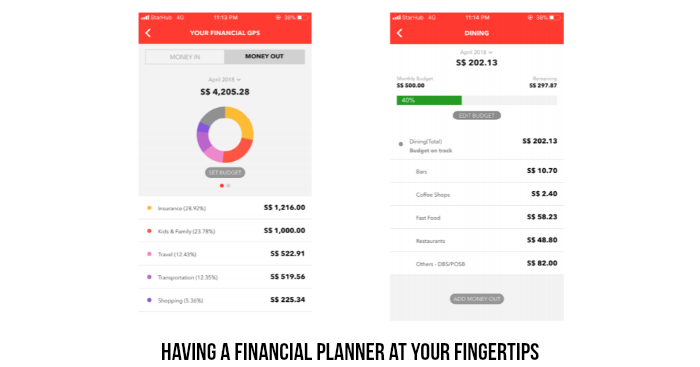 Many of us know the importance of personal financial planning, but do not know how or where to get started. Some of us are hesitant to approach a financial consultant for advice, in fear of being pressurized to commit to a financial product. Some of us may seek out advice or recommendations from our friends, family members, and colleagues, but the advice may not always be suited to our personal needs. Many of us are put off, or even intimidated, by hearing all the unfamiliar financial jargon.
These are just a few of the many difficulties that we encounter in personal financial planning. What if we could remove these challenges and get free, easy to understand, and personalised financial advisory at our fingertips?
Introducing Your Financial GPS

Here's introducing NAV -Your Financial GPS, a digital financial advisor that helps people like you and me navigate through personal financial planning effortlessly. Your Financial GPS makes the principles of personal finance easy to understand using the acronym 'SAIL', which stands for Saving, Assurance, Invest and Life Goals. Starting with Life Goals as the destination for our journey, the other 'SAIL' components act as the mainsail, lifebuoy and hull of the boat to help us move towards our destination. For the boat to weather through storms and successfully reach its destination, all 'SAIL' components must be looked after, and well-balanced. Thus, this helps to simplify the process of financial planning for many.
Your Financial GPS At A Glance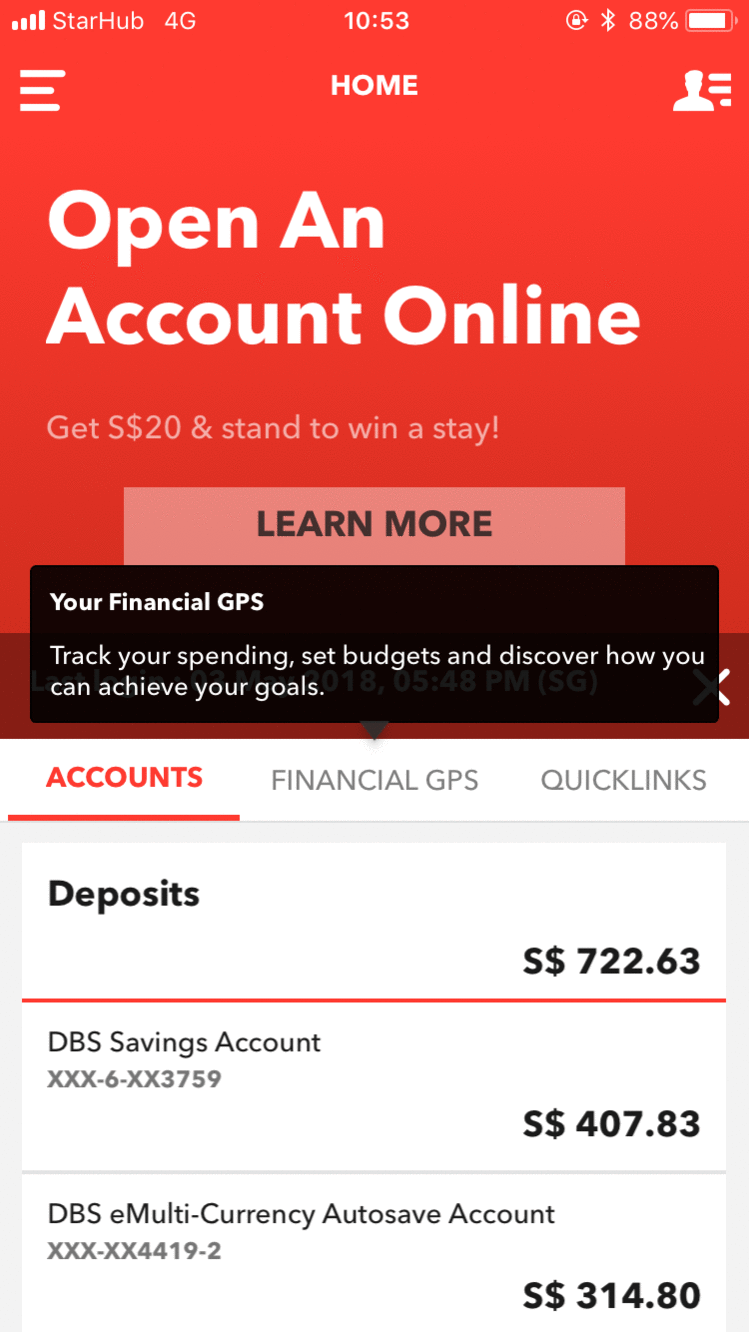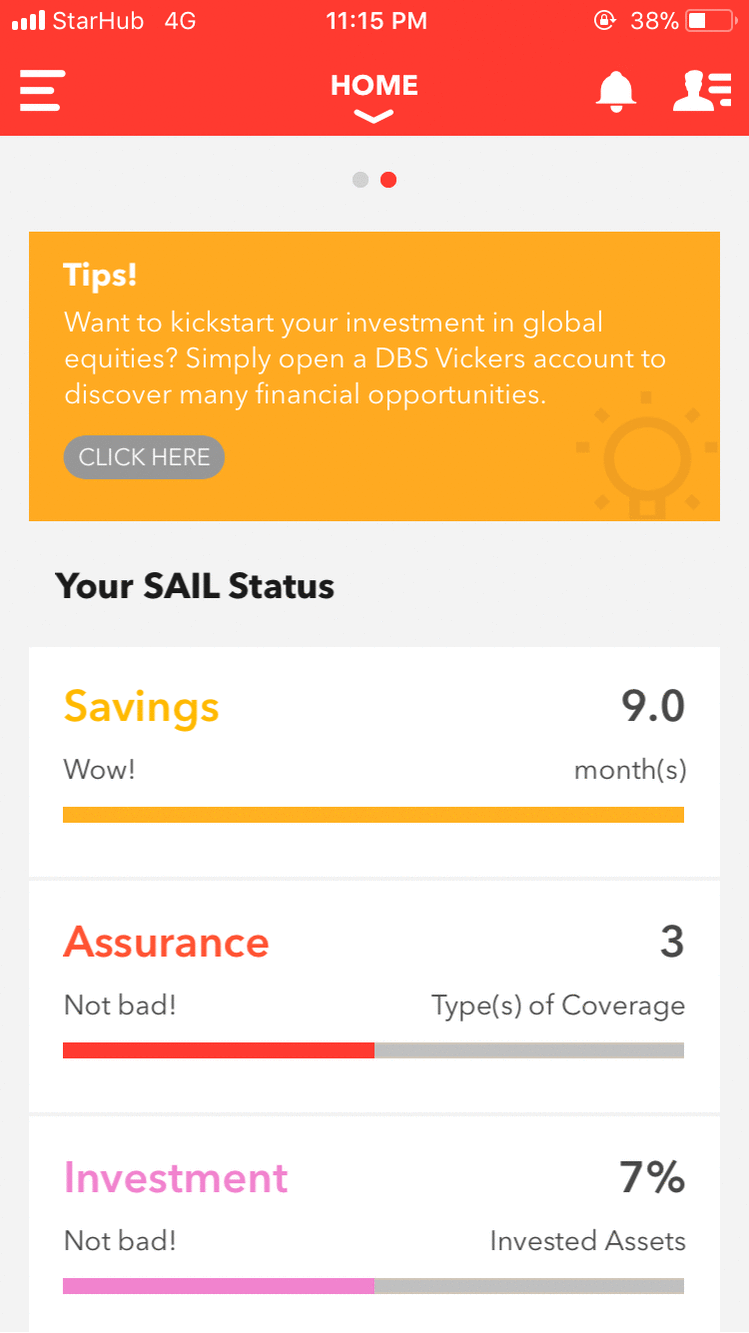 Your Financial GPS is available to all DBS and POSB customers through the DBS/POSB iBanking and digibank app. When you log into your DBS/POSB iBanking or digibank app, you will see a tab for Financial GPS, which provides a personalized snapshot of your financial health. Your Financial GPS allows you to check your monthly spending across different categories, set budgets, and provides personalized insights based on your saving and spending information.
As a digital financial advisor, Your Financial GPS also provides a snapshot of your current SAIL status. It provides insights on the areas in which you can work on, and suggestions on how to work on these areas to achieve your life goals.
For me, personalizing Your Financial GPS for myself was a breeze. Most of my spending was linked to my DBS Live Fresh card, which was automatically categorized into different categories under spending. For spending that I have incurred using cash or on other banks' credit cards, I could easily add in the amount as expenses so that Your Financial GPS has a comprehensive picture of my total finances.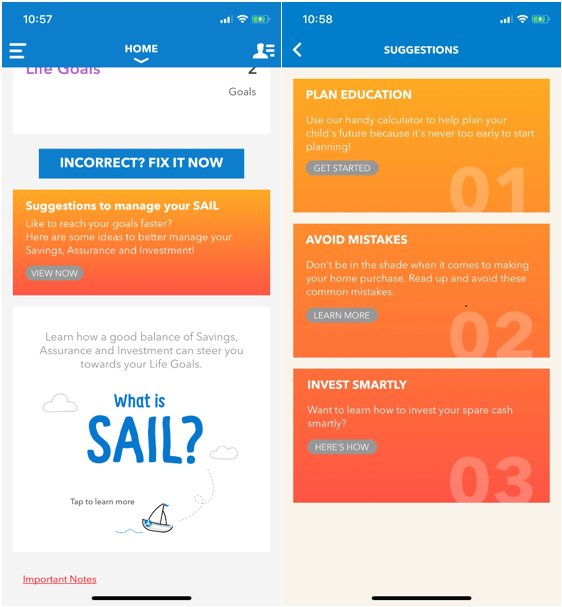 I also set up my first Life Goal, which was to pay off my home down-payment of $300,000 by age 40. Your Financial GPS immediately calculated the amount of money which I would need to set aside monthly to achieve this goal. This helped me realise how unrealistic my goal was, which was similar to key insights of how many do not know how much they need for their goals. This was one of the insights that DBS had learnt from its intense and rigorous research to understand customers' financial planning needs. Besides that, Your Financial GPS also came up with a list of suggestions tailored to my life goals, one of which was very relevant advice on how to avoid common mistakes as a first-time home buyer.  
DBS NAV Hub: Free Personalized Financial Consultations 
Want to do even more for your personal finance? Book an appointment with the dedicated NAV Crew at the DBS NAV Hub for a free personalized financial consultation. During the private one-on-one session, the crew will help you to assess your financial health and answer any money-related questions you might have. You will receive a free report on your financial health, with absolutely no product or sales pitches involved.  
Ready to Sail?  
Here are three ways how: 
Your Financial GPS

DBS Nav Hub

DBS Nav Website

Available on DBS/POSB iBanking

and Digibank

Click to download the DBS
Digibank SG app on iTunes or on Google Play

Free personalized financial consultation

45 Tras Street
Singapore 078984

Click here to book an appointment

Resources on personal financial planning
Get updated on NAV classes

Click here to visit the NAV website