Image Credits: facebook.com/marinabaysands
During Apple CEO Tim Cook's last visit in December, he said that Singapore could use a third store as the Orchard branch was "pretty full". Opening a new store may seem impossible given the global restrictions of the pandemic. Not to mention, Apple's brick-and-mortar operations continue to grapple as the pandemic unfolds. In particular, the company has closed some of its stores due to the spike in COVID-19 cases in American states such as North Carolina, South Carolina, Arizona, and Florida.
Many retailers, like Apple, have closed its physical stores due to the current situation. Thus, it was surprising to see Apple's third store in Singapore. In case you've missed, the spherical structure floating on Marina Bay Sands is Apple's newest store in the country. The upcoming opening of this store is groundbreaking for Apple as it is its first store to sit on water. According to the company, Apple Marina Bay Sands aims to bring its renowned products at an iconic location. Its other stores are located on Orchard Road and at the Singapore Changi Airport.
Apple writes this on its website:
"We will soon open the doors to our new store by the Bay. Apple Marina Bay Sands will be at the heart of creativity, a place we've made for you to capture your ideas and passions. It will be a space for you to explore, connect and create something new. We can't wait to see where your imagination takes you."
Picture a giant futuristic orb that lights up at night and is situated on the country's waterfront. This was designed by London-based Foster + Partners architecture studio. Although this was the first floating store for Apple, this was not the first time that a slot of water was occupied by a commercial establishment. Avalon, a large nightclub, previously occupied the space from 2011 to 2016.
The rumours are indeed true! Apple Marina Bay Sands, the first Apple store in the world that floats on the water, is opening soon in Singapore.#AppleMarinaBaySands #Singapore #SingapoRediscovers #cityscape #architecture @Apple @marinabaysands @AP_Magazine @GettyImages pic.twitter.com/Awbgzo2qtO

— Javan Ng (@javanng) August 24, 2020
Many Instagram and Twitter users have shared images of this eye-catching flagship. If you are in the area, there are two ways to access the store. You may visit it via a footbridge or an underwater passage connecting to The Shoppes at Marina Bay Sands. Can you imagine the picturesque scenery it can create at night?
The company did not provide any other information as to how big the building was or when it will officially open.
Here's the main entrance from The Shoppes at Marina Bay Sands: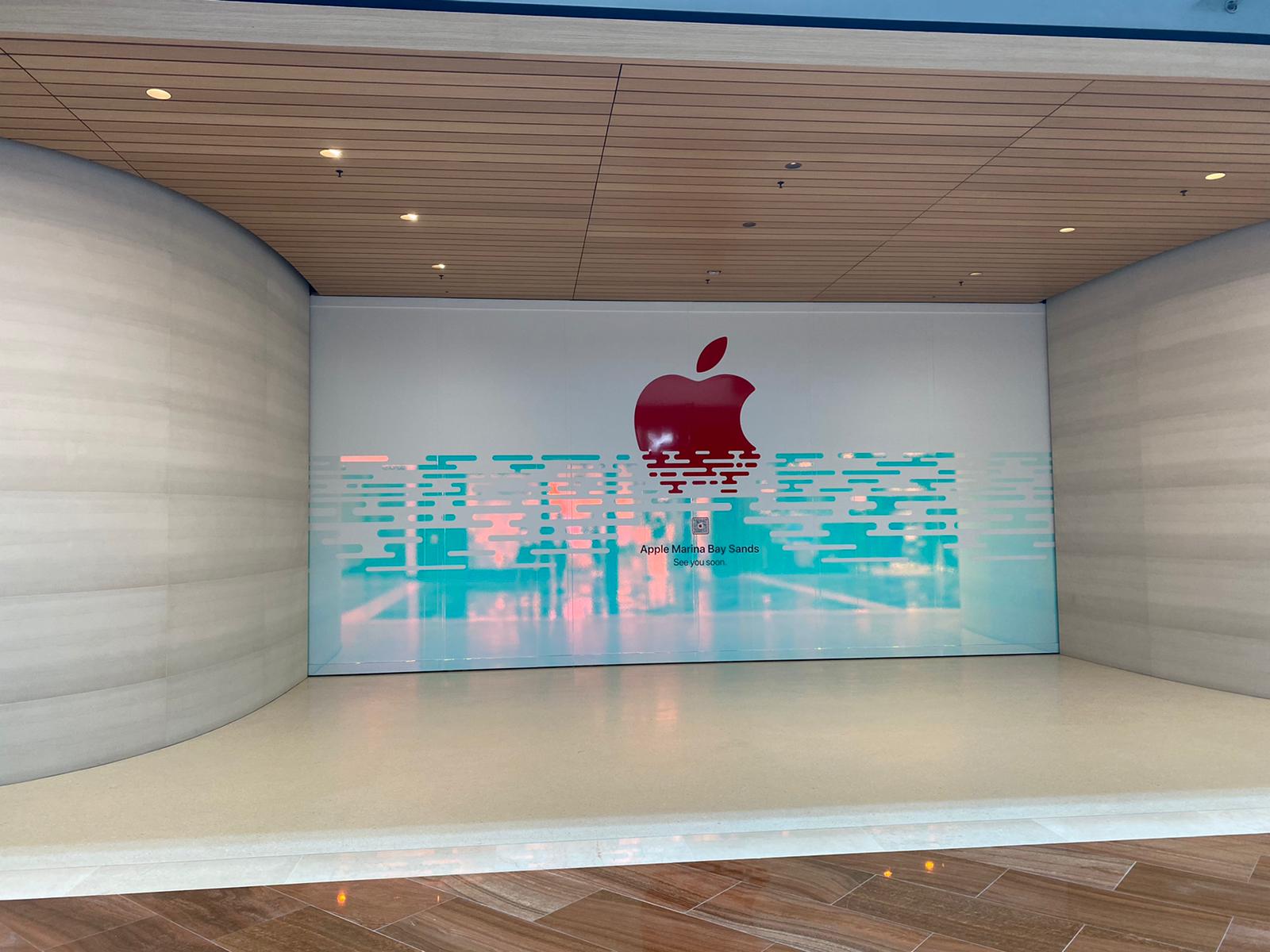 Let us just wait and see!