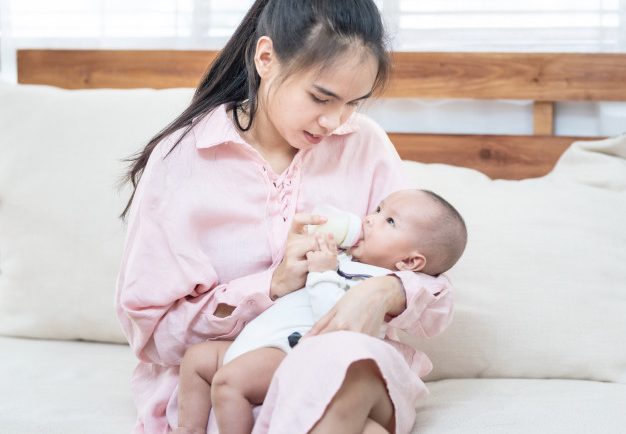 Image Credits: Freepik
COVID-19 not only has had its impact on the economy, but parents with newborns are also feeling the strain. According to PEM Confinement Nanny Agency's (PEM) senior business manager Mishell Lee, demand for confinement nannies had a sharp increase recently due to travel restrictions around the world.
Couples who had plans to count on their parents based overseas or hire a domestic helper to help them tide through can only turn to confinement nanny agencies now amid travel restrictions.
Ms Lee mentioned that due to the slower rate of approval for work permits and the need to serve Stay-Home Notice (SHN) for each trip, the agency could only activate 200 out of its total manpower of around 400 nannies.
"Since the beginning of movement control order (MCO) and circuit breaker, PEM has been receiving a high number of requests from clients to extend the service of their confinement nannies, but we are unable to fulfil (these requests) due to the lack of manpower and this is still going on until today," she said.
"Many of the mothers who signed up with us… have not yet fully recovered from delivery and being left alone will make it harder for them to take care of their newborn."
New mothers left in limbo
While most families would hire nannies for an average of 28 days, first-time parents may need a longer period.
A new parent who wanted to be known only as Ms Long, said, "Currently, I have no other options. We want a simple extension for 28 days and it will help us a lot. I would have recovered more and would be better able to take care of the baby."
Ms Long's parents, who are based in China, were supposed to travel to Singapore to help her after she gave birth. But plans were disrupted due to COVID-19 travel restrictions.
Another new mother, Ms Heather Huang, said, "The agencies told me that they had a limited supply and with border restrictions, they needed to make arrangements earlier to ensure the nanny's work permit and quarantine can all be finalized."
"I was a bit scared because I did not know how to bathe, feed, or just take care of the baby when she comes."
Ms Huang stated that her preference for hiring Malaysian nannies was because of the relatively cheaper price and their rich experience.
Incurring higher hiring costs
Some families are also incurring higher hiring costs due to the Ministry of Manpower (MOM)'s requirements. The added costs include the nanny's compulsory stay in a dedicated SHN facility and the payment for the COVID-19 test.
In the case of Malaysia, people arriving from overseas will also need to quarantine at designated facilities for 14 days. Citizens are required to pay RM2,100 (S$690) of partial costs, while foreigners have to pay the full amount.
These additional amounts are passed on to the families, nannies, or the agencies, or shared between the relevant parties.
Mr Jason Teo is one individual who agreed to share the added financial costs with the agency he hired his Malaysian nanny from. For a period of 28 days, he had to pay an additional S$700 on top of the S$3,000 to hire the nanny.
"I agreed because I think it's not fair to expect agencies to absorb all the added costs. And I think it would even be worse to expect the nannies to pay for it," said the 29-year-old engineer whose first child arrived on Aug 14. 
"The nanny has been great for us so we are fine with it," he added.
Malaysian confinement nannies affected as well
With the ongoing pandemic, not only the lack of support for new mothers and higher costs are involved. Malaysian confinement nannies are also feeling the pinch on their source of income and the need to be apart from their loved ones.
Ms Tey May Leng, 51, an employee of PEM, expressed that she had difficulties paying the university fees for her two children over the last three months when she could not leave Malaysia to work in Singapore during the MCO period.
"As I have not been working since March, I have lost around RM16,000 of income in total. My children's university fees are around RM5,000 a month so it has been difficult," she said.
"I will serve fewer customers for each trip due to the COVID-19 quarantine duration, but I can no longer afford to be choosy," she added.
Ms Yow Yin Fen, 52, is also another PEM nanny from Malaysia who is based in Singapore and is staying with her daughter. She has not seen her husband in Kulai, Johor for six months.
"I miss my husband but being in Singapore makes more sense for me. I can serve more families for the agency."
"But I worry that my husband is home alone and he struggles sometimes," she added. As soon as the Malaysia government relaxes the travel restrictions and allows citizens to quarantine at home, Ms Yow plans to return to Malaysia.