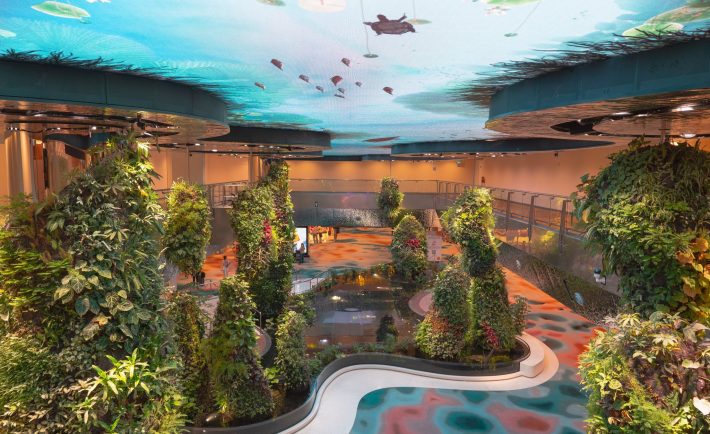 Image Credits: Changi Airport Group
For those who, like myself, love traveling, you'll be excited to learn that Changi Airport's Terminal 2 has recently undergone a makeover! After three and a half years of extensive engineering works, Terminal 2 (T2) at Changi Airport has reopened, reinstating Singapore's four-terminal operations.
The completion of T2 is both timely and essential to meet capacity demands, aligning with the anticipation of a full travel recovery to pre-COVID-19 levels by 2024. The T2 expansion project has notably increased Changi's capacity by five million passengers per annum (mppa), elevating the airport's total handling capacity to a whopping 90 mppa.
The expansion encompasses an additional 21,000 square meters, introducing new infrastructure, advanced systems, and an expanded array of shopping and dining offerings. A central common-use Fast and Seamless Travel (FAST) zone has been established, nearly doubling the number of automated check-in kiosks and bag drop machines.
During the T2 Expansion Opening Ceremony on November 1, 2023, Mr. Teo Chee Hean, Senior Minister and Coordinating Minister for National Security, expressed:
"The T2 expansion project, initiated in January 2020, was underway two months before Singapore closed its borders due to the COVID-19 pandemic. Despite uncertainties, Changi Airport Group (CAG) remained committed to the project, confident that our Changi air hub would not only recover from the pandemic but emerge stronger."
IMMERSIVE NATURE-CENTRIC EXPERIENCES
T2's design philosophy revolves around a nature-inspired theme, seamlessly incorporating elements of nature throughout the terminal. From ceiling designs to wall finishes resembling natural landforms, carpet patterns, and horticulture displays, the terminal exudes a harmonious connection with the environment.
At the core of T2's departure hall stands a 14-meter-tall digital display known as The Wonderfall. Nestled amid a vertical garden, The Wonderfall captures nature's raw beauty in breathtaking detail, transporting onlookers to an immersive world of wonder with a majestic waterfall cascading over megalithic boulders.
Inside the departure transit area, the brand-new Dreamscape Garden mesmerizes with its enchanting array of plants set against a meticulously landscaped backdrop, dynamically brought to life by a "digital sky" that changes hues with the time of day. For instance, it sets a gloomy setting when it's raining outside at 10 am.
REVITALIZED RETAIL-TAINMENT & FOOD SCENE
Visitors to the public areas of T2 will encounter a range of novel concepts, including Southeast Asia's first Funko pop-up. Collectors can acquire exclusive Merlion figurines and pose with larger-than-life Funko statues of their favorite characters.
The departure hall introduces three new homegrown brands to Changi including Lynk Fragrances, Baker's Well, and Café O. Lynk Fragrances offers handmade scents and products. Baker's Well serves authentic Peranakan confectionaries. Lastly, Café O presents unique prata flatbread delights within a local kopitiam setting.
Another exciting addition to the departure hall is the Jones Grocer. Changi Airport's first landside duplex cafe, Jones Grocer is a renowned artisanal café, features a grab-and-go deli-style food counter on the ground level and an upper-level bar and restaurant with a show kitchen, set to open later this year.
What's more? The return of Korean fast-food chain JINJJA Chicken at T2 introduces a refreshing new concept known as JINJJA Kitchen, offering hotplate bulgogi and trendy Croffles.
CHANGI'S STELLAR REPUTATION
Renowned for topping Skytrax's list of best airports for eight consecutive years, Changi Airport experienced a temporary dip in rankings in 2021 and 2022 due to the pandemic's impact on passenger numbers. However, the airport reclaimed its top position in the 2023 awards, announced in March.
Since its inception in 1981, replacing the single-runway Paya Lebar airport, Changi Airport has undergone remarkable transformations. Terminal 2 was initiated in 1986 and opened to travelers in 1991. Its recent improvements stand as a testament to Changi's ongoing commitment to innovation in air travel.
Let us see what happens next!