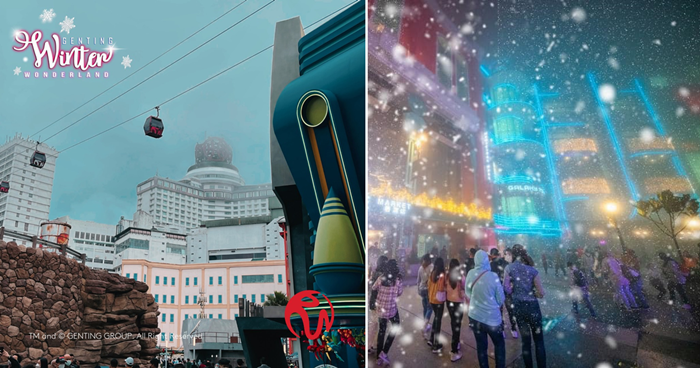 As the festive season approaches, Genting Highlands is gearing up to transform into a winter wonderland that promises to enchant visitors of all ages. From November 25, 2023, to January 1, 2024, the much-anticipated Genting Winter Wonderland will open its gates along Gohtong Way, welcoming one and all to revel in the joyous spirit of Christmas. The event aims to recreate the magical ambiance of Christmas, offering a delightful escape for locals and tourists alike.
One of the highlights of this enchanting celebration is the regular "snowfall" that will grace the venue. Picture this: snowflakes gently cascading from the sky, creating a mesmerizing spectacle that will transport you to a winter wonderland. The magic unfolds every half hour, from 6 pm to midnight, ensuring that every visitor gets to experience the joy of snow in the heart of Genting Highlands.
As you stroll along Gohtong Way, your senses will be tantalized by the aroma of delectable treats wafting through the air. Food enthusiasts will be delighted to explore a variety of culinary delights available for purchase. From traditional holiday favorites to international cuisines, there's something to satisfy every palate.
In addition to the culinary delights, visitors can expect to be entertained by captivating performances that promise to add an extra layer of excitement to the festivities. The Winter Wonderland stage will come alive with music, dance, and other festive acts, creating an atmosphere of joy and merriment.
Don't forget to bring your cameras! Genting Winter Wonderland is not only a feast for the senses but also a visual delight. The entire venue is adorned with festive decorations and picturesque settings, providing the perfect backdrop for memorable photos. Share your experience with friends and family, and make this holiday season one to remember.
The best part? Admission to Genting Winter Wonderland is absolutely free! The organizers believe in spreading the joy of the season, making it accessible to everyone. So gather your loved ones, plan a visit, and immerse yourself in the warmth of the festive season at Genting Highlands.
Mark your calendars and get ready to be captivated by the charm of Genting Winter Wonderland 2023. It's a celebration where the magic of Christmas meets the enchantment of winter, creating memories that will last a lifetime.
For more info, visit https://www.rwgenting.com/