For the newbies, debt crowdfunding is a concept where borrowers (usually SMEs) approach a crowdfunding platform for loans funded by a pool of investors. Investors earn interest, paid by borrowers, as returns on their investment. Investments are open to individuals as well as corporates with a minimum amount going down as low as $50 for smaller loan amounts.
Funding Societies, licensed and leading crowdfunding platform in Southeast Asia, backed by SoftBank Ventures Korea and Sequoia Capital, has recently introduced Property backed Secured Loans to its pool of more than 50,000 investors, providing them with more diversification opportunities. This is the third product Funding Societies has introduced since Business Term Loans and Invoice Financing.
What are Property backed Secured Loans?
Property backed Secured Loans are loans taken by companies who have pledged a local property as a form of collateral against the loan. These are local properties owned by the companies and/or Directors of the companies, and can be Residential, Commercial or Industrial. The loan amount is capped at 70% of the property value determined by independent valuers.
As an investor, you can start investing from $1,000 in this secured crowdfunding product
Why should you be excited about this product?
It is secured by property as a collateral: Funding Societies (FS) takes the first charge on the property, i.e. In the event that the property needs to be liquidated to repay the loan, FS will have the first right to access the cash after it is auctioned. Given the 70% Loan to Property Value (LTV), there is enough buffer against fluctuations in market prices that result in properties being devalued.
It's a short-term investment: The loans are typically up to 12 months' tenor
Fair returns for a lower-risk product: You can get up to 8% p.a. returns in your investment
Additional Diversification:Existing crowdfunding investors now have a secured loan product to further diversify their portfolios. New investors who have not invested in crowdfunding can take this opportunity to start investing.
What happens if a borrower misses out on repayments
In the case of repayment by borrowers, FS will liaise with borrowers on behalf of investors for collections. If the loan reaches defaults (defined as 90 days past payment due date), Funding Societies will pursue legally to auction the collateralized property. Proceeds from the auction will be used to repay the investors and any excess will be returned to the owners of the property.
In the rare scenario where proceeds from the auction are insufficient to repay the loan, Personal Guarantors (usually Directors of the company) and the borrowing company will be liable for the outstanding due.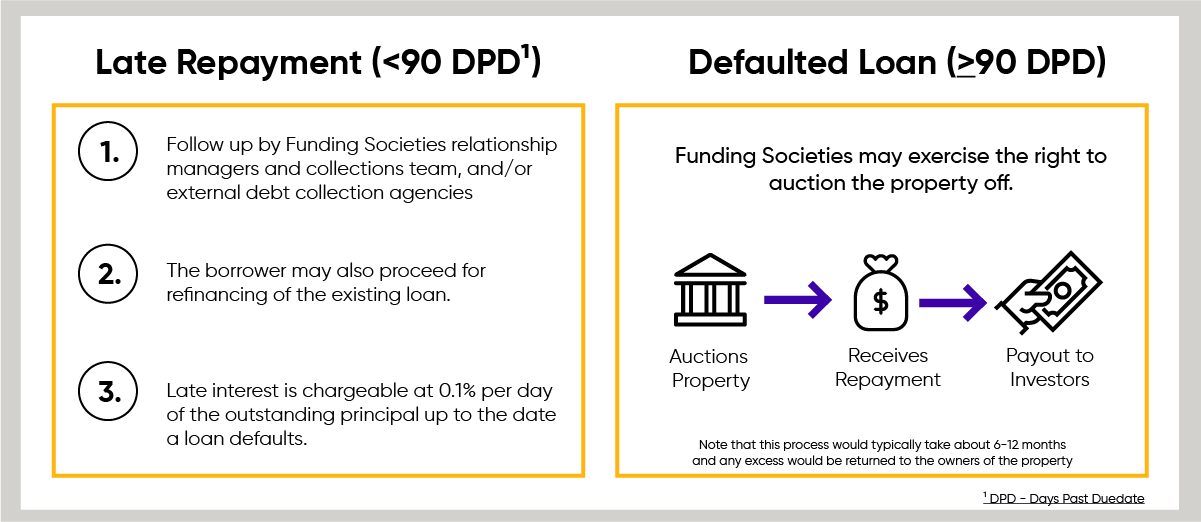 TL;DR (Too Long; Didn't Read)
Given that there is collateral security in the form of a property, Property backed Secured Loans become more secured and typically lower risk compared to other crowdfunding investment products.
For those with a lower risk appetite but still want to potentially earn a return of up to 8%, the Property backed Secured Loans is a product for you to diversify your portfolio in.
Limited Time Promotion: Receive $20 Cashback!
From now till 15 June 2018, sign up as an investor and invest at least $1,000 to be eligible for the $20 cashback. That's an upfront 2% cashback on your investment!
Here's how to claim the cashback:
Step 1: Sign up for your new investor account on www.fundingsocieties.com.
Step 2: **IMPORTANT!** Enter MDMAY in the Promo Code section.
Step 3: Complete your registration and activate your account.
Step 4: Invest at least $1,000 before 15 June 2018. Investment can be in one loan or across multiple loans.
Eligible investors will be notified via email of their within one month from the end of the promotion.
This article was first published on Funding Societies' blog.
Disclaimers:
This article is contributed by Funding Societies.
It should not be construed that Moneydigest is endorsing this article or any of the products and services provided by Funding Societies.
Nothing in this article should be construed as constitute or form a recommendation, financial advice, or an offer, invitation or solicitation from Funding Societies to buy or subscribe for any securities and/or investment products. The content and materials made available are for informational purposes only and should not be relied on without obtaining the necessary independent financial or other advice in connection therewith before making an investment or other decision as may be appropriate.