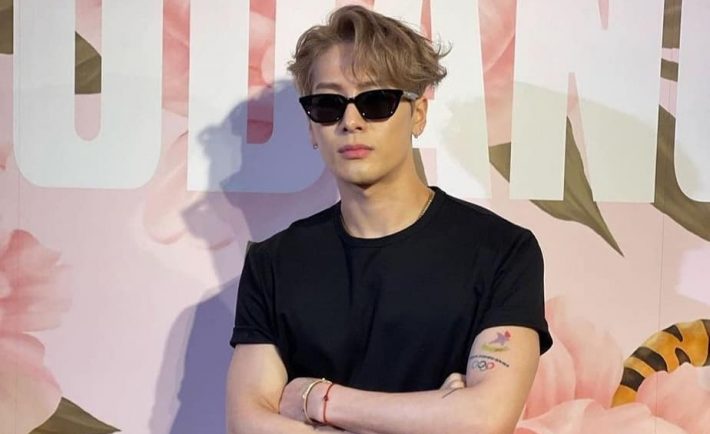 Image Credits: Wei Ling via facebook.com
K-Pop sensation Jackson Wang has arrived in Singapore to an enthusiastic crowd of screaming fans. The star arrived in Changi Airport last August 2. He waved, gave out high-fives, and accepted a letter from a fan as he walked out of the Changi Airport Terminal 3 arrival gate.
Wang is a Hong Kong-born singer/songwriter, rapper, and record producer who gained global recognition after debuting with the South Korean boy band Got7 by JYP Entertainment. He is here in the Lion City until August 10 to help promote the SingapoReimagine campaign by the Singapore Tourism Board (STB).
To top off the celebration, he will host a party in Marquee nightclub at Marina Bay Sands with his record label Team Wang on August 6. This sold-out event is entitled Team Wang Records (Human Remix), which will feature pop and hip hop music.
Other acts that will delight its guests include Marquee's DJ Fvder, beatboxer Dharni as well as other artists such as Laurie, Xenzu, and Boytoy. This will be the first event hosted by an international artist at Marquee since its opening in 2019.
If you miss out on this event, do not fret! You can catch him in a series of lifestyle vlogs featuring wellness, food, music, as well as arts and culture spots in Singapore. Furthermore, he will open a concept space for his streetwear label – Team Wang Design.
The concept store is open in voco Orchard hotel. The voco Orchard Singapore is under the IHG Hotel umbrella and is located at 581 Orchard Road.
TEAM WANG DESIGN
Whether you admire Jackson Wang or not, you can still get a piece of his art through his TEAM WANG Design "MUDANCE" Concept Space. Located at the new upscale hotel voco Orchard Singapore, this free-entry concept space is a treat to the eyes. The theme here is tropical paradise where decorations are decked in floral prints, pink decor, and luscious plants.
This concept space is filled with Team Wang's newest summer collection. Expect a selection of beachwear in floral prints and clothing pieces in the hues of pink and white.
Running until August 31, this concept space has items for both men and women. You will see some floral shirts, pink tops, jackets, and more. Couples who love to wear matching outfits can surely achieve a flawless #OOTD!
If you are curious to know which pieces are Wang's favorites, you better take this down. Jackson has revealed that the floral print bikini and pink gradient tank top are his favorites.