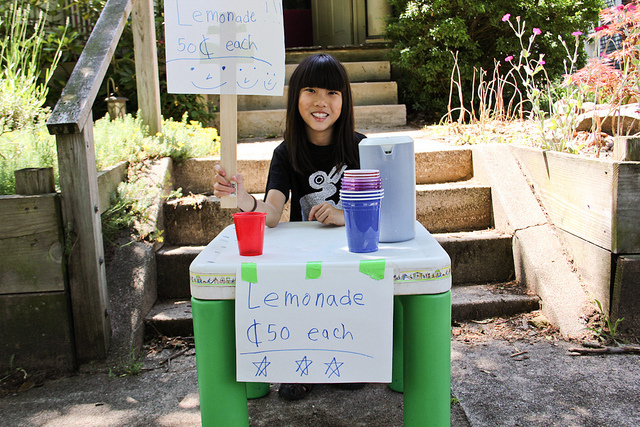 Image Credits: Steven Depolo via Flickr
Aged 3-5
1. PEOPLE MAKE MONEY BY WORKING
Describe your job to your children. You may even bring them along one in your workplace and give them a tour. Then, introduce this video of a farmer that gets paid for supplying milk. This short video explains the concept of money to children in a simple and animated manner.
2. MONEY IS NEEDED TO PURCHASE THINGS
Like the farmer in the video, he needed money to buy what he wanted. Help your child understand the concept of being able to buy things by identifying items that cost money (e.g., house, car, table, or iPhone) and those that are free (e.g., hugs and kisses from Daddy).
3. THERE IS A DIFFERENCE BETWEEN NEEDS AND WANTS.
When you are shopping with your kid, highlight what are the essentials such as vegetables and fruits. Then, let your him pick the items that are considered as wants.
Tell your child that an individual must wait before buying something he/she wants. Make him realize this by putting money into two jars: 1 for savings, 1 for spending. Ask him to save a dollar of his allowance for savings and a dollar for spending every week.
Aged 6-10
4. IT IS GOOD TO COMPARE PRICES.
Teach your child how to look around the shops first before buying anything in order to get the best deal. In spending money, choices must be made. So, include your child in small decisions to increase their awareness.
5. THERE ARE DANGERS IN SHARING PERSONAL INFORMATION ONLINE.
Discuss to your child how dangerous and costly it is to enter personal information (e.g., address or bank account details) online because someone may steal it. Encourage purchasing online only when you are beside them.
6. INTRODUCE BANKING AND INTEREST.
Describe how the banking and interest works. Savings account will protect your child's savings and it will also generate more money due to interest. You may open a junior bank account that you supervise. Let your child watch this video to understand the concept better: