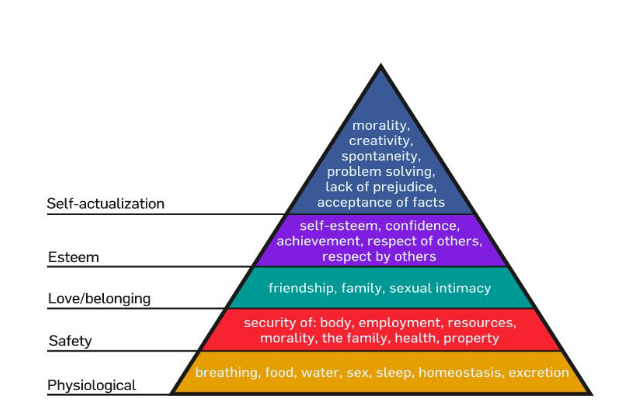 (Image credit: commons.wikimedia.org)
With S$3,000 for a monthly salary, many fresh graduates do not think that is enough to spend nor save. But think again. As a bachelor or bachelorette earning $3,000, you are already better off than many others beset with hefty household bills. So, for someone fresh out of school with no dependants or minimal financial liabilities, maximizing your life with your $3,000 paycheck may be attainable and here is how we can approach this mathematical sum with the help of Maslow's hierarchy of needs. According to Abraham Maslow, a renowned American psychologist, inherent human needs are fulfilled in the following priorities, starting from physiological needs, safety needs, love/belonging needs, esteem needs and finally, self-actualization needs.
1. Spend 20% or $600 on irresistible meals that are simply affordable. Fortunately, it is never a hassle to find them in the heartlands or the CBD areas which serve to satisfy your hunger pangs after a half day of hard work! Alternatively, you can prepare your own nutritious and palatable meals within the budget!
2. Spend 10% or $300 on delighting your beloved family, partners and friends. Rope them in for a laugh by watching a hilarious movie, enjoy a hearty chat over a scrumptious meal or simply participate in a sport that all of you relish.
3. Save 50% or $1,500 for your upcoming big ticket items. In Singapore, your residential property is probably your greatest prized asset. Your lifetime of savings and efforts will be manifested in your small but cozy HDB flat. At the end of the day, it is the family warmth that truly matters in the home, not so much about the size. Depending on your risk appetite, a portion of the 50% may be used for investment purposes to earn a return over the inflation rate. As easy as this may sound, engaging in due diligence is key to making or breaking it.
4. Set aside 10% or $300 as an emergency fund. Life is filled with surprises. You never know what will happen tomorrow. Putting aside 10% of your income  may seem wise to buffer yourself against uncertainties. Take for example an unexpected invitation to your superior or colleague's wedding or baby shower. An emergency fund boosts your readiness and willingness to share the joys, build a stronger rapport and put you in a better position to  win people's hearts.
5. The last 10% or $300 is reserved for miscellaneous expenses such as transport fares, therapeutic services and new merchandises. After a month's worth of toiling, you definitely deserve some pampering. Indulge in a massage to relieve yourself of the piled-up stress from work. Recharge before moving on to the greater things in life.
The good news is that the higher level needs such as the esteem needs and self-actualization needs often do not pose a material constraint on your financial resources. By living within your means while maintaining optimism, you gain the understanding and respect of your peers and family members. Through demonstrating  your forthcomingness  in celebrating others' blissfulness and successes while realizing the relentless quest for material wealth does not always lead to happiness, you would have already achieved the moral high ground.