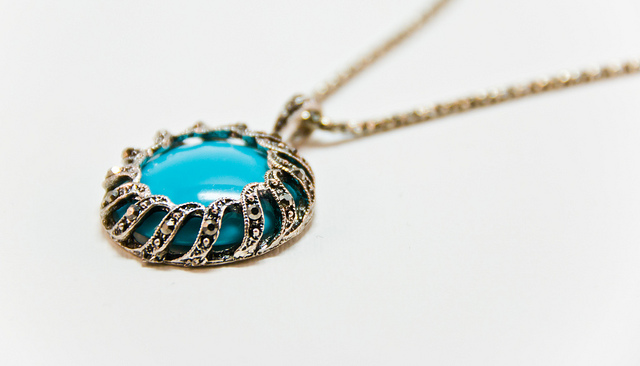 Image Credits: Gary Ullah via Flickr with Creative Commons License
Letting your treasured necklaces, bracelets, rings, or other heirlooms shine again can cost you about $35-139.90. That is the hefty price you may pay if you want to purchase an Ultrasonic Jewelry Cleaner. So..instead of getting expensive cleaning machines, professional cleaning services, or cleaning solutions, opt for practical Do-It-Yourself ways to clean your favorite bling! Here is how:
1. DIAMOND AND SILVER POTION
This mixture is exclusively for cleaning your precious diamonds and silvers. The ingredients are mostly available in your kitchen thus; you would not have to spend a lot.
Ingredients: 
Small bowl
Aluminum foil
Paper towel
Old toothbrush
1-tablespoon salt
1-tablespoon baking soda
1-teaspoon dish detergent
1-cup hot water
Procedure:
Fill the small bowl with a square sheet of aluminum foil then, put the salt, baking soda, and dish detergent. Watch as the liquid buzz while you add the hot water. Afterwards, drop your jewelry there and leave it for 10 minutes. Once the minutes are up, remove the jewelry and use the toothbrush to gently scrub around any prongs, groves, or gemstones. Lastly, rinse and pat dry.
*Note: For Pandora's jewelry, do not use this method as it may be considered too harsh. Instead, check out 3c. below.
2. GOLDEN POTION
One of the biggest reasons why your gold does not shine anymore is because it is filthy! Clean your gold jewelry the right way with this mixture. Much like the diamond and silver potion, ingredients for the gold mixture are available in your home.
Ingredients:
Toothpaste
Old Toothbrush
Soft cloth (dry)
Procedure:
Apply the toothpaste on the toothbrush and scrub the gold jewelry well. If you have a larger piece of gold to shine, repeatedly rinse off the toothbrush and use more toothpaste. Then, rinse it off with water. Lastly, get your soft cloth to dry it. Use circular motions to polish your golden jewelry!
3. OTHERS
a. White Vinegar
If white vinegar had a C.V., its skills would fill 1-2 pages. Yes! That is abundantly skilled this multi-purpose agent is. To clean your bling, mix a cup full of water with a half-cup of white vinegar and stir well. Put your silver pieces onto the mixture and leave it for 2 hours. Once the hours are up, remove the jewelry pieces then, rinse with cold water. Lastly, pat dry with a soft cloth.
Not bad for S$2.60 a pop (i.e., sold at FairPrice)!
b. Beer
A beer that costs you as low as S$3.10-4.50 (i.e., at FairPrice) can not only give you a fun time but also can give you back the shimmer of your jewelry! In a mug of beer, soak your jewelry overnight. On the next day, remove your jewelry and rinse it off in running water. Dry these up and be astonished on how shiny the pieces are!
c. Dish Soap
The dish soup sitting on your kitchen sink can also be used to bring back the shine from your jewelry pieces. This is a milder form of cleaning you sterling silver and it works well with your Pandora's bracelet and charms. Simply add a few drops of the dish soap into a bowl of warm water and let your Pandora sit in it for a few minutes. Clean it with a soft bristle toothbrush if you like and pad them dry individually with a dry cloth. Make sure that if your charms is made of wood, leather or pearl, you should not use this method.