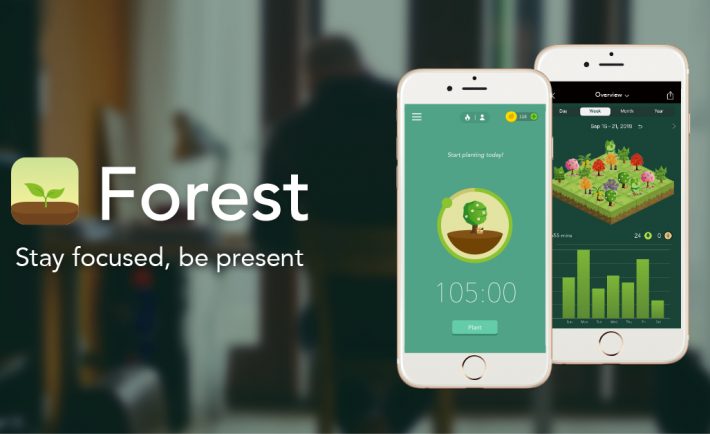 Image Credits: Forest
It's natural for the mind to decelerate as we become older. Since we're likely to be less involved in sports, it might have an impact on our overall mental activity. As a result, it's essential to work out often to keep our minds and bodies engaged.
Studies have found that, just as we exercise our bodies to maintain them in excellent functioning order, we should also train our brains to relax and keep them alert when they should. This could greatly reduce the chances of dementia in our later years. Keeping our brains active allows us to focus on the present moment and diverts our attention away from our anxieties.
If you want to train your brain daily, these apps could help.
TED is a worldwide network that welcomes individuals from all cultures and disciplines who want to learn more about the world. They are convinced that ideas can alter people's minds, lifestyles, and eventually, the universe. Their mission is to make brilliant ideas accessible and create dialogues surrounding them. TED, owned by a nonprofit, nonpartisan organization, makes a great platform to revisit if you're searching for fresh inspirations.
View this post on Instagram
Calm bills itself as the best app for meditating, relaxing, and sleeping. They were also the Apple's App of the Year 2017, Best of 2018 award winner, and Google Play Editor's Choice 2018. It's not even surprising that they have over 100 million downloads and over 1.5 million 5-star ratings.
The team is dedicated to creating sleep and mindfulness solutions that are based on solid scientific data. By downloading the app, you can discover personalized music for rest, slumber, and concentration, as well as countless hours of mindfulness meditation on subjects such as worry, panic, and relationships.
You may plant an oak or cedar in the Forest app and watch it grow while you concentrate on your tasks. Because quitting the app halfway would cause your tree to perish, it's an app that lets you concentrate on the present, urgent things that matter.
There are a variety of additional plant species available, some of which may be purchased with virtual gold coins. It's a very meaningful initiative because to plant actual trees on earth, the Forest team collaborates with Trees for the Future, a real-tree-planting company. The Forest team gives to its partner and makes planting orders when users like ourselves spend virtual currency we earn while navigating through the app.
View this post on Instagram
Lumosity transforms laboratory assignments into enjoyable games where your results will be interpreted by the app, giving you useful feedback and deep insights on your cognitive levels. The team recognizes that everyone's brain is different, regardless of age or ability level, thus their program caters to your strengths and shortcomings.
To keep yourself continually challenged, we suggest that you work out with a new set of games every day. It will help you keep your brain training habit if you use it in conjunction with their extensive progress tracking. Don't take our word for it for Lumosity games and tests have been used in over 20 peer-reviewed articles in academic journals. One complete study can be found here.
Duolingo is a great way to learn new languages, and evidence indicates that it works. You can earn points and level up by taking short, bite-sized quiz-like sessions while gaining real-world language skills.
Classes are personalized to help you navigate at the proper level and speed, incorporating elements of AI and language science. Reading, listening, and speaking abilities are also adequately and efficiently taught in their programs. With game-like elements, engaging challenges, and prompts from their cheerful mascot, Duo the owl, they make it easy to create a routine of learning languages. Duolingo is fully free to use, but the Plus version removes advertisements and allows you to make quicker advancements.
View this post on Instagram
Consider Headspace to be your brain's best pal. They are available to anybody who needs them, no matter the location, to assist people in getting through trying situations and finding joy in ordinary living.
Headspace helps you establish life-changing routines to enhance your psychological health and achieve a better, brighter self by using science-backed meditation and mindfulness methods. In just 10 days of usage, it has been shown to lower stress by 14%. It can also calm you down in minutes, boost your attention, and have you enjoy the best night's sleep you've been longing for.
The app's goal is to use research to assist knowledge workers in attaining their optimum mental performance in a measured way. They provide a completely automated cognitive coach to help people in improving abilities including attention, communication, judgment calls, stress management, and more.
They do so by utilizing their free cognition calculator to get your benchmark rating on each category. Thereafter, you will start getting weekly bite-sized lessons based on psychological and neurological findings and content crafted by a team of PhDs that you can apply in your daily life. The app assesses your progression after each unit and tells you how far you've progressed.