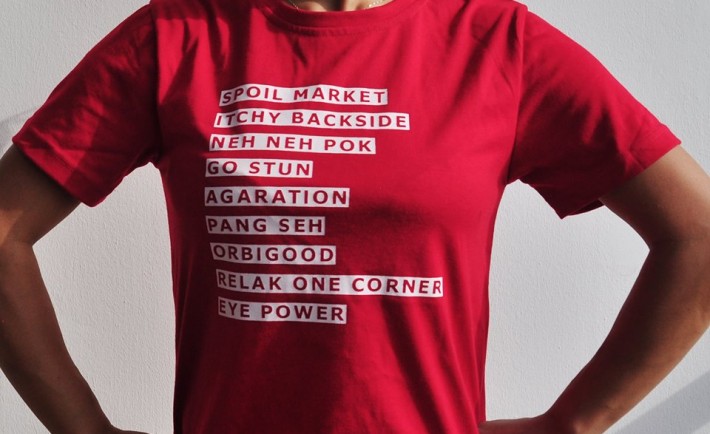 Image Credits: facebook.com/hello.simitaiji
Singapore is unique melting pot of diverse cultures such as Chinese, Malay, and Indian. These cultures fused together to build the unofficial common language of all Singaporeans – the Singlish. Despite one's efforts to speak fluent English, one cannot help it when Singlish phrases kicks in so naturally. You get so comfortable with it that your foreign friends look at you with total perplexity.
How do exactly explain what "leh", "liao", or "lah" is?
Well, you can start by (affordably) wearing it with pride!
1. THE LITTLE DRÖM STORE
Keychains: S$13.90 & Badges: S$20. Buy here.
From badges to keychains, you name it…they have it! The Little Dröm Store sells local items for several types of Singaporean.
Their gold-plated keychains have 30 different designs like Huat ah, Chope, Kopi Uncle, and Shiok. With that many choices, you will surely find one you like. While the badges have 16 different designs. From the Precise (Zhun zhun guni hoon), to the Champion (Kiasu), and the Composed Singaporean (Steady Pom Pipi), this store has it all for you!
2. NAIISE.
Singlish Poster (A3 Size): S$15. Buy here.
Nothing screams your pride for Singlish even more than a poster hanged in your home or office. Aside from posting your precious family portraits, post this printed Singlish words and phrases by angmohdan. Also, you may share it with your loved ones who are overseas to remind them of our beautiful land!
3. SIMITAIJI
Uniquely Singaporean Phrases: S$25. Buy here. 
Sprinkled with Singaporean humor, Simitaiji presents the Uniquely Singaporean Phrases unisex tees that are available in two nationalistic colors. Simitaiji was founded by two designers from diverse backgrounds and was brought together by their love of the country.
Worry not if you fit the tee as they come in XXS-L!
4. HOSAY!
Hosay! Itunes App: Free. Buy here.
If you want to master your "mother-tongue" even more, do it with this free yet cool app! It comes with 80 unique Singaporean expressions and their meanings. Learn how to pronounce phrases such as "Wah Lau" or "Jialat". A review by Kitty966 even added that this really funny App has accurate pronunciations.
Complete with insults, kopitiam, gambling, and character lingo – this App will surely brush up your Singlish skills while tickling your funny bone.