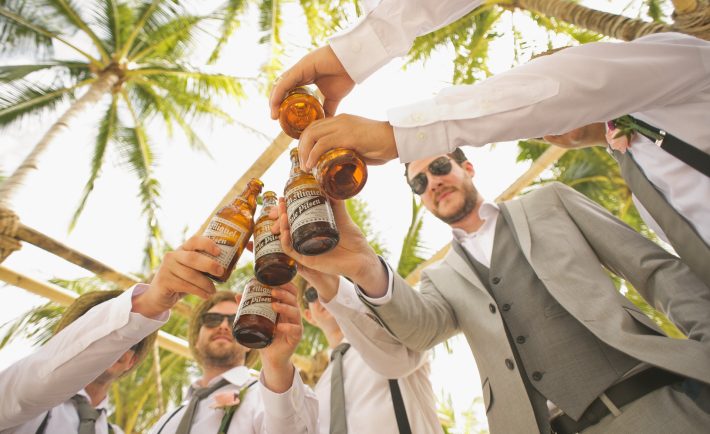 Image Credits: unsplash.com
Are you ready to throw an epic bachelor party in Singapore without emptying your wallet? We've got you covered! Planning a memorable celebration doesn't have to be a financial nightmare.
With these 8 money-saving tips, you can have a blast while keeping your expenses in check. So, let's dive in and make this bachelor party one for the books!
#1: SET A BUDGET
Before you start planning, get everyone on board with a realistic budget. Figure out how much each person is comfortable contributing and make sure it covers all the essentials like transportation, accommodation, activities, food, and drinks.
#2: CHOOSE AN AFFORDABLE PLACE
Who needs a fancy 5-star hotel when you can find cozy and budget-friendly options in Singapore? From hostels to budget hotels and serviced apartments, there's something for everyone. Do some research, compare prices, and pick a place that meets your needs and fits your budget. Don't forget to read online reviews to avoid any sketchy surprises. You might even consider booking an Airbnb for a more unique experience.
#3: PLAN AHEAD
The early bird gets the worm, or in this case, the best deals! Plan ahead and take advantage of early bird discounts, promotions, and group deals. Book your flights, accommodations, and activities well in advance to snag the best prices and avoid last-minute surcharges.
#4: EXPLORE FREE & LOW-COST ACTIVITIES
Singapore offers plenty of wallet-friendly attractions and activities. Take a stroll through stunning parks like Gardens by the Bay or East Coast Park, perfect for picnics and outdoor games. Immerse yourself in the vibrant culture by visiting local markets like Chinatown and Little India. Want some fun in the sun? Organize a friendly sports match or spend the day at one of the city's beautiful public beaches.
If the groom is an adrenaline junkie or simply wants to conquer his fears before tying the knot, look no further than Sentosa for Singapore's only bungee jumping experience! With heart-pumping jumps from 47 meters above the ground and a variety of jump styles, you can capture some epic footage to show the bride-to-be that her man is still thinking of her. Book through Klook for just S$11!
#5: DIY FOOD & DRINKS
Eating out for every meal can quickly drain your wallet, especially in a vibrant city like Singapore. Instead, consider cooking meals yourselves or ordering affordable takeaway options. Many hostels and apartments provide kitchen facilities, allowing you to whip up simple yet satisfying meals. When it comes to drinks, skip the expensive bars and clubs and grab affordable options from local convenience stores.
#6: POOL YOUR RESOURCES
Teamwork makes the dream work! Encourage everyone in the party to pool their resources to minimize costs. By sharing expenses for food, drinks, transportation, and accommodation, you can significantly lighten the burden on each person's wallet. Work together with your crew to find the most cost-effective options for different aspects of the bachelor party.
#7: HUNT FOR GROUP DISCOUNTS
When booking activities, keep an eye out for group discounts or packages tailored specifically for bachelor parties. Many tour operators, spas, and adventure parks offer special rates for larger groups, giving you the chance to save money while enjoying unique experiences.
#8: PLAN YOUR TRANSPORTATION WISELY
Singapore boasts a fantastic and affordable public transportation system. Make the most of it by using the MRT and buses to get around the city instead of relying solely on taxis or private car hires. If you need to travel longer distances, book in advance to secure the best rates for group transportation.
IN A NUTSHELL
Planning an unforgettable bachelor party in Singapore doesn't have to drain your bank account. With a solid budget, affordable accommodation, free activities, and pooling resources, you can create memories that will last a lifetime without breaking the bank.
Armed with these money-saving tips, go ahead and plan the ultimate celebration for the groom and your group of friends!