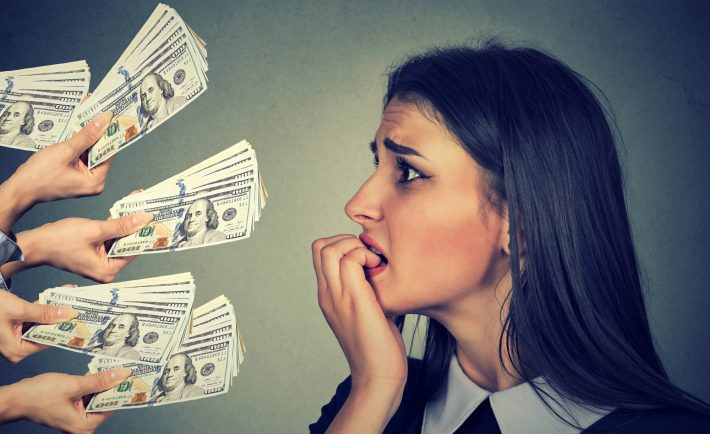 Anxious woman looking at money dollar banknotes offered by suspicious people
Before you finalize your switch from one bank to another, ensure that you understand what you are signing up for. Here are five questions you need to answer before you decide.
DO YOU WANT A HIGHER SAVINGS ACCOUNT INTEREST RATE?
You get what you think you deserve. If you are earning nearly nothing in your savings account then, it is worth evaluating the alternatives. Moving your funds elsewhere makes sense only when you can earn significantly more in another account.
For instance, switching might not be worth the trouble in this scenario. Say you only have around S$1,000 in your savings account and the extra 0.5% interest gets you about S$5 additional on your monthly total. If you are generally satisfied with your current bank, why bother?
DO YOU WANT TO SIMPLIFY YOUR FINANCES?
Some Singaporeans have accumulated multiple accounts over the years. So? Switching banks can be an opportunity to organize your finances. Organizing your finances allows you to minimize your online bank account and to move your money as quickly as possible. Have everything in one place by choosing a premium bank.
This bank must cater to all your deposit needs, offer low fees, and provide competitive interest-bearing accounts.
DO YOU PREFER TO HAVE AN UPGRADE IN ONLINE AND MOBILE BANKING?
Whether you want to acquire DBS Paylah! or UOB Mighty, most banks offer online and mobile banking tools to smoothen your transactions. You may consider all these tools as a means to weigh whether you watch to switch banks or not. Contemplate on the features you need and the ones that are available thru your chosen banks.
If you often transfer funds between a local and an overseas account. Then? You have to find an online banking app that enables you to do this. Take note of the charges that come with every deposit.
DO YOU WANT A BETTER CUSTOMER SERVICE?
How is the bank personnel treating you after you sign-up? Dissatisfied customers may receive better service in another bank. Look for online reviews and friend recommendations when reviewing a bank's customer service prowess.
It is best to talk to someone credible to assess their issues in the bank staff and service.
DO YOU PREFER A BANK WITH BRANCHES NEARBY?
Accessibility is important when considering which bank to choose. You must survey the nearby banks and notice which ones are more accessible. You may also walk up to the teller to ask about their safe deposit box or their online banking tools.
Who knows? Your chosen bank may allow you to transfer or deposit funds with a few swipes of the finger!