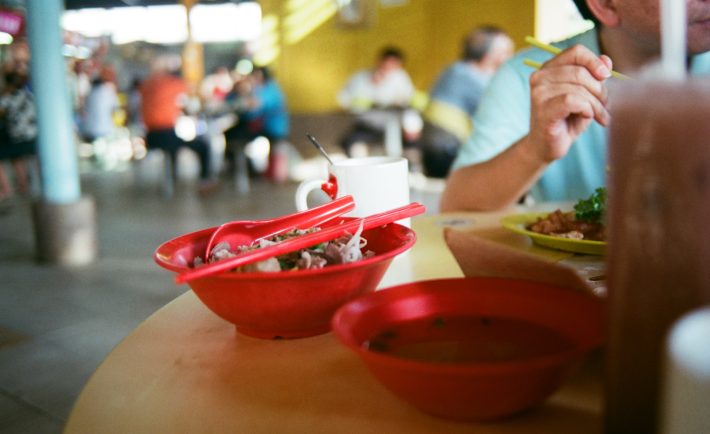 Image Credits: unsplash.com
1. NO NEED TO WIPE TABLES, BUT RESPECT IS KEY
In a recent announcement, the National Environment Agency (NEA) clarified that diners at public eating areas in Singapore are not obligated to wipe their tables after use. However, it's crucial to show respect to the workers by not leaving any litter behind on or around the tables. "These include tissues, wet wipes, shells, drink cans, and bones," the agency added. This reminder followed an incident captured on social media where NEA enforcement officers had a discussion with a diner outside Tekka Market and Food Centre in Little India last week.
I, personally, have friends and relatives employed in the F&B (Food and Beverage) industry. In this field, known for its dynamic and challenging nature with shifts spanning 12 hours at times. So, let's help the F&B workers out! They would greatly appreciate it if you would clean up after eating.
2. SINGAPOREANS' HIGH SALT INTAKE & RISING BLOOD PRESSURE LEVELS
A concerning trend has emerged in Singapore, where nine out of ten residents are consuming more salt than recommended. Surveys conducted by the Ministry of Health and Health Promotion Board revealed that the prevalence of high blood pressure has nearly doubled since 2010.
Additionally, fat intake among Singaporeans increased from 94g in 2019 to 100g in 2022, underlining the impact of lifestyle choices on public health. Thus, it highlights the significance of maintaining fitness and embracing a balanced diet as integral components of a lifestyle, rather than merely indulging in hobbies.
3. ICONIC DESSERT BRAND SARA LEE FACES UNCERTAIN FUTURE
Sara Lee, the beloved Australian dessert brand known for its delectable pound cakes, is facing a precarious situation. The iconic frozen desserts company has entered voluntary administration due to rising costs.
Despite being profitable from May 2021 to July 2022, increased expenses led to price hikes across all products in May. This news has left many netizens shocked and nostalgic, as Sara Lee has been a household name in Singapore for years.
4. MCDONALD'S 1980s MENU RESURFACES ON SOCIAL MEDIA
A blast from the past took over social media when a user, by the name of "Boon Wee", shared McDonald's menu from the 1980s. The menu was posted on the "Heritage SG Memories" Facebook group. It featured a variety of burgers, fries, shakes, sundaes, and the iconic apple pie.
Interestingly, soft drinks were priced as low as S$0.50, and the famous Big Mac was a mere S$2.35. Now, soft drinks start at S$3.15, while the Big Mac starts at a whopping S$7.25. The post garnered significant attention, with netizens expressing surprise at the inflation rates and the use of traditional Chinese characters in the 1980s menu.