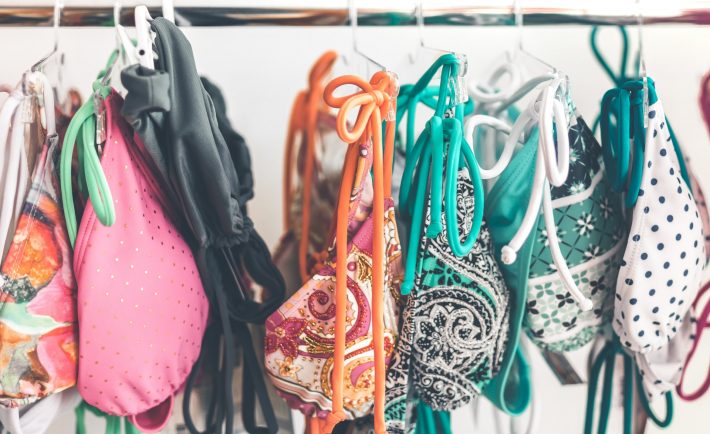 Image Credits: unsplash.com
As I was mindlessly scrolling through my Instagram feed, I saw an advertisement for a porcelain triple barrel hair waver. It was sold for less than S$10. Can you grasp how cheap it was? I was skeptical at first. I did not want to burn my hair for a hair tool that normally costs more than S$50. However, I took my chances and bought it online thru a popular retailer.
Online shopping sounds like a good idea, until the item you purchased disappoints you. In my case, it was the hair waver. I did not get the "beautiful beach waves" that I dreamed of. Instead, the hair waver barely worked. I did not want to trouble myself further by placing a return. I used it once and never touched it again!
I know that I am not the only one. Online shopping is a tricky platform. Nonetheless, there are some items that are best purchased in store. This way, you will be able to judge its quality up-close and ensure its perfect fit. Moreover, you will be avoiding expensive shipping fees and will be given the chance to negotiate the price.
Apart from hair tools, here are some of the items that you must consider buying in the physical store.
1. WEDDING GOWNS
While online shopping is always tricky and risky, buying a wedding dress online is one of the biggest gambles you may enter. Despite being a once-in-a-lifetime piece of clothing, many brides go to the Internet to search for tempting discounts on wedding gowns. Some of these gowns were designed to look like the latest bridal collections of renowned designers such as Vera Wang and Monique Lhuillier.
In most cases, your dream dress can turn into an unrecognizable garment on your doorstep. Imagine ordering a white dress and ending up with a lime green dress after several weeks. Dresses may come in different colors, poor materials, and crooked hemlines. If a deal is too good to be true, it probably is!
2. PANTS
Articles of clothing may not always come as it was advertised. Colors may appear different due to the studio lighting and sizing may vary from brand to brand. Thankfully, most of us have skipped wearing jeans due to the current work-from-home setup. Some of you may regret buying jeans online, because you never had a chance to wear them. While others may have purchased the wrong size.
If you are attending to your professional duties at home, it is better to invest on a comfortable pair of jogging pants or leggings. Who needs to wear a tailored pants during a Zoom call anyway?
3. BICYCLE
Health is wealth! As the world puts a spotlight on the importance of regular exercise, you may embrace the benefits of cycling. The Internet is a great place to research on bicycles and its accessories. You can read all about bike geometry and carbon fiber frames, but the information found here can be limited. It is important to purchase a bicycle that is tailored to your measurements. You can feel the specifications of a bicycle by visiting the nearest bike shop. Most cyclists do test-rides before purchasing their newest bicycle. You may do the same.
Moreover, it can be a hassle to get repairs done under the warranty on a bicycle that you ordered online. Save yourself the stress of packing it up and shipping it to the seller. With a locally purchased bicycle, you can just take it to the nearest bike shop and have it fixed.
4. CHILDREN'S SHOES
It is no secret that children grow up fast. Their feet are no exception! My mother used to draw our foot on a piece of paper and take it on a store when she bought shoes. Nowadays, you can simply order shoes with a few taps on a screen. Although you know your child's current measurements, sizing varies among brands. If you child is size 3 on brand A, she may be size 4 on another.
It takes more time and effort to purchase several pairs of shoes in a store, but you will be able to purchase the right ones. Remember that some retailers do not offer free returns.
5. MUSICAL INSTRUMENTS
Last year, I studied how to play the Kalimba or thumb piano. I still have it with me and play its soft tunes whenever I can. I opted to purchase online as I was a beginner and I am not a professional musician. It provided a great start in discovering my musical prowess.
For professional musicians and Music students, it is a different story. These people need higher-end equipment, especially for fragile instruments such as violins and cellos. You should purchase these items in person rather than on the Web. It is important to play the instrument in person to ensure that you are getting a good value for your buck.
6. SWIMWEAR
For some people, shopping for a new swimsuit or bathing suit can be a daunting task. As such, you may opt to hide behind your computer screen and order online. The only downside of doing this is that fit can fluctuate among suits from the same brand. It is better to not take your chances with fit!
Furthermore, you may not be able to return a small swimsuit if the packaging has been opened or if there is evidence that the suit has been worn. The same restrictions can apply to other intimate apparel such as bras, purchased online.
7. MATTRESS
My uncle always highlights the importance of buying a good mattress. He works tirelessly everyday and dreams of getting home to a comfortable bed. We spend a third of our lives on the bed. This is the primary reason why you should invest on a mattress that you can use for several years. According to the Better Sleep Council, a mattress should last up to seven years.
It is challenging to commit to a mattress that you merely saw online. A reviewer may sleep on his back and you may be a side sleeper. Your online reviews on the same mattress may be polarizing since we all sleep differently. It best to feel the material of the mattress face-to-face. Who knows? You can score a better deal during store promotions and seasonal sales!