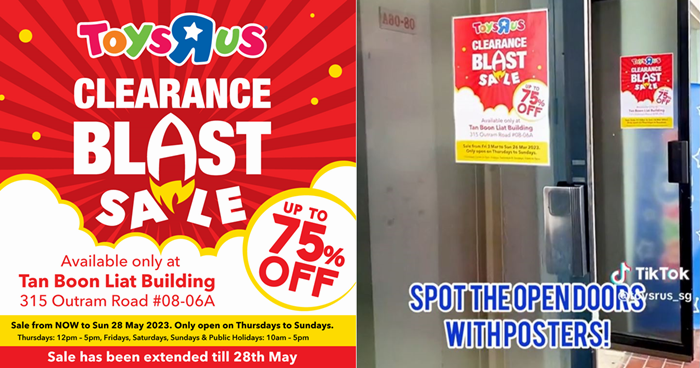 Attention, toy enthusiasts and bargain hunters! Toys"R"Us is thrilled to announce its highly anticipated Warehouse Clearance Sale, offering incredible discounts of up to 75% off on a wide range of toys. From now until 28th May 2023, get ready to embark on a thrilling shopping adventure at Tan Boon Liat Building, #08-06A, located at 315 Outram Road.
This Warehouse Clearance Sale is an excellent opportunity to stock up on toys for your little ones or expand your own collection without breaking the bank. With massive discounts available, you can indulge in your passion for toys and bring joy to the children in your life.
The sale hours are as follows:
Thursday: 12pm – 5pm
Friday, Saturday, Sunday, and Public Holidays: 10am – 5pm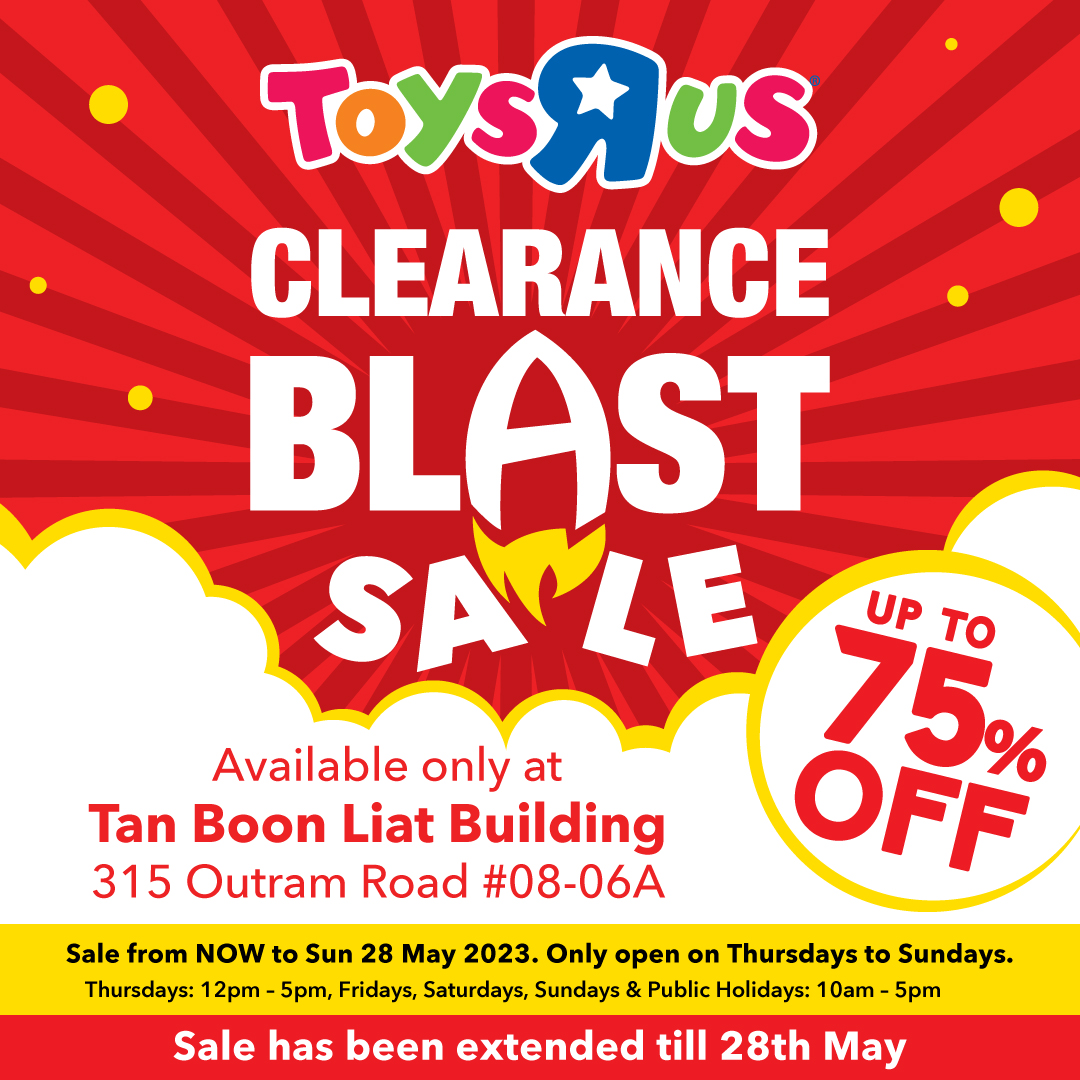 Plan your visit accordingly to make the most of this exciting event. Whether you're looking to surprise your kids with a special treat or searching for the perfect gift, you'll find an extensive selection of discounted toys to choose from.
Lego enthusiasts are in for a treat! The Toys"R"Us Warehouse Clearance Sale features a wide range of Lego sets at discounted prices. From classic sets to the latest releases, there's something for every Lego lover. Don't miss this chance to grab your favorite Lego sets and immerse yourself in the endless possibilities of building and creating.
In addition to Lego, there are plenty of other popular toy brands on sale. Star Wars fans can find an array of action figures, playsets, and collectibles from a galaxy far, far away. Dive into the world of epic space battles and relive your favorite Star Wars moments with these incredible toys.
For fans of the hit animated series Cocomelon, you'll be delighted to discover a range of Cocomelon-themed toys available at discounted prices. Let your little ones sing and dance along with their favorite characters as they explore the world of Cocomelon through imaginative play.
Disney lovers will also be spoiled for choice with a variety of Disney toys on sale. From beloved princesses to iconic characters like Mickey Mouse and friends, there's no shortage of Disney magic to be found at the Warehouse Clearance Sale. Create enchanting adventures and bring the Disney spirit home with these delightful toys.
Remember, the Toys"R"Us Warehouse Clearance Sale is only open on Thursday to Sunday, so mark your calendars and make sure to plan your visit accordingly. Take advantage of the incredible discounts and enjoy a shopping experience filled with excitement and savings.
Don't miss out on this fantastic opportunity to snag some amazing toys at unbeatable prices. Head over to Tan Boon Liat Building, #08-06A, located at 315 Outram Road, and get ready to immerse yourself in the world of toys. Hurry, as this Warehouse Clearance Sale ends on 28th May 2023. Happy shopping and happy playing!