Looking to explore vibrant and diverse cities? Scoot's sale fares have got you covered! Take a look at these exciting destinations and their unbeatable prices:
Osaka: Immerse yourself in the bustling streets of Osaka, Japan's vibrant metropolis. From its iconic street food to majestic castles and modern architecture, Osaka has it all. And with Scoot's sale fares starting from just $190, you can experience this city without breaking the bank.
Seoul: Experience the perfect blend of tradition and modernity in Seoul, South Korea's dynamic capital. From exploring ancient palaces to indulging in delicious Korean cuisine and shopping in trendy neighborhoods, Seoul offers endless excitement. With Scoot's sale fares, starting from $220, you can embark on a memorable journey to this vibrant city.
Jeju: Known as the "Hawaii of South Korea," Jeju Island is a paradise of natural wonders. With its stunning beaches, volcanic landscapes, and unique culture, Jeju is a haven for outdoor enthusiasts and relaxation seekers alike. Scoot's sale fares to Jeju start from an incredible $175, making it an affordable getaway to this island paradise.
Ho Chi Minh City: Dive into the bustling energy of Vietnam's Ho Chi Minh City, formerly known as Saigon. From exploring historical landmarks like the Cu Chi Tunnels to savoring the tantalizing flavors of Vietnamese cuisine, this city offers a captivating blend of culture and history. Scoot's sale fares to Ho Chi Minh City are priced from just $82, making it an excellent opportunity to experience this vibrant destination.
Click here to book now.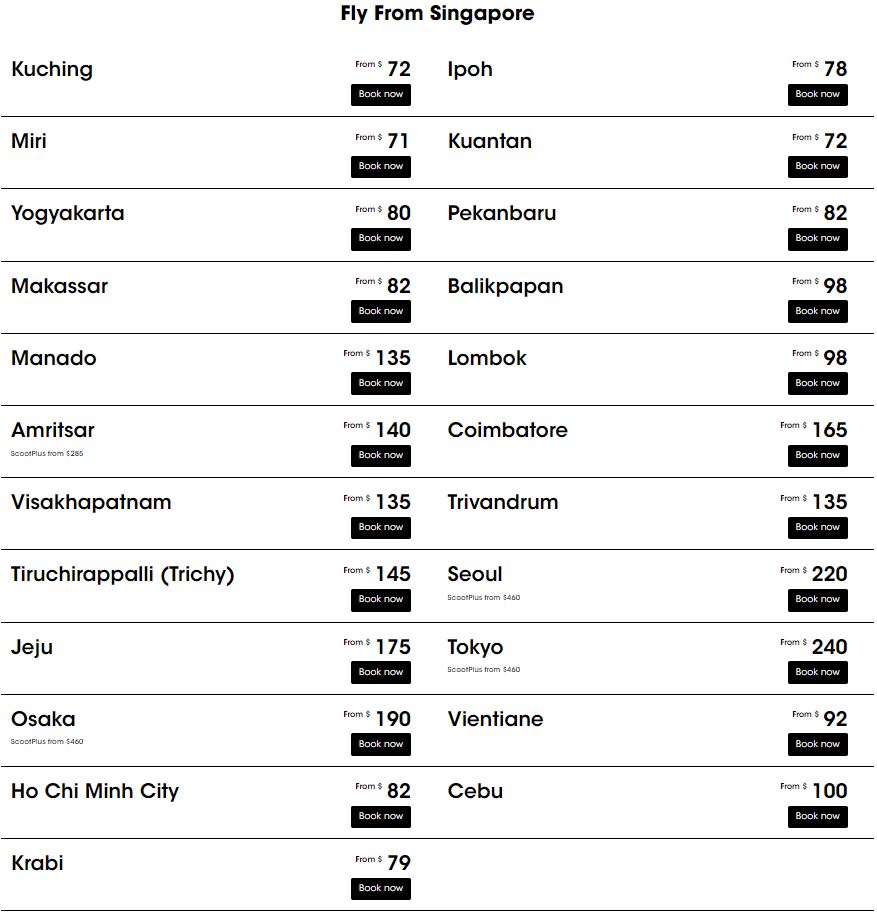 Don't miss out on these incredible deals! Whether you're craving the culinary delights of Osaka, the urban energy of Seoul, the natural beauty of Jeju, or the cultural richness of Ho Chi Minh City, Scoot's sale fares provide an affordable gateway to unforgettable adventures. Book your tickets now and get ready to embark on an extraordinary journey!
Sale Period:
(GMT+8) 1000H 16 May, Tuesday – 2359H 20 May, Saturday
Travel Period:
By 31 Aug 2023
(Additional blackout periods may apply over school holidays and event periods)
Terms and Conditions: Fares comprise the price of the air ticket and associated taxes. Fares indicated are one-way unless otherwise stated, for travel originating out of Singapore for bookings made at www.flyscoot.com and Scoot's mobile app for supported devices only on selected Scoot-operated flights only. Flights booked under promotional fares are not eligible for frequent flyer mileage accrual and cannot be used in conjunction with any other upgrade awards. Taxes are subject to change due to currency fluctuations. Unless stated otherwise, Economy Fly fares exclude checked baggage and meals. Full payment is required at the point of booking. Full list of fees is available at www.flyscoot.com. Offer is subject to availability and confirmation. Seats are limited and may not be available on all flights or all dates. Blackout periods may apply during school holidays and event periods. Bookings are not refundable except as provided in Scoot's Conditions of Carriage. All flights booked under promotional fares shall be subject to Scoot's prevailing terms and conditions and Conditions of Carriage which are available at www.flyscoot.com. Scoot reserves the right to cancel or amend the terms and conditions applicable to the promotion without prior notice.