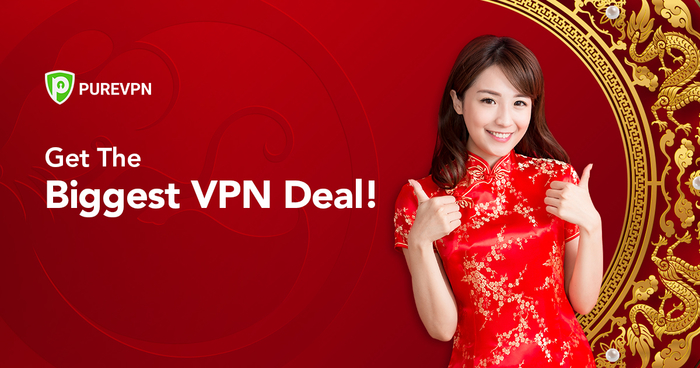 The Year of the Rat is set to start, and we can't wait to begin with the celebrations ?
Since we're talking about celebrations, there is one VPN brand that wants to celebrate the New Year by offering an exclusive new deal. PureVPN, the Hong Kong-based VPN brand, is launching a massive deal to celebrate the Chinese New Year!
Now You can grab Annual Plan of PureVPN premium features for just $31.92
This is enticing, isn't it?
Considering that PureVPN's monthly plan usually costs around $10.95/month, the annual plan is worth about $131.4. But if you get the latest Chinese New Year deal, then you can use the feature-filled VPN service for a whole year after paying just $31.92! This makes for just $2.66/month only.
That's not all! Once you've subscribed to PureVPN, you can also gift 12 free PureVPN monthly accounts to your loved ones! And if you're not satisfied with the overall service, you can always go back and ask for a refund, to which you shall be eligible to for 31-days.
*It's a limited time offer!
---
What do you get from this deal?
PureVPN is not just light on the pocket. It offers loads of amazing privacy and security features to its users.
In countries like Singapore, where government-sponsored online surveillance is pervasive, PureVPN can offer complete online security and anonymity.
With PureVPN, users can enjoy complete end-to-end encryption that safeguards their online traffic. Even the most talented hacker or the most notorious surveillance agency cannot bypass the encrypted security on offer by PureVPN.
PureVPN is renowned for offering complete online anonymity to its users. It is one of the few VPN brands that is no-log certified by a reputable auditing company. The service stores no logs of its user's online activities, guaranteeing their privacy on the web.
And if that isn't enough, then users would be delighted to know that PureVPN also offers complete internet freedom to its users. The service runs a network of over 2,000 servers in 140 countries. This means that users can access websites in any of these countries with ease.
PureVPN offers access to multiple versions of Netflix from anywhere. These include the US and the UK version of Netflix, which are said to contain the largest Netflix libraries.
PureVPN is also one of the few VPN brands that offer complete access to Disney+ from anywhere. PureVPN offers access to multiple regions of Disney+, guaranteeing access to numerous libraries.
PureVPN keeps its servers optimized at all times so that users enjoy the fastest VPN speeds. It is the best VPN for streaming because of its fantastic VPN speeds and its unlimited bandwidth policy.
So now that you know all about PureVPN's Chinese Year Deal, we suggest that you grab it today before it expires!