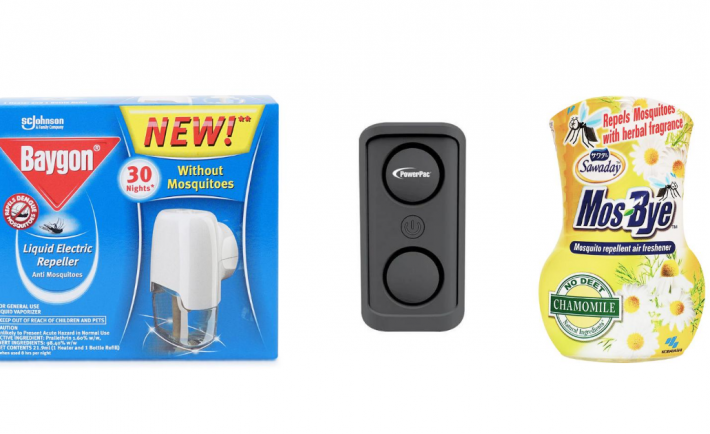 Singapore's worst dengue outbreak in 2013 saw 22,170 cases. However, it seems like 2020 might be outdoing the number of cases in 2013. This is because as of 23 July, there are already nearly 20,000 dengue cases! In fact, the number of cases is escalating according to the National Environment Agency (NEA)'s media release on 24 July.
The large dengue clusters are located in these areas:
Aljunied Road / Geylang Road

Bukit Panjang Ring Road

Arthur Road

Leicester Road / Potong Pasir Avenue 1

Arnasalam Chetty Road / Kim Yam Road
Therefore, let's do our part to stop dengue and protect ourselves and loved ones with these mosquito-repellent products:
#1: BAYGON MOSQUITO COIL (10 PCS)
Price: 1 SGD
This product works wonders. Most importantly, it's such a low-cost solution to repel mosquitoes at night for up to eight hours. If you're sensitive to the smell, get the scented version.
#2: NUFRESH MOSQUITO REPELLENT WIPES (8 WIPES)
Price: 1.95 SGD
We're heading out more often these days. If you're spending extended periods of time outdoors, drop this pack of deet-free wipes into your backpack before heading out. It has up to six hours of effectiveness with a pleasant scent of citronella oil.
#3: GOLDEN ROOSTER MOSQUITO REPELLENT PATCH (12 PCS)
Price: 3.90 SGD
On top of the mosquito repellent wipes, add on this mosquito repellent patch for extra protection outdoors. According to the packaging, it works up to 12 hours. To use, simply attach the patch on your clothes or bags.
#4: MOZQUIT MOSQUITOES REPELLER – GEL
Price: 4.80 SGD
The repellent also comes in a gel version. This environmentally-friendly product is non-toxic and contains ingredients like lemongrass, mint, essential oil, and aqua. In addition to that, it can last up to 720 hours and is effective up to an area of 150 square feet.
#5: BAYGON ANTI DENGUE MOSQUITO KILLER (600ML)
Price: 5.50 SGD
Need to get rid of mosquitoes fast? Baygon's fast knockout formula anti-dengue spray has been proven to kill mosquitoes. To maximize its effects, close all windows before spraying in an upward motion. Finally, close the door and exit the room for at least 15 minutes before re-entering.
#6: SAWADAY MOSQUITO REPELLENT AIR REFRESHER – CHAMOMILE
Usual Price: 6.90 SGD
Sale Price: 5.95 (till 6 August)
Sawaday Mosquito Repellent Air Freshener also comes in lemongrass scent and lavender. Similar to the NuFresh Mosquito Repellent Wipes, this product is deet-free and can last up to two months.
#7: BAYGON MOSQUITO REPELLENT LIQUID ELECTRIC REPELLER (21ML)
Price: 6.75 SGD
Peeps who are particular about smell can use this liquid electric repeller that is scentless. I've personally used it before and can vouch for its effectiveness. Above all, it can last up to 30 nights without mosquitoes. That's a month of investment for only 6.75 SGD! You can get the liquid refill here.
#8: POWERPAC LED MOSQUITO POWER STRIKE PEST REPELLENT
Usual Price: 9.90 SGD
Sale Price: 6.90 SGD
This electric pest repellent can be mounted on the wall. It kills mosquitoes and insects instantly without chemical or noise. You can use this product at home, in the office, at the restaurant, or even in the hospital.
#9: USB POWERED LED ELECTRONIC MOSQUITO KILLER LAMP
Usual Price: 40 SGD
Sale Price: 14.15 SGD
This killer lamp uses UV light to attract mosquitoes and bugs. Once it is in close proximity, the in-built fan will suck the insects into its trapper. There is no radiation, chemical, or toxins. Available in black and white.
#10: LUCKY BABY MINI SAFETY CLIP ON FAN WITH ULTRASONIC MOSQUITO REPELLENT – LION
Price: 16.90 SGD
Don't forget the baby in the pram! With this clip-on fan with mosquito repellent, your precious little one will be safer from mosquito bites. The fan blades are made of soft foam so it won't hurt if your child touches it. This clip-on fan comes in assorted designs.
And since we're on the topic of babies, why not bag this baby bed cover home as well? There's currently a 10% off its usual price, selling at 10.74 SGD. It's also in pretty colours like green, pink, and blue. Here's how it looks like:
It's also a good idea to purchase a full-cover mosquito net you can use it over your stroller or pram. The 'backbone' over the net helps to secure its shape. No more flimsy nets that irritate! It's currently retailing at 6.50 SGD:
#11: POWERPAC ULTRASONIC INSECT REPELLENT
Usual Price: 29.90 SGD
Sale Price: 24.90 SGD
This small and compact product uses ultrasonic waves to drive away flying insects like mosquitoes within 200 square metres. You can use it indoors for 24 hours a day. It's noiseless!
#12: JOYROOM DIGITAL MOSQUITO LIQUID HEATER REPELLENT
Price: 29 SGD
This is also another electric mosquito repellent to consider. The device works with natural non-toxic mosquito liquid to provide coverage up to 30 square metres. A single charge via USB can last you up to 48 hours.
Stay safe, all!