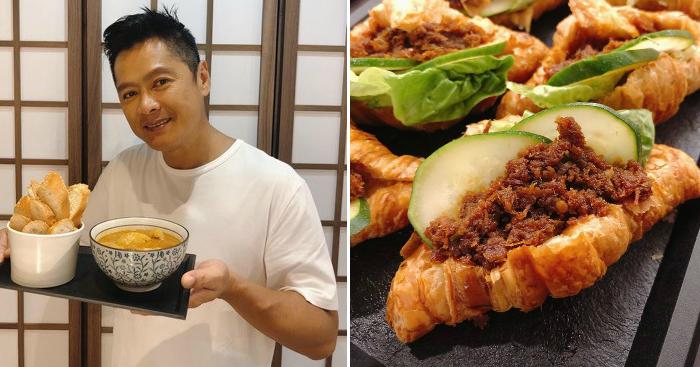 The veteran celebrity together with Julie Tan and UFM100.3 DJ Luo Kemin, will also showcase Taste Gourmet Market Exceptional Range of Christmas Offerings
Be the first to try Ah Ge Li Nanxing specialty – Ah Ge's Curry Chicken
Kick off the festive season with an exclusive 1-for-1 promotion from 21 to 22 November
It's the festive season and it's time to gather your loved ones for a delicious season of feasting! This November, Ah Ge Li Nanxing unveils Bakers & Co., a first-ever exclusive collaboration of its kind with Taste.
The highlights at Bakers & Co. are Ah Ge Li Nanxing's specialty dish, Ah Ge's Curry Chicken Set ($9.90) and Ah Ge's Dried Scallop Hae Bee Hiam with Croissant (set of 3 for $7.90), lovingly prepared using his family heirloom recipes handed down through generations, with Ah Ge adding his own take to the dishes and generously sharing a taste of his childhood to all during this festive season. Savouring these dishes always bring back fond and nostalgic memories for Ah Ge, who grew up enjoying them. The curry chicken comes with a side of baguette bread, the ultimate comfort food. Ah Ge's Dried Scallop Hae Bee Hiam with Croissant is packed with robust flavours, packing a punch in every bite.
A wide assortment of European and Asian pastries and breads are available at Bakers & Co. Taste Ah Ge's curated pastries and breads, which he personally tried numerous times before handpicking over 50 selections of pastries and breads. Specially curated breads include Blueberry Cream Cheese, Chocolate Banana Bread and Cinnamon Roll.
Christmas Festive Offerings at Taste Gourmet Market
Taste Gourmet Market will also be launching its Christmas offerings and it has everything you need for a memorable year-end celebration! Put together by a master butcher with over 10 years of culinary experience, Taste's Christmas catalogue is set to showcase an exceptional range of offerings, including the brand's first-ever dishes, traditional must-haves as well as Japanese sushi and sashimi platters. New and exclusive dishes include Sake Kurobuta Ham, Slow-cooked Peppery Beef Pastrami and Roasted Beef Ribeye with Homemade Herbs Mustard with Shallot & Thyme sauce. A returning favourite is the Guinness Beef Sausage.
Swiss Butchery Meats By Master Butchers – *NEW* Festive Selections
The most delectable Christmas items from whole turkeys, to specialty sake-infused hams and beer sausages are available from all outlets – Taste Supermarket and Swiss Butchery – powered by Far Ocean.
One of Singapore's pioneering premium butchers in 1994, Swiss Butchery is a household name well known for its high quality gourmet delicacies that are a cut above the rest. Pamper your loved ones with the selection of premium festive meats by Swiss Butchery's master butchers. New to this year's festive offering is the Signature Spice Rubbed Whole Turkey (4.5-5.4kg) with Giblet Sauce (500g) & Cranberry Sauce (300g) ($138 1kg), a must-have centrepiece for your festive gatherings this holiday season. There is also the classic Smoked Whole Turkey, which is accompanied with giblet sauce and cranberry sauce.

Known for its specialty alcohol series, take your pick from these new options – Sake Kurobuta Ham ($48 1kg), infused with sake and deeply flavourful – a guaranteed crowd pleaser. For Guinness lovers, you will definitely enjoy the Guinness Beef Sausage ($20 600g). Be spoilt for choice as signature classics such as the Honey Baked Ham ($38 1kg), Hickory Smoked Garlic Sausage ($14 400g), and more are also available for order.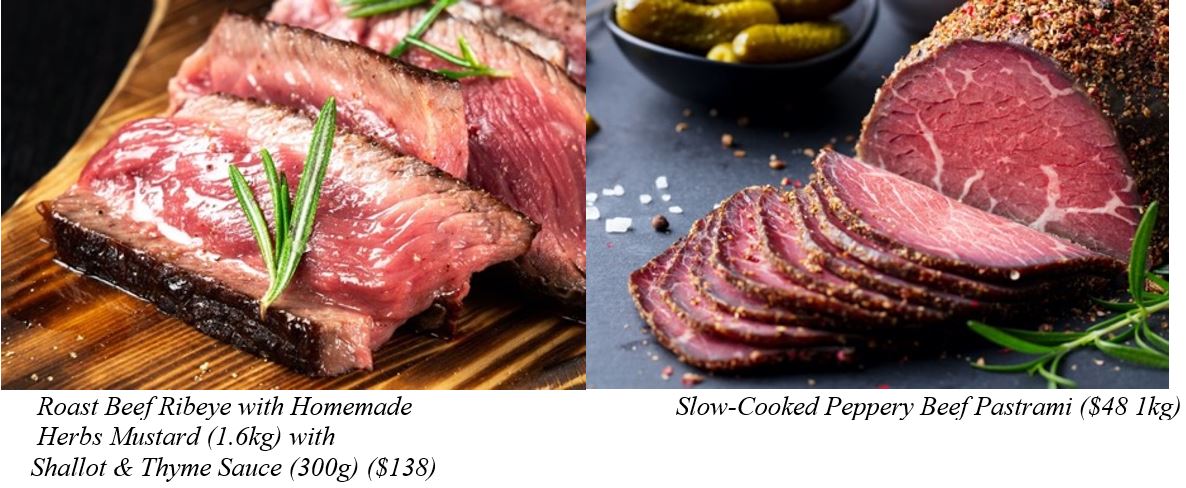 Meat lovers, rejoice! Feast on the Roast Beef Ribeye with Homemade Herbs Mustard (1.6kg), complete with Shallot and Thyme Sauce (300g) at $138, or opt for the juicy and tasty Slow-Cooked Peppery Beef Pastrami ($48 1kg).
Christmas Sashimi & Sushi Platters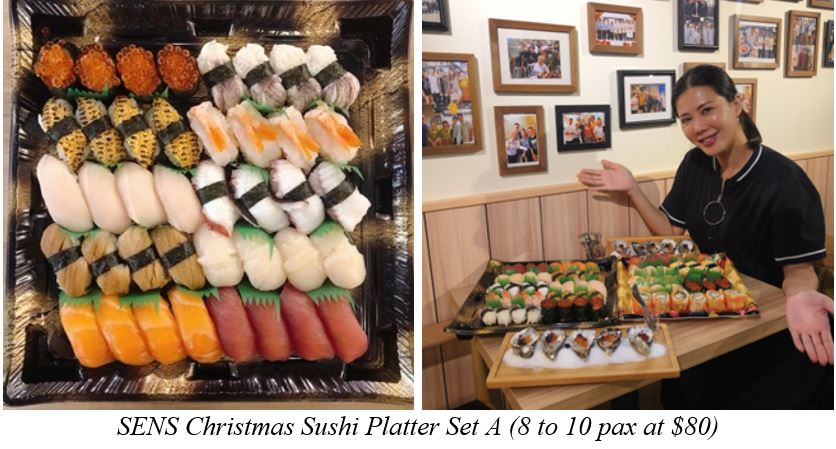 Add a Japanese flair to your yuletide feast with sushi and sashimi platters from SENS Sushi and Grill handcrafted by Chef Kent, who has trained in Japan and worked in various five-star hotels and restaurants, with over 25 years of experience. Great for sharing in groups, SENS Sushi & Grill carries a selection of delectable sashimi & sushi festive sets that suit every party, with prices starting from $44 for a sushi platter for 2 to 4 pax. Platters are available for cosy groups of 4 to big parties of 10, definitely a welcome addition to any party. Enjoy $10 off a selection of Japanese sake, whisky, gin and more when you purchase any sashimi or sushi platter.
The festive line-up this year also includes a wide array of chocolates, confectionary and cakes from Taste Singapore's collection and specially curated festive hampers. On top of the Christmas sweets, Taste Singapore is also proud to carry a wide array of high quality wines and Japanese sakes, providing endless option for food and wine pairings.
This Christmas season, spread the festive cheer, share good tidings and savour the must-try dishes at Taste Singapore – Ah Ge's Li Nanxing's specialty dish, Curry Chicken, Hae Bee Hiam sauce and Swiss Butchery Meats By Master Butchers.
[Festive Promotion] 1-FOR-1 for one Weekend only!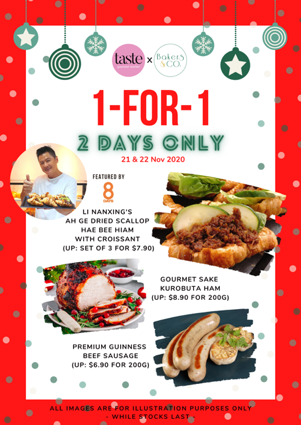 For one weekend only from 21 to 22 November, Taste will be having an all-day long in-store 1-FOR-1 promotion for:
Ah Ge Li Nanxing's Dried Scallop Hae Bee Hiam with Croissant (UP: Set of 3 for $7.90)
Gourmet Sake Kurobuta Ham 200g (UP: $8.90) *Exclusive Item
Premium Guinness Beef Sausage 200g (UP: $6.90)
[Festive Promotion] Early Bird Special Promotion
For all early-bird purchases from now until 8th December, shoppers get 15% discount off all items in their orders with minimum nett purchase of $150! For online purchases, simply key in the discount code: XMAS20 to enjoy the 15% early-bird discount.
Additionally, there will be free delivery for all orders above $150.
Terms and conditions:
Last day of pre-order is 20th December 2020.
Last day of collection is 1st Jan 2021.
Kindly allow 4 working days for processing before delivery or pick-up.
[SENS Sushi & Grill Promotion] SENS x The House of Suntory Promotion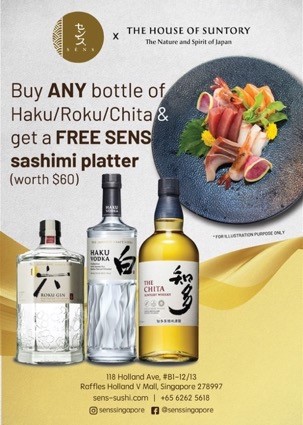 Enjoy a free SENS Sashimi Platter (worth $60) with any purchase of a bottle of Haku/Roku/Chita at $85 each. The free sashimi platter will be curated based on fresh imports of the day. Valid for dine-in only, at SENS Sushi & Grill
Choose from any of the premium selection from the house of Suntory!
HAKU Vodka – Japanese Vodka made 100% from Japanese rice
ROKU Gin – Japanese Gin, made from 6 unique Japanese botanicals
CHITA Whisky – The Single Grain Whisky