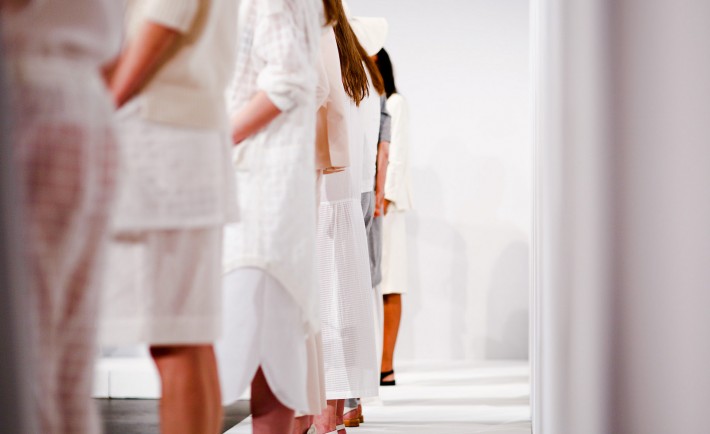 Image Credits: Mainstream via Flickr Creative Commons
1. STICK TO SIMPLICITY
Simplicity translates to sophistication in most cases. The simpler and sleeker the clothing article is, the better. This is why you must avoid handbags or clothes that are filled with bargain embellishments or distressed denim patterns. If you want to accessorize, opt for a thick bracelet rather than stacking three little ones to increase the outfit's impact.
2. AVOID GATHERED SEAMS
Manufacturers prefer gathered seams as they are more forgiving and can fit the majority compared to smooth seams. To seem that you bought your clothes from a high-quality store, shy away from pieces that have gathered seams. Select pleats and sharply tailored garments instead. I once spotted a lovely S$10 pleated skirt at Bugis Street.
3. GET THINGS TAILORED
Having your jeans tailored for about S$5 or S$8 is worth every buck as it can transform your poorly fitted S$13 Forever21 jeans into a seemingly designer piece. It goes the same for a tailored blazer or a tailored jacket.
While you are shopping, look for uncomplicated garments as they are cheaper to tailor. Another alternative is to make basic stitches on your own by using this helpful post.
4. LOOK FOR RAW LACE
I am your typical "girly girl". My wardrobe is filled with floral blouses, form-fitted skirts, and other feminine pieces. This is why I am absolutely fond of lace. The only problem with an outfit covered with lace is that it can look inexpensive.
Lace made by the machine can appear flat and flimsy. Try to stick to tops and dresses that use lace only as an accent. Look for lace that seems raw, uneven, and delicate.
5. FAVOR THE MONOCHROMATIC
Wear one hue or color from head-to-toe because splashing yourself with every color in the rainbow can look cheap! For example, you can wear the different shades of black (i.e., Jet-Licorice) to look slimmer and more stylish. Monochromatic clothing creates an illusion of supreme quality.
Although, this does not mean that you will avoid experimenting with color all together. You may suit up with bold pastels or deep jewel tones and still look as regal.
6. GO FOR THE CLASSIC
Classic pieces such as black pencil skirts and white cocktail dresses have a timeless charm. If you are going to spend your hard-earned money on a wardrobe, wear articles that you can style for years to come.
Even InStyle's Special Projects Editor (who has been a fashion editor for decades) highlighted her adoration for the classic. She once stated this: "my big investments are all classic shapes. No crazy one-off trends such as culottes, designer sweatshirts, or 1970s-inspired fringed jackets."