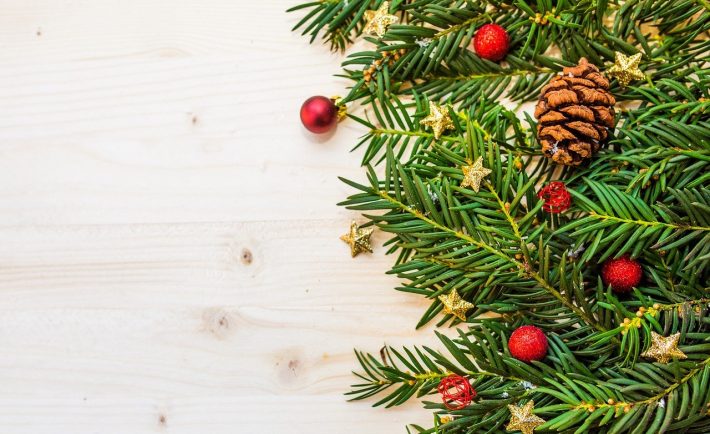 Image Credits: pixabay.com
All of us have different memories of Christmas that we hold close to our hearts. As time passes, our relationship with the Yuletide season evolves. However, one thing remains the same. There's nothing quite like the smell of Christmas in your home to lift your holiday spirit.
What exactly, is the smell of Christmas? Fresh wreath and trees of course!
For newbies, take this friendly words of advice. If you want to score a fresh tree, you must get it early. Don't worry about the upkeep because these trees normally last the whole season. Little fading may occur due to being in the tropics. Check out our top picks to buy one in Singapore.
#1: PETITE FLEUR
Spruce up your home with a Christmas wreath meant to be hung on your front door or in the living room to welcome guests and loved ones. Boutique florist Petite Fleur's 26cm Christmas wreaths will make you stand out from the crowd as it is carefully arranged for you. No two wreaths look exactly alike!
Apart from this, they are selling mini pine trees measuring 30cm to 60cm. These mini-Christmas trees come with fairy lights and fresh decorations.
Price: S$120 for wreaths and S$120-210 for trees, excluding 7% GST
Order online at petitefleursg.com and get free delivery.
#2: IKEA
IKEA not only houses the famous Swedish meatballs and DIY furniture, but also the Vinter 2021. The Vinter 2021 consists of live Christmas trees that retail for S$59 to S$79 at their Alexandra store. Accompany it with a tree stand for only S$25.
Price: S$59 for a 1.6m tree and S$79 for a 2m tree
Purchase at the IKEA Alexandra store. Delivery rates range from S$15 to S$70.
#3: FAR EAST FLORA
When traveling along Thomson Road, it is hard to miss the Far East Flora. Far East Flora is known for its massive selection of flowers and plants. Local plant enthusiasts should be aware of its existence and its huge nurseries. Quickly visit to see their selection of noble fir trees, which were imported from Europe.
Trees that measure 2 to 2.5 meters come with a tree stand. It costs about S$379.45 including GST. If this is beyond your budget, consider purchasing smaller trees or mini trees to bring home the holiday spirit.
Price: S$379.45++ for 2-2.5m tree with a tree stand
Location: 565 Thomson Road, Singapore 298184
Purchase online or in store, with a delivery fee of S$25.
#4: SING SEE SOON
Searching for affordable Christmas trees that are as tall as you? The search is over. Sing See Soon has Fraser fir Christmas trees that range from 1.52m to 1.83m, which are sold without a stand. Due to its straight horizontal branches, these Canadian variety of fir trees are pleasing to the eyes.
Price: S$188
Location: 5 Simei Lane, Singapore 528710
Get yours online or in store, with a delivery fee of S$30.
#5: WONDERLAND BOTANICALS
You don't have to sacrifice the festive decorations just because you live in a smaller space. Rather than putting your items in the storage area, you can opt for a tabletop Christmas tree. Join a tabletop Christmas tree workshop on 17 Dec to learn how to make your own tree. This 2-hour workshop costs about S$150.
For those who want to save time and money, you can simply buy a Christmas wreath decorated with classic berries for S$135 or a bouquet of nobilis fir branches for S$25.
Price: S$25 for the bouquet, S$135 for the wreath, and S$150 for the workshop
Location: 1M Yong Siak Street, Singapore 168641
You can order online and get it delivered to your doorstep!