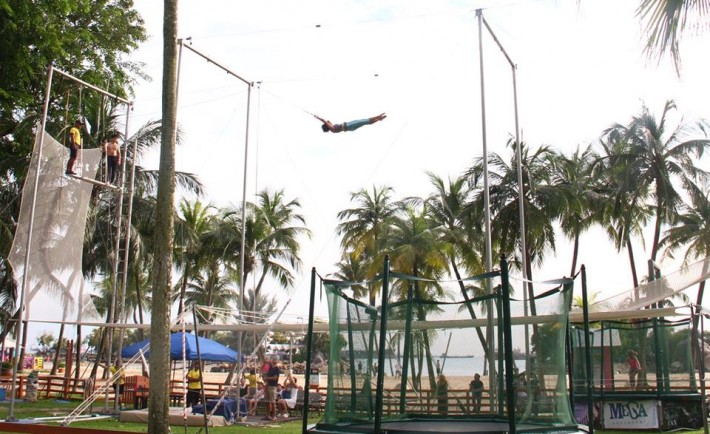 Image Credits: www.facebook.com/MegaBouncesingapore
Everybody experiences stress at one point! From job loss to break-up, you have your own share of stressors. And these accumulated stress can be detrimental to one's health when not managed.
While a trip to the nail salon with your best friend is always a good idea, why not consider blowing off some steam while burning calories at the same time?

Channel your inner stress-free kid by trying out these exciting "adult playgrounds"…
1. THE FLYING TRAPEZE
Being the first of its kind in Singapore, Sentosa's The Flying Trapeze offers exhilaration and fun for its participants and spectators. Learning trapeze helps develop your strength, concentration, and coordination. Let the beach become your playground as you soar high above it!
Prices: S$10 per swing and S$20 for 3 swings
2. AMPED TRAMPOLINE PARK
Ready to experience the exciting thrill of defying gravity? If so, grab your grip socks and visit the nearest AMPED Trampoline Park. AMPED Trampoline Park has interconnected trampolines, foam pits, basketball court, and dodge ball court. Feel free to shoot hoops, jump into the valley of foams, and bounce around the trampolines. With outlets in Jurong and River Valley, adults of all ages can safely and efficiently enjoy this cardiovascular workout.
Prices: From S$10-18. Book here.
3. BUBBLE BUMP SINGAPORE
Take playing soccer up a notch with Bubble Bump. Bubble Bump Singapore offers bubble games where players wear inflatable balls in an attempt to win in a Soccer match. Each suit are harnessed and equipped to make sure your fall will be relatively painless. One session will surely bring all the players loads of laughter as you start the full-on bouncing action just to score a goal.
Prices: From S$15/pax of 20 people. Visit bubblebump.sg for more information.
4. MEGA ADVENTURE
Mega Adventure/ MegaZip Adventure Park is another place where you can play as adults in Sentosa. For people on a budget, you can enjoy one of its three attractions namely: MegaBounce, NorthFace, and ParaJump. If you want to jump as high as you possibly can, you can try the MegaBounce as its simple trampoline with elastic powercords allows you to jump up to 10 meters! If that is not enough, you can brave the 16-meter climbing wall at NorthFace.
Lastly, you can replicate a free-falling parachute jump with the 15-meter drop at ParaJump. Sounds like a good way to keep your adrenaline pumping, doesn't it?
Prices: S$15 for MegaBounce and S$19 for NorthFace or ParaJump